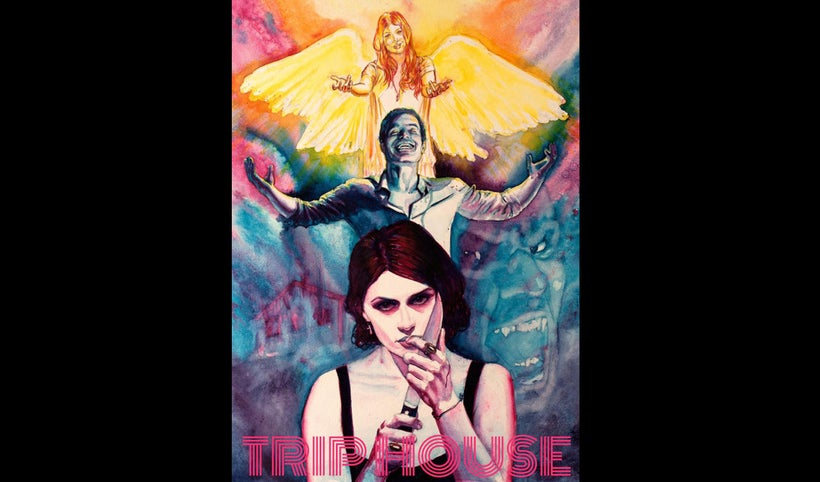 I had the pleasure of learning about horror film Trip House through the lens of Patrick Meaney, the film's supremely talented director. Patrick channels his vast experience in documentary film (including recent critically acclaimed film, Neil Gaiman: Dream Dangerously), to bring a refreshing viewpoint and take on this oftentimes formulaic genre. I really enjoyed my sneak peek at this film, and it is sure to delight indie horror audiences everywhere.
Check out our discussion below:
1. What can you tell us so far about Trip House?  Who is involved?
Trip House is a horror thriller about four estranged friends who reunite and spend the weekend in a house that used to be home to a Manson Family like cult. Over the course of one long night, strange experiments from the past echo to the future, space and time are blurred and everyone must face their demons or be destroyed by them. It's a trippy, character driven and emotional experience that will hopefully follow in the tradition of great recent horror films like It Follows or The Guest.
The film features a lot of familiar talent from the world of horror and sci-fi, including Amber Benson from Buffy the Vampire Slayer, Whitney Moore from A Horrible Way to Die and Birdemic, Chloe Dykstra from Heroes of Cosplay and many other projects, Tiffany Smith from DC All Access and AMC's new show Geeking Out, Morgan Peter Brown from the Contracted series, and a few more great actors and actresses. 
2. You've shot a lot of documentary films, especially in the comics space including your recent release of "Neil Gaiman: Dream Dangerously".  How does creating a scripted horror film differ from a documentary?  Is there any overlap we might not expect?
The biggest difference is where you're writing the story of the film. In a narrative film, it's in the script stage, and you can tweak on set or in the editing room, but the basic material is all determined by the script. In a documentary, you're writing the film in the editing room, based on the footage you've shot and the events that have occurred. We did a lot of improv and modification on set, and made several large changes in the editing room on Trip House, but you're limited by the material that you shot during production. With doc, you can go out and shoot more, and you also have to honor the reality of what you're shooting. It's more about crafting what exists into a story structure rather than coming up with stuff from scratch. But, there is quite a bit of overlap here. I'm working with the same co-producer/cinematographer Jordan Rennert, and a lot of our actors we met in the course of doing the docs. In doing auditions, there  were some people who struggled to wrap their head around some of the crazier concepts, but talking to people who've read some Neil Gaiman or Grant Morrison, they understood how to bring reality to even the craziest concepts. 
3. What is the biggest challenge in making a horror film?
I think the hardest thing is figuring out a way to bring a fresh approach to the genre while still giving people the things they love about the genre. I'm very influenced by films like Twin Peaks: Fire Walk With Me or the anime series Evangelion, which use horror/genre devices to explore characters. Some people wouldn't even consider those projects horror, but to me they're great examples of the way that the genre can be not just about a threat outside us, like a slasher, but also about the darkness that lurks within our own minds. Trip House is about characters for whom the scariest thing is the secrets they keep from themselves, and it was fun to think of cinematic ways to express that. 
I'm not someone who thinks that a great film 'transcends' genre, but I do like the idea of creating a film that is equally accessible to a hardcore horror fan, and is filled with demons and murder and fear, and something that people who don't normally love the genre can find something worthwhile and honest in. 
4. What type of horror should we expect from this film?
As I mentioned, it's really about the horror within ourselves, how the wounds we bury deep inside can surface and frighten us, and how those weaknesses make us vulnerable to be preyed on by evil forces, both human and other. The character of Frazer, who was a cult leader in the 1960s, was inspired by reading some books about Charles Manson. They talk about how he had an almost supernatural charisma, and ability to burrow into someone's head, find their weaknesses and exploit them to his own ends. So, with this film, the idea was to push it slightly and imagine what if he could really do the things he said, and bend reality and exert supernatural control over things. 
What I think is scariest about Manson is not that he wanted to murder all these people, it's that he was able to have other people do it for him. It speaks to something in people, that the desire to fit in and be loved can be manipulated all too easily. 
And it's not just psychological stuff. We have a Demon in the film, played by the amazing actor Paradox Pollack. He worked as a movement coach on Thor, Star Trek and many other big movies. He brought a real otherworldly vibe to this character and our great makeup team brought him to life along with some pretty nasty wound effects. 
5. Is there a release date yet?  
We're hoping to do a few festivals in the Fall, then be released early next year. You can keep an eye on my Twitter (@patrickmeaney) or the Trip House Twitter (@triphousemovie) for updates as things come together. 
6. What other projects does Respect Films have in the pipeline?
I'm currently wrapping up editing on a feature length version of Chris Claremont's X-Men, which will be released through XLRator next year, along with our documentary She Makes Comics. 
Beyond that, we're developing a couple of new horror scripts, which will hopefully be heading towards production soon. Keep an eye on @respectfilms for the update.
One of my big goals with the film was to bring the kind of surrealism you see in the comics of Grant Morrison or Neil Gaiman to movies. We're seeing so many comic book adaptations, but I haven't seen many that capture the strangeness that fills so many comics, and the way that they can burrow deep into the emotions of a character. That's what we're trying to do with this film. I wanted to make a movie like some of my favorites, one that isn't necessarily for everyone, but those people who are into it will absolutely love it. 
Note from the writer, Dan — please check out my other recent horror themed interview, with Writer/Director Elia Petridis, who discusses his work on 360/VR horror film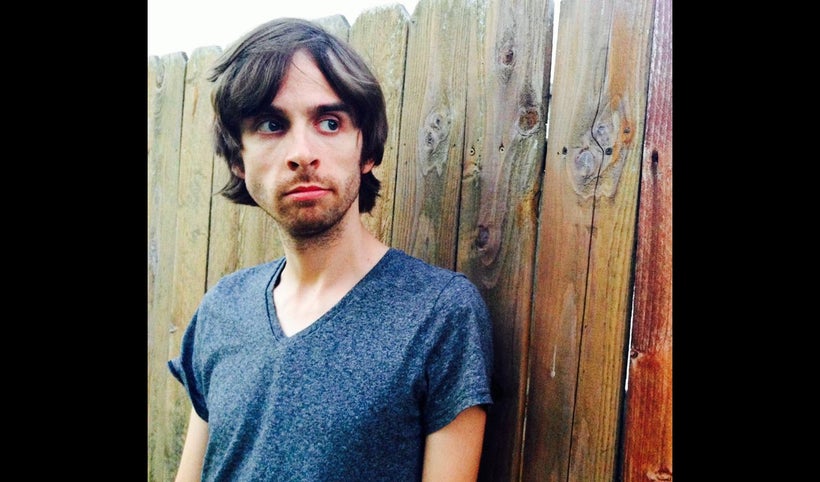 This post was published on the now-closed HuffPost Contributor platform. Contributors control their own work and posted freely to our site. If you need to flag this entry as abusive,
send us an email
.