Tony Ulwick is the pioneer of jobs-to-be-done theory, the inventor of the Outcome-Driven Innovation® (ODI) process, and the founder of the strategy and innovation consulting firm Strategyn. He is the author of the newly released "Jobs to be Done: Theory to Practice" (IDEA BITE PRESS, October 2016) and What Customers Want (McGraw-Hill) and numerous articles in Harvard Business Review and Sloan Management Review.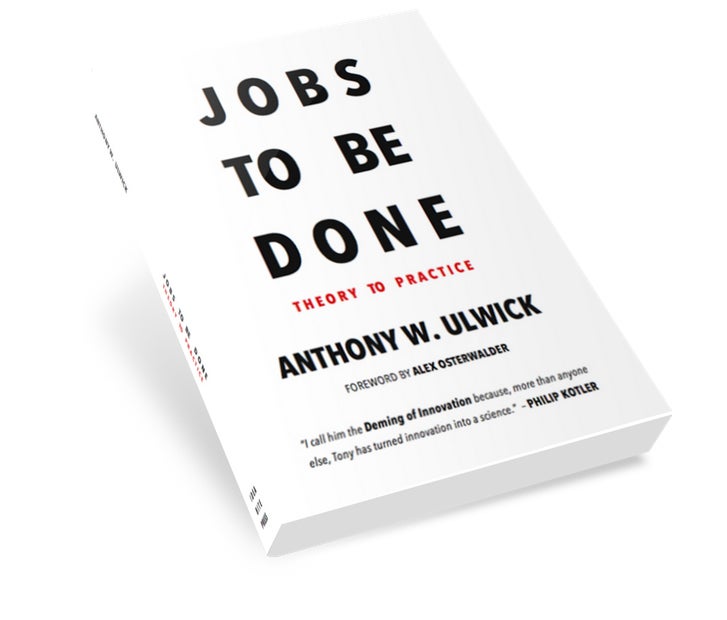 What made you write "Jobs to be Done: Theory to Practice" now - after 25 years?
The book was written for many reasons. Some were professional and some were a bit more personal. On the technical side, I wanted to share 25 years of experience. In October, Strategyn celebrated its 25th anniversary. It seemed like a good time to pull back the curtain on our approach to innovation, introducing frameworks and practices that we have used for years to make our clients successful.
For example, I wanted to reveal what we believe to be the root cause of failure in innovation. While many factors contribute to failure in innovation, there is one factor, more than all the others combined, which explains why innovation fails. This root cause is revealed and addressed in the new book. We have also discovered a great way to explain the concept of disruptive innovation and other innovation strategies. We are very excited about that advancement in innovation theory.
On the personal side, I want to make it clear that more than any other firm or individual, the Strategyn team has pioneered Jobs-to-be-Done (JTBD) Theory. As the world has witnessed the power of Jobs Theory, others are claiming the theory to be their idea, failing to give credit where credit is due. After all, we've been at this a long time and have 12 patents on our process. I reveal the true story as to how the theory and our practices evolved.
Tell us, what is the book about?
The story told in this book can be summarized as follows:
Companies fail frequently at innovation because they struggle to agree on what a customer need is, what the needs are and which are unmet.
Jobs-to-be-Done Theory provides a Needs Framework that makes it possible to categorize, define, capture, organize and prioritize customer needs.
A strategy framework, built around Jobs Theory, enables a company to correctly categorize, understand, and employ the 5 strategies that drive growth.
Outcome-Driven Innovation ties customer-defined metrics to the customer's Job-to-be-Done, transforming every aspect of opportunity discovery, marketing and innovation to a predictable science.
Prospective practitioners can assess their ability to put Jobs Theory and ODI into practice with detailed insight into a typical innovation initiative.
Companies should employ a proven three-phased approach to build a competency in Outcome-Driven Innovation.
What makes this book different is that we don't find examples that fit our theory. We do the opposite. We have proven the effectiveness of Jobs Theory using real applications of the ODI process. We include six client case studies in the book that have used our approach to increase their chances of success.
What new insights are offered in the book regarding the discovery of customer needs?
The book introduces the Jobs-to-be-Done Needs Framework—a framework that is the result of 25 years of work in this space.
This framework introduces the types of customer needs that must be considered to gain a deep understanding of what a customer is trying to accomplish. They include (i) the core functional Job-to-be-Done, (ii) the desired outcomes tied to the core functional Job-to-be-Done, (iii) related jobs, (iv) emotional and social jobs, (v) consumption chain jobs, and (vi) the buyer's financial desired outcomes.
The 6 types of needs we define are the variables that a company must consider when trying to conceptualize new solutions that will help customers get a job done better and/or more cheaply. Knowing what these needs are and which are unmet is the key to success at innovation.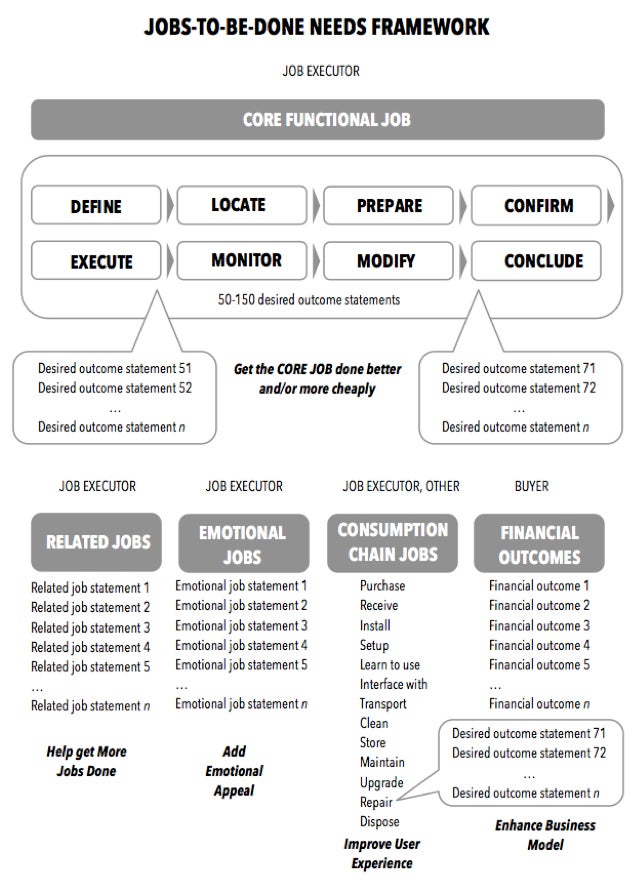 You say that your clients are able to improve their chances of success five-fold. What is it that makes your approach to innovation so powerful?
An effective innovation process must produce answers to the following questions:
Who is the customer?
What job is the customer trying to get done?
What are the customer's desired outcomes?
Do segments of customers exist that have different unmet outcomes?
What unmet outcomes exist in each segment?
What segments and unmet outcomes should we target for growth?
How should we define our value proposition?
How should we position our existing and pipeline products?
What new products must we create?
The qualitative, quantitative, and analytical methods that comprise our Outcome-Driven Innovation (ODI) process reveal answers to these questions and more. The true strength of the ODI process is that it ties customer-defined performance metrics (in the form of desired outcome statements) to the Job-to-be-Done, enabling our clients to systematically create customer value.
So is this the same "Jobs to be Done" theory that Professor Clayton Christensen talks about?
In late 1999, I had the distinct pleasure of introducing Outcome-Driven Innovation (ODI) and our research and segmentation techniques to Clay. We met in his Harvard office on several occasions in the 5 years that followed. I introduced Clay to ODI and showed him examples of how the process was executed and the results it delivered our clients.
He liked the idea that we focused on what we called the "underlying process" that people were trying to execute when using a product, rather than focusing on the customer or the product.
A couple of years later he wrote about the concept in his book The Innovator's Solution. Instead of saying companies should focus on the "underlying process", he said they should focus on the "job-to-be-done" and the name stuck. What we introduced to Clay became known as Jobs-to-be-Done Theory.
The way I think about it is that Jobs-to-be-Done is the theory and Outcome-Driven Innovation is the strategy and innovation process that puts the theory into practice. Let's be clear though, we are the pioneers of both the theory and the ODI process.
So what makes your take on Jobs-to-be-Done (JTBD) different from that of Christensen?
In my view, Clay sees jobs-to-be-done through the lens of an academic while we see it through the lens of a practitioner. We have applied the theory hundreds of times in Fortune 100 companies. He and others writing about the concept, while contributing to the theory, are less experienced when it comes to putting it into practice. In fact, in the book we point out how some of the recommendations Clay makes differ from what we have learned in practice. In addition, we just added an interesting analysis to our web site that shows how our thoughts on his Milkshake Marketing example differ. We also have written a blog post that points out the deficiencies in his example.
The net of it is this: our practical experience leads us to say that only statistically valid research reveals segments of customers that struggle differently with the Job-to-be-Done. Stories may be interesting, but they don't mitigate risk.
Can you tell us about some of your successes and what has motivated you to persist?
Strategyn has been at this for 25 years. We've helped over 400 companies successfully apply Jobs-to-be-Done Theory through the application of our Outcome-Driven Innovation process. In the book we have six detailed case studies across a variety of industries including: Microsoft, Kroll Ontrack, Arm & Hammer, Bosch, Abbott Medical Optics, and Hussmann.
What motivates me most is being a hands-on ODI practitioner. That is my passion. I have led and continue to lead hundreds of innovation engagements with inspiring people in the world's most admired companies.
What's next? What should leaders expect with JTBD and ODI?
Many companies we've worked with over the years have wanted to put Jobs Theory and ODI into practice on a large scale. Most of them didn't want to be dependent on a third-party consulting firm over the long term for their ongoing success. Instead, they wanted to have and use their own practitioners and make Jobs Theory and ODI part of their DNA and organizational fabric. What our clients and other companies often want to know is this: "How do we put Jobs Theory and ODI into practice within our organization?"
To that end, in the first quarter of 2017, Strategyn will make available to our clients a Jobs-to-be-Done Toolkit that will include the tools, templates, and instructions that Strategyn's internal ODI Practitioners use to effectively lead strategy and innovation engagements. The goal is to make ODI the standard innovation process around the world.
This post was published on the now-closed HuffPost Contributor platform. Contributors control their own work and posted freely to our site. If you need to flag this entry as abusive,
send us an email
.