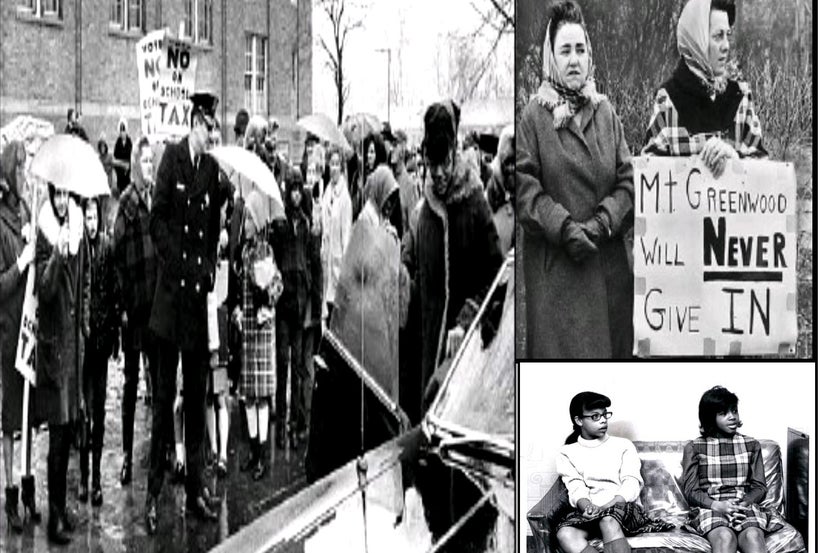 Just over forty years ago during the school year of 1968-Seven Black students integrated the all-white Mount Greenwood Elementary School. Originally thirteen students were scheduled to attend, but some dropped out because they were afraid. What they feared was-from the first day of school-Racist White Mobs (mostly adults) from the local community would come and stand outside across the street from the school aggressively taunt the children by saying Nigger "Go back to your old schools. The Black Children replied, "This is our school too." As reported to newspapers-at the same time, at Mount Greenwood Elementary on (On the day the Dr. Martin Luther King was assassinated the white children who were playing on the playground began to cheer). Daily without fail, by the end of the children's school day, the mob now grown to hundreds-would protest the presence of black children in the school. A police escort was always needed to see that the children left safely, by the back entrance. Isolated, and alone during the school day (they ate lunch alone) they persevered because they wanted a better education. The students wanted to attend Mount Greenwood Elementary in order to be able to attend Morgan Park High School. They went on permissive transfers and stayed six months at Mount Greenwood. Later on after elementary graduation, they did go on to Morgan Park High School and all graduated from there. One of the students, Toni Lewis-Anderson asked her mother to explain what they did that this and why was happening to them. Her mother replied, "It's not what you did. It's who you are."
Not much has changed in Mt Greenwood-known as the home to many white police and firefighters. When on Nov. 5, 2016-Police fatally shot 25 year old African American Male-Joshua Beal, a resident of Indianapolis, Indiana. In an unfortunate, tragic, and unclear set of circumstances Beal was in town following a funeral procession of a cousin as pallbearer. Near 111th Street and Troy Avenue -Joshua Beal while still in the procession of cars-stopped in front of a firehouse on 111th Street, and blocked the entrance; a confrontation soon started, according to prosecutors records, that ended in a physical altercation between multiple individuals which included Beal. When Beal, who police said "allegedly," then displayed a gun-and was shot multiple times by an off duty police who intervened once he saw the fight. Also please note: the circumstances of the shooting are currently being investigated. What happens next would seen to many to also be unfortunate. Beal's grieving family had "Ni**gers Go Home" and "Keep out of Our Town" screamed at them as they waited at a local Burger King for their cars to be released by the police. In the days after, protesters/activist who went to the scene were met by white mobs of hundreds who DNAinfo described as "demonstrators supporting police."When the activist on the ground wanted to "peacefully" protest Beal's- Shooting and also to give voice to address what they feel were questionable circumstances-they were met with bats, Racial hatred and large crowds many, "self identifying" as Blue Lives Matters Crowds. The statement below was taken from a Stop Mass Incarceration Network (rev.com)-spokeswoman:
N....gers Go Home!", "Go Back to Englewood! " and other vile racist threats were shouted at us from the mob of hundreds of white people surrounding the revcoms and other activists in Mt Greenwood Sunday .Some shouted out that they were friends and family of police. I expect many were off-duty cops. Mt Greenwood is home to many white police and firefighters. The police murder of Jason Beal was a lynching. This crowd was like a lynch mob of old.It made me think of footage I had seen of the racists attacking the Freedom Riders in the 1960's or Marquette Park here in Chicago. But this was yesterday.. They also shouted "Trump, Trump. Trump" and "CPD, CPD, CPD." Dee Williams, Revolution Club, Chicago
We believe-That this is one occasion where it must-clear that words, prayers, and protest are not enough to stop the "long-term," tension, and violence between police officers, community members, African Americans and other minorities who interact in this community. All across Chicago today, there must be condemnations, not just as a community but as a city for ending hate. We should never accept acts of hate, intimidation, and violence anywhere anytime against anyone for any reason. Across Chicago, the call for action "Now," is clear. There are those in the community who stand against racial hate, then they should join as well. We will also question the fire department's and police departments top brass who live in the community to answer to call against turmoil and violence and leave room for correction where diversity and values are upheld.
What should be the correct response from The Mayor
My concern is for the Mayor of Chicago Rahm Emmanuel to seriously question his leadership- In Mt.Greenwood- what's really being done Mayor to prevent a looming "race war." Many believe if the City of Chicago would have dealt with this Harassment, Racial Discrimination, excessive force issue a long time ago, we wouldn't have an issue today.
We also call on the Department of Justice to immediately investigate and punish police and anyone else who used (uses) excessive force in Mt. Greenwood and Chicago Abroad- The concern "now", is simply due to the fact that radical groups or individuals will start to take matters into their own hands and intimate people. Mayor Emanuel, We ask you and your office to think in terms of being an "Interventionist." Not an "economist" on this issue. No one can argue that the mobs were out of control. (See video Below)
Clarion Call for March on November 20, 2016 2:00 p.m
We call on Chicago Civic Leaders, Faith Leadership, Social Justice Activist, and concerned citizens-to follow and accept the "clarion call for November 20, 2016 2:00 pm (copy-face event invite below) but more basically, Mt. Greenwood is a problem because of the long-term racial injustice is there. We all must constantly respond to this type of call for aid. We should never again accept narrow, provincial "outside agitator" idea. Anyone who lives inside the United States can never be considered an outsider anywhere within its bounds.
To the People of Mt. Greenwood; and the entire Chicago Community-You say you deplore the demonstrations taking place in your communities. But in your statement and expressions of hate, I must say, you fail to express a similar concern for the long-term conditions that brought about the demonstrations. It is unfortunate that demonstrations are taking place anywhere, but it is even more unfortunate that the city's radical white power structure has been entrenched in your Mt. Greenwood community and would give racially charged harassment to peaceful activist at a "peace," demonstration with that mind you leave no alternative. We Move Forward! A change must come!
https://www.facebook.com/events/1815872795295672/1816433668572918/?notif_t=feedback_reaction_generic¬if_id=1479132720526282
The Video was made by Kevin Lee Offett Jr.-who attended the demonstration.
Gregg L. Greer a Public Speaker, Minister, Social Activist, and the Editor of the One World internet journal. Greer is the Founder of Freedom First International-if you are interested in interviews from his and others of the brightest minds today, you can email him at  oneworldtoday@gmail.com His website is www.gregglgreer.com
This post was published on the now-closed HuffPost Contributor platform. Contributors control their own work and posted freely to our site. If you need to flag this entry as abusive,
send us an email
.