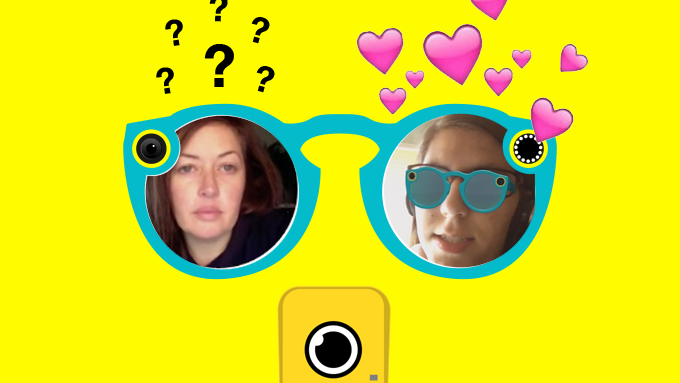 Snapchat recently launched their first hardware product "Spectacles" and some are calling them 'ridiculously fun' and are even predicting them to sell in the 100's of millions of units.
While it's certainly fun to speculate on how popular Spectacles might become, we thought we'd let the users do the talking and decided to put together a series of first reaction videos from real snapchat users to the glasses by sending them to http://spectacles.com and having them record their screen. 
Meredith, 34, Wisconsin, Occasional Snapchat user
Not being cross-platform was an issue.
"It's just for Snapchat which seems a bit frivolous and excessive…because if I wanted a product like this i would want it to be cross-platform and work on Facebook and Instagram"
The "popup" bot was confusing.
"That's like a giant minion eye right there, my goodness…so you need to be near some sort of bot to use them??!! Oh, so it's like a popup shop for SnapChat glasses?!!?"
"How much are these babies….$129.99!!! And it just works with snapchat?"
Ashley, 18, Culver City, Moderate/Average Snapchat User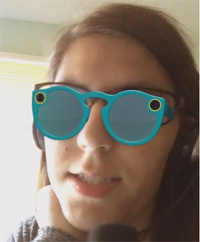 "If I went to this website without knowing what they were, I would have no clue what they were…i'm assuming the glasses record, but from the way it looks it looks the phone has some sort of…what?!"
There wasn't much information on the website.
"Trying them on just gives you a lens in Snapchat, which is kind of irritating, because it still doesn't tell me what they do"
Whitney, 21, Brooklyn, Active Snapchat User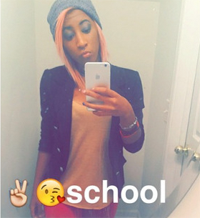 "This is an accessory just for Snapchat…WOW I kind of love this already, WOW!"
Users liked the fact the glasses light up to show you are actively snapping.
"Oh, this is how you know that you're on Snapchat"
Finding a bot was unclear.
"Find a bot, let's see I don't know what that means…what's it searching for, not really sure.."
The value proposition was very clear.
"This is a perfect accessory for hands-free snapping"
Conclusion
Judging by the reactions, it looks like Snapchat has definitely hit the nail on the head when it comes to knowing what their power users want.
Interestingly, no-one mentioned the style of the glasses themselves, which is probably a good sign, considering they didn't think they look too out of the ordinary.
What still remains unclear is how much spectacles will be able to entice the 'average' Snapchat user. Since the glasses are for creating content only (for now), it's unlikely that the market potential for these glasses is much more than ~10% Snapchat's users in the short to medium run, meaning that even if they sell like gang-busters we are only talking ~ 10million units sold. Not bad for a hardware product, but not anywhere near the 100's of millions of units that some have forecast for them out of the gates.
About the Author:
This post was published on the now-closed HuffPost Contributor platform. Contributors control their own work and posted freely to our site. If you need to flag this entry as abusive,
send us an email
.