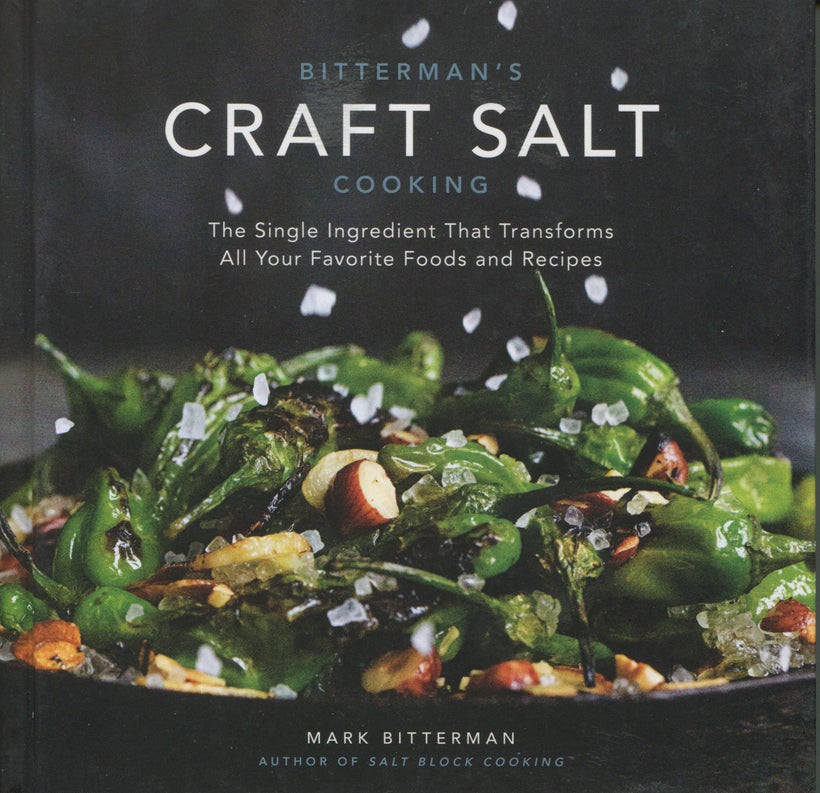 Mark Bitterman is literally Mr. Salt. In his earlier award winning books —Salted in 2010 and Salt Block Cooking in 2013 — Mark introduced us to the intense new world of flavored salts. With his marvelous stores, The Meadow, in New York and Portland, you can go and sample a hundred flavored salts. And be quite amazed at the spectrum. Now, more salt stores are appearing and our store shelves have salt sections. It's not a Morton's world anymore!
In this tight new book of less than 170 pages, Bitterman's Craft Salt Cooking introduces you to the creative use of flavored salts in dishes across your dinner table. Chapters are devoted to
Meat
Poultry
Seafood
Eggs and Dairy
Vegetables and Fruit
Grains
Sweets
Drinks and Cocktails
Yes, Meat comes first and the first recipe in the book is for Beef Steak ala Florentine. But Mark notes that salt is literally the universal ingredient, one we do need to use everywhere. Everywhere.
Ever baked some cookies and left out that ¼ teaspoon of salt? May you left it out intentionally thinking that little amount could make no difference. But it does. One taste and you know it does. We, as a species, are tuned to needing salt — a true chemical need. And we have developed sensory systems that warn us when salt is absent and reward us with satisfaction when that vital salt is present.
Salt is important from that health standpoint, the body chemistry part of the equation. But salt is equally important in its power to elevate a dish from good to exceptional. Here's a dozen ideas from the book showing you the range and versatility of salt, simple salt and surely smoked salt too:
Colorado Beef Burgers with Mesquite-Smoked Salt and Chiles
Heritage Pork Chops with Red Salt and Black Salt Roasted Corn Relish
Roasted Chicken Wings with Buffalo Salt
Tuna Steaks with Thai Steak Salt
Roasted Lobster with Vanilla Salt and Smoky Scotch Butter
Ricotta Pancakes with Vanilla Salt
Avocado Toast with Cucumber and Smoke Salt
Grilled Endive Salad with Salted Garlic and Parmesan Crumble
Curried Roasted Peaches with Honey and Kala Namak [a blend of salt with charcoal, spices and botanicals]
Devils' Food Layer Cake with Salted Marshmallow Icing
Tamarind Margarita with Sumac Salt
I'll post the recipe for that first idea, the Colorado Beef Burgers, along with this review tonight. As you can see, Mark believes in the liberal use of flavored salts. Each recipe suggests a specialty salt or salts to use. There are ideas for substitution if you can't get that particular salt species. And you can always visit The Meadow's website to order this flavor bombs. If you can, visit one of his stores, or another salt institution, and just spend some time doing a salt tasting. You will be rocked and excited about the flavor potentials.
Mark is the world's salt maven. His books are wonderful tour guides through our salt world. If you begin to cook out of Craft Salt, you will never put your shaker down.
This post was published on the now-closed HuffPost Contributor platform. Contributors control their own work and posted freely to our site. If you need to flag this entry as abusive,
send us an email
.