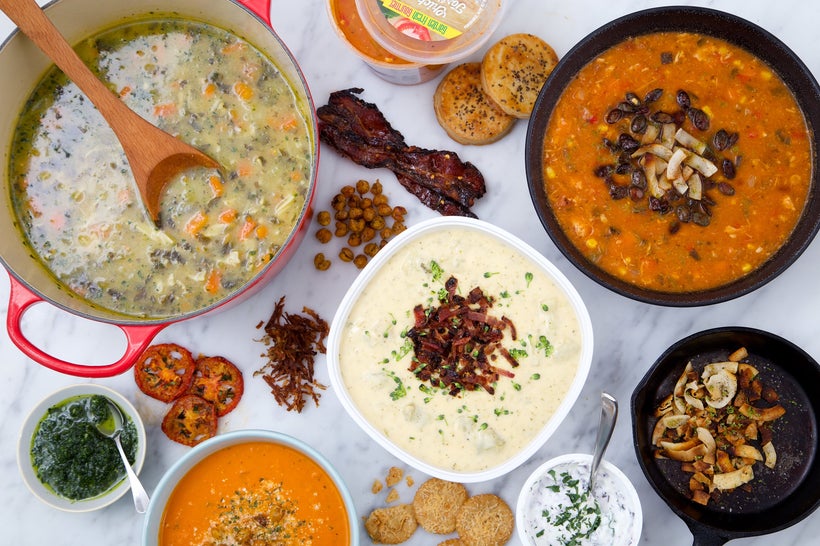 The produce and deli section of the grocery store is increasingly becoming the go-to spot for grab-and-go. These days, busy moms and working professionals pick up everything from fresh salads and sushi to soups and sandwiches without having to step too far into the supermarket. According to The North American Association of Food Equipment Manufacturers (NAFEM), there has been a 10.4 percent annual increase between 2006 and 2014 in the fresh prepared foods category, making it one of the highest performing areas in grocery.
Established and emerging brands are stepping up to fill this demand, like Fresh Express with their new organic-only salad kits and Garden Fresh Gourmet with its new line of small batch refrigerated soups. And they are using modern, more premium ingredients, like pomegranate seeds, roasted chiles and kale, along with bleach-free flour, fresh herbs and all white meat chicken, to attract and appeal to busy yet ingredient conscious consumers. Retailers like Wegman's are getting in on the fresh, grab-and-go game also with their boutique-like market cafes, which feature grain and pasta bowls and Family Pack entrees.
Even as the demand for convenience-driven, more pure ingredient products escalates, there is also a growing trend toward customization and personalization. Claudia Sidoti, a food consultant and recipe developer for brands like McCormick, Food Network and Weight Watchers, says that although consumers are racing to local grocery stores to pick up pre-made fresh foods, they are adding their own touches to them. "People today like to feel they have had a hand in the preparation, even if it's one or two simple steps," Sidoti explains. Sidoti attributes part of this need to personalize to the influence of popular home delivery kits, like Blue Apron and PeachDish, which jumpstart the cooking process.
Lori Taylor, known as The Produce Mom, concurs. "As a working mom with two active kids, one of my weekly routines is to go to Kroger and grab a few containers of soup in the produce and deli section," Taylor says. "When I get home, I like to add something to bring out the flavor and make it a little more homemade, which my family loves and appreciates," Taylor added.
Kayla Keegan, an active, young professional in New York City, likes to personalize her pre-made purchases, too. "When I'm at work or when I come home after a long day, I like to add a dollop of sour cream, a squeeze of sriracha or a piece of toasted garlic bread. I'm always trying to find ways to 'soup up' my soup so to speak," says Keegan.
To inspire busy consumers like Taylor and Keegan, and help them put their own spin on their grab-and-go purchases, here are 10 ways to personalize soup for work, weeknight dinner or dinner party using simple, clever combinations of modern and fun ingredients. These additions can be done in any size kitchen with very few tools – even with a little toaster oven – and can be made by the most rudimentary or experienced cooks.
Chia-Seed Soup Biscuits. Turn a box of dairy case pie crusts into flaky soup biscuits. Press the crusts together and cut out with a 2" round cutter or 8-ounce glass. Brush with olive oil and top with finely chopped onion and chia seeds, then bake until golden and flaky.
Hot Honey Roasted Pumpkin Seeds. Toss a cup or two of raw pumpkin seeds in a few tablespoons of honey and a couple squirts of sriracha, and then roast at 375°F until amber-colored and crunchy. Sprinkle with sea salt before serving.
Spiced Coconut Flakes. Stir a teaspoon of ground cumin, zest from one lime and a smattering of salt into a small bowl of coconut chips. Then, heat in a small saute pan until brown, crisp and fragrant.
Roasted Tomato Chips. Thinly slice a Roma tomato or two and lay in a single layer on a baking sheet. Drizzle lightly with olive oil and top with grated parmesan cheese and flecks of fresh thyme. Bake 20 minutes until the cheese is slightly crusty and wilted.
Kale Yogurt Crema. Add a tablespoon of finely chopped kale and half teaspoon of garlic salt to a four-ounce container of Greek yogurt. Mix well with a kitchen fork. Refrigerate until serving.
Homemade Cheez-Its. Melt a couple tablespoons of unsalted butter, and grate a small chunk of extra sharp cheddar cheese with a Microplane. Place a cup or two of plain, salted crackers in a bowl and pour the butter over to coat. Toss in the cheese and mix together. Lay flat on a baking sheet and bake until the cheese bubbles and crackers are golden.
Crispy Herb Chickpeas. Drain a can of chickpeas and mix with a few tablespoons of olive oil, dried parsley and grated garlic. Toast on a baking sheet or in a small pan for 20-25 minutes until crispy and slightly cracked.
Candied Bacon Crumble. Squeeze some honey on a few strips of thick cut bacon and sprinkle with some red chili flakes. Bake at 400°F for 15-18 minutes until candied and crisp. Cool on a wire rack and chop super-fine with a sharp knife.
Parsley Kale Pesto. Add a small handful each of fresh parsley and kale along with a few tablespoons of jarred pesto to a food processor. Pulse together with a bit of olive oil until smooth. Season with salt.
Crispy Potato "Sticks." Run a large Russet potato over a box grater and lay on a tray in a toaster oven or small baking sheet. Lightly drizzle with olive oil and season with salt and pepper. Bake until crunchy and golden.
This post was published on the now-closed HuffPost Contributor platform. Contributors control their own work and posted freely to our site. If you need to flag this entry as abusive,
send us an email
.