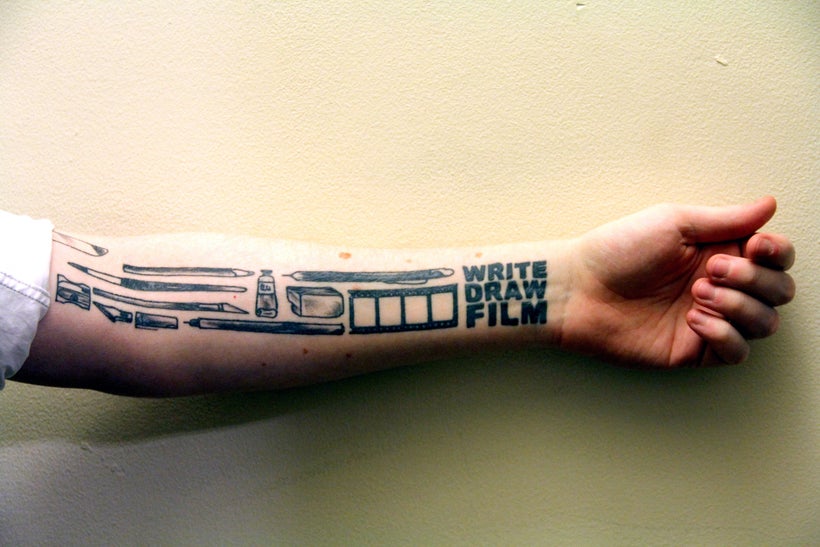 If I could have a super power it would be the ability to not have to sleep. Then I would have an extra eight hours that I could be drawing or creating something.
Jonathan Eaton is a self described film nerd who spends every second of his life thinking about or actually writing, drawing, and filming stories. Jonathan's need to feed his constant stream of creativity has been with him since he was a kid drawing and reading the Calvin & Hobbes and The Far Side comics his father passed down to him. He was encouraged at an early age to draw. His mom makes jewelry and paints. His older brothers are also artists. Jason is an internationally known movie prop replica artist and Anthony is a drummer.
I'm not into comics. I have never read DC or Marvel. I wasn't into superheroes. I read some off the beaten path stuff but I love telling stories and drawing. I would tag along after my brother when he was in high school making Resident Evil movies in my mom's house. The process of developing a story on film really spoke to me and making comics is something I found to be a lot of fun. So when I decided to go to college I chose to study film with an art minor.
This desire to materialize his imagination led him to create his first syndicated comic Day Job in the Campus Crier at Anne Arundel Community College. It was inspired by his experience in retail. It is now one of several artistic endeavors that makeup Jonathan's creative company This is 65 which produces comics, illustrations, podcasts, and films.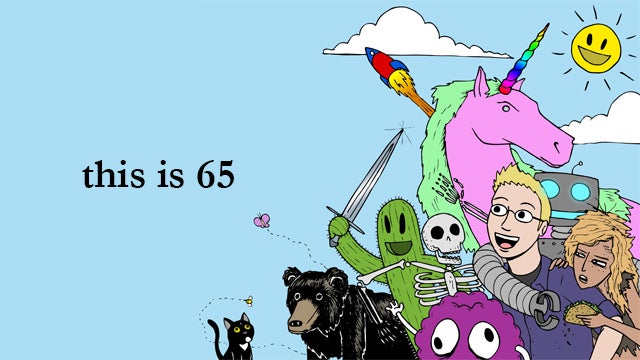 Like many talented people after graduation, Jonathan had to find the balance between paid work to survive and his artistic projects by doing corporate design and production work. Sometimes the closest he came to being creative at work was cataloging other people's productions. He made up for it by filling any free time with reading, watching, and discussing popular films like Fast & Furious and classics like Citizen Kane and Alien then piecing together free time with friends to create his own films, podcasts, comics, and design projects.
Sounds like a dedicated fan but this is not fan art. Jonathan Eaton is not copying, recreating, or paying homage to something that has been done before. What he does have in common with many great artists is a reverence for what makes something unique and memorable-a steadfast dedication to the painstaking detail of the creative process. It is a mental, physical, social, and financial passion rooted in respect for his friends and artistic collaborators that give up their weekends, nights, and days off to create; the audience-- whether it be made-up of friends and family or unknown viewers across the world; and his own demanding personal work ethic.
Popsuckette Theatre
That is not a typo. The title came to Jonathan, the writer, director and producer ten years ago when someone was tongue tied when saying sock puppets. He wrote the name down then ten years later, after being frustrated with the two years it took to make a live short film, he decided with a group of fellow artist friends to write a spoof on the theater world using a group of sock puppet actors, thinking it would be less time consuming. A Kickstarter campaign was created with a goal for a DVD in a year's time. It took four years.
Popsuckette Theatre is a deadpan comedy web series about a community theater group whose personal and professional lives are played out on stage. In season one we get to view the transition between the much loved former director, The Old Man, and the new insecure director, Phillipe, who must weigh popularity of content and filling seats with artistic integrity.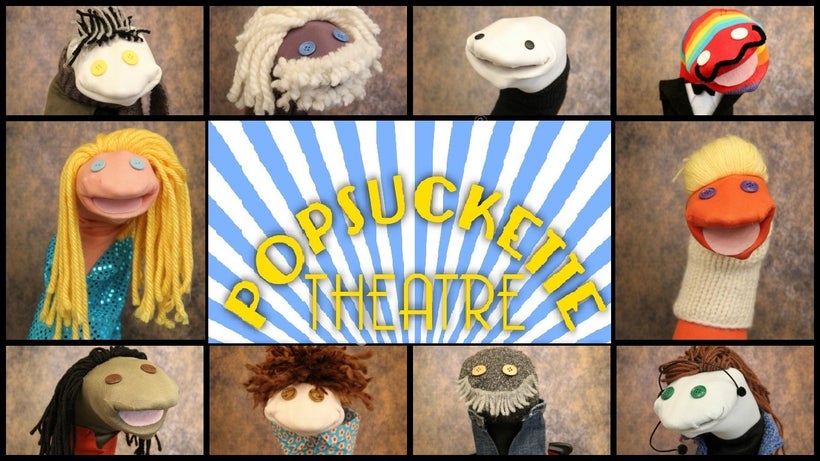 The series draws on the same premise that made shows like Cheers, Friends, Thirty Rock, Portlandia, and Mozart in the Jungle stick—yes I know none of these are shows with puppets. They are all based on a group of quirky personable characters who keep the audience laughing and curious about what brings them and keeps them together as they live their oddball yet ordinary lives. Soon we forget the real limitations of only seeing people at a bar, a coffee shop, apartment, or symphony hall and are drawn into their ridiculous and fun story.
Creating Worlds
Popsuckette Theatre wrapped up filming of episode 6 of season 1 this fall, completing production in early December. It was a huge learning curve for everyone. Similar to the short films they still needed the basics like live people to puppeteer, musicians, and writers. In addition, they had to make the puppets, the overarching story and individual journeys, a miniature world and the props to scale, and find the right voices for each puppet.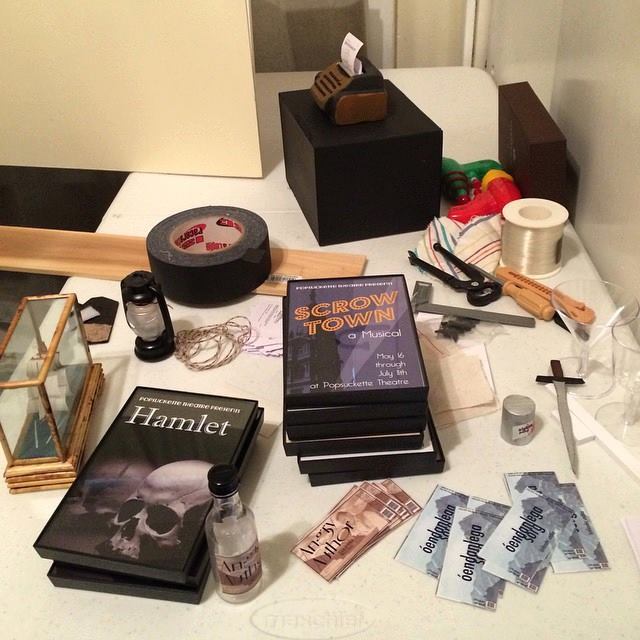 Real miniature sets were designed and created. There are sets for the outside of the theater with a marquee; the actual historic theater with seats and a stage; offices; and an alley. The individual facades are intricately painted with working lights, real curtain pulleys, functioning doors, miniature furniture and decorations.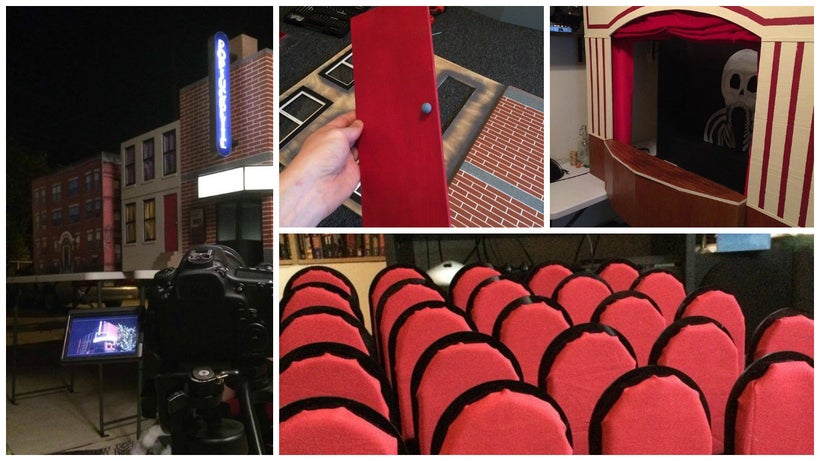 Each sock puppet was sewn, given its own yarn hair, button eyes, felt tongue, stage costumes and six offstage outfits. Some outfits were specifically crochet by the equally talented Bekah Eaton. She is also the editor, lead puppeteer, in house master crocheter and spouse to Jonathan, who taught himself how to sew to help with the puppets.
I understand the purpose and use of CG but I have a great respect for movies like Alien and Jaws where the pacing, music, direction, acting and world building is at the height of its game. There is almost no suspension of disbelief. They created things that did not exist and made them look believable. I was fortunate to have worked at an art store during college where I got to learn how to use all kinds of crazy art supplies to make things. I can always figure out how to create worlds.
The Art of Collaboration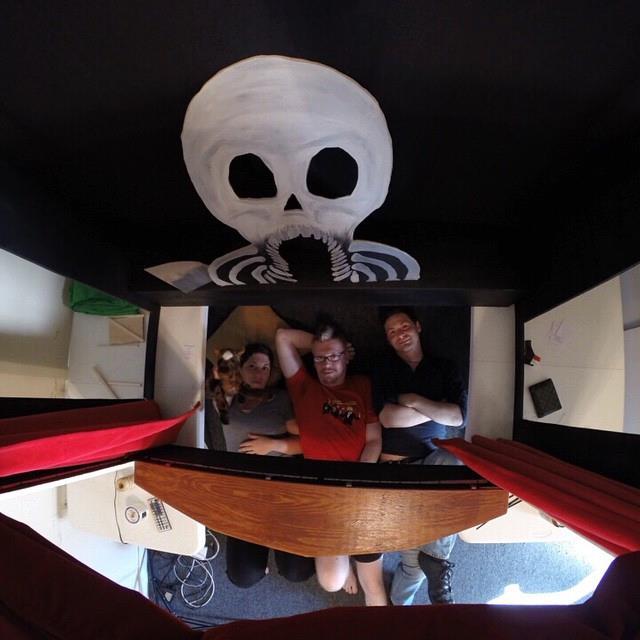 I really wanted to collaborate with people. It ended up being me and Bekah, Mark Vowles and Chris Zeleski. Chris likes writing and Mark likes making music. We came together naturally because we are all creative. I asked them if they wanted to come together to create this idea and work together on it but not have it be just my idea and my work. Others came in and out of the project over the years.
Jonathan knows he is lucky to be surrounded by people who want to participate in a labor of love. Usually, their only compensation, after hours of holding their arm up and sitting in awkward positions under a miniature set, is a shared meal and some beers.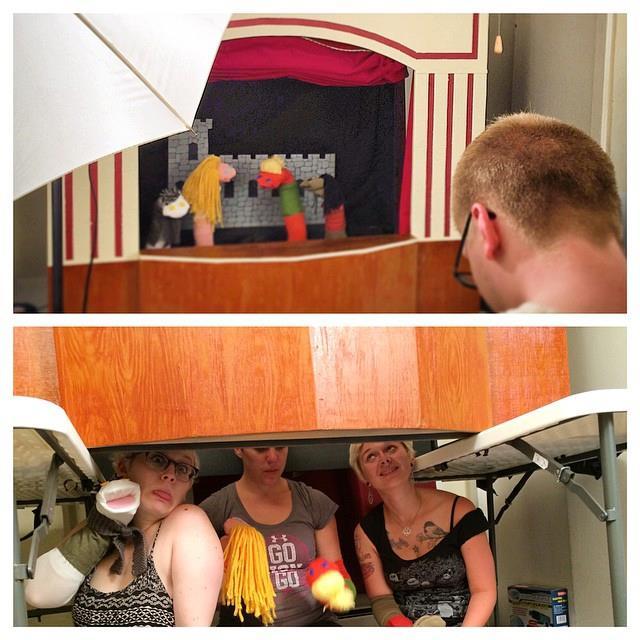 One of the most effective things I learned going to college for film was the idea of collaboration. I noticed that some film students get that and others reject it because they don't want to compromise their vision. I want to take others constructive criticism because if what I did sucks, I don't want it to suck.
He admits that his drive to follow through with his painstaking vision often means he takes on many jobs. "One of the downfalls of creative people is that they don't start or they don't finish their idea. I don't know why I'm wired differently. I have to see it through," said Jonathan. But he also is quick to acknowledge how many of the people that have helped him, including his wife, can do many parts of the production process from editing, character voices, shooting, and music better than him.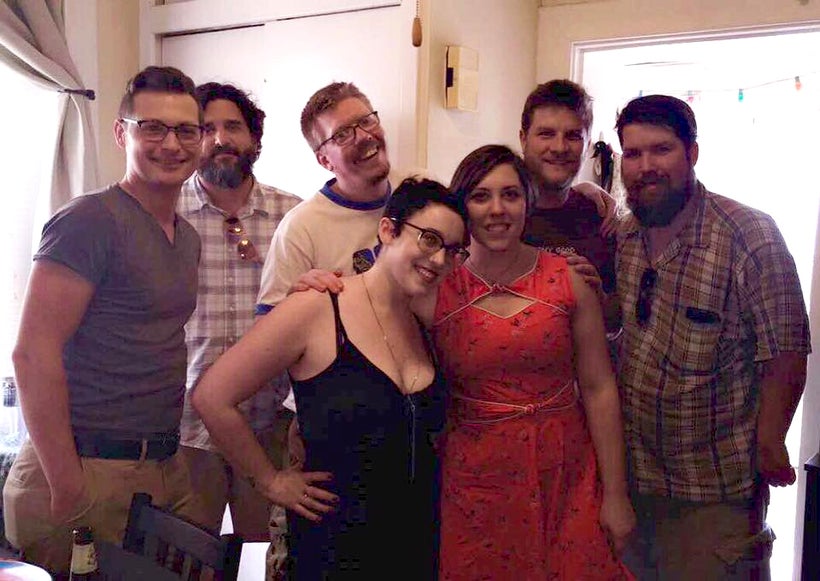 Aware that the pursuits of his imagination can be grueling for others, "I can be a dick sometimes," says Jonathan. He understands that it is only through improving his ability to listen to others ideas that each project will be even better than he can imagine. His friends in turn appreciate his ability to innovate, inspire, and work the hours needed to make a fun idea into a high quality, concrete, shareable product.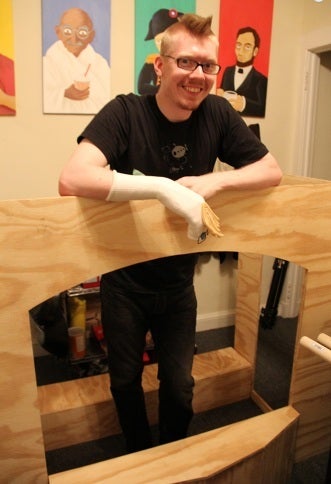 It's a quality that sometimes even Jonathan's family questioned when the end seemed far off.
My dad was like, 'Where are you going with this? Are you trying to make money off of this?' But it has never been about the money. It was about creating something different and fun.
He doesn't want to limit himself because he isn't drawing royalties from his work. Part of his creative process is the layered expectation between the artists and the viewers. That funky relationship is the seed of Popsuckette Theatre.
But like many artists he would love to be paid (and pay his team) to produce his ideas. It is a possibility he is willing to embrace as he gets ready to promote the 90 minutes series through YouTube, sell a DVD with behind the scenes extras, and begin to submit to film festivals. Jonathan knows he has made something special with his simple recipe.
Write. Draw. Film. Even if he has to sleep for eight hours. This simple mantra will continue to propel Jonathan Eaton and the collaborators at This is 65 into a very tangible success.
This post was published on the now-closed HuffPost Contributor platform. Contributors control their own work and posted freely to our site. If you need to flag this entry as abusive,
send us an email
.