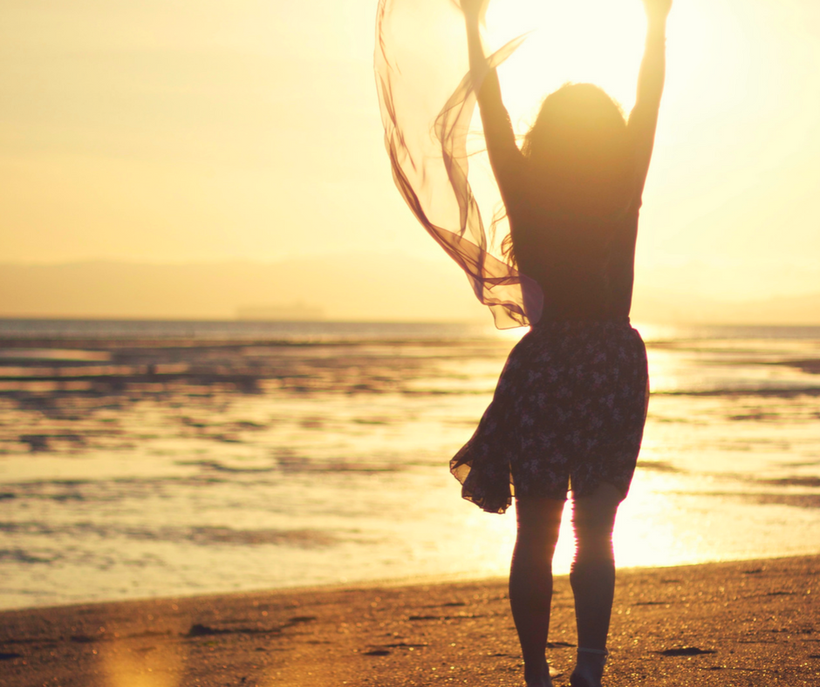 In the Fall of 2014, I had a very powerful experience with a word. Just one word. It chased me down like a hungry fox in the dead of the night. The word was everywhere — in my dreams, in the sunshine, written on paper, in the thin air, hell I could even taste it in my food; literally, it was everywhere! That word was LIGHT. I knew it was a word I needed to keep close to me in the year ahead and I used it to measure all of my major decisions that year. It still has tremendous impact on me even now - 3 years later! It changed the way I see things, the way I make plans for the future, the way I process problems, and the way I communicate with people. That one little word did that. (Well, honestly I made the changes, but that word was my constant inspiration).
Having a word as my guiding light for the year of 2015 was an extraordinary experience. In 2016, I repeated the practice of selecting a single word by which to lead throughout the year; the word was JOY. I kept a Joy Journal the entire year, and though it is most definitely filled with lots of joy-less moments — I can clearly see how JOY was at the center, guiding me even in those dark days.
Having a word to use as a tool and centering device is not just something you should arbitrarily yank out of the sky. I don't believe the magic works that way. You must first get quiet and still, and start a conversation with God. The Spirit will guide you if you are willing to go down that path.
Honestly, the word has already been chosen for you — but you will have to do the work to let its identity be revealed. I believe the word will be unveiled when you get real honest about what it is you truly desire. Not the superficial things but the things that really matter at your core.
So here are 5 tips for uncovering your word for 2017:
Journal 5 things you want to change for the New Year. What do you want to do/be/see differently? What new goals are you setting? Knowing which direction you desire to go is so important… and coming up with a single word that will encapsulate it all for you will be an invaluable compass.
Write affirmations for the person you want to be and the experiences you want to have by the end of 2017. Where do you see yourself? What will you have achieved? How does it feel? It's really important to write these statements down on paper, and to write them in true affirmation style — as if they've already happened. Write in the affirmative. Write positive statements. Then attach an emotion or feeling to those statements so you can really experience the feeling of having accomplished your goal.
Write out 5 accomplishments or wins you had in 2016. Where did things go right? What successes did you have that made you really happy and joyful, brought you fulfillment? It's really important to honor and recognize all the good things that happened this past year. Spending time recounting all the the things that went wrong and didn't pan out is a total waste of energy and does nothing to help you create alignment for the things you desire going forward. Whatever didn't work out in 2016 is already history. Let it go. Taking the time to give yourself a huge pat on the back for the things that did go your way is important because Gratitude is the foundation for any type of true success.
Set a timer on your phone for 5 minutes and write down every single word that comes to your mind — free flow! Don't edit yourself. If the word pops into your mind, write that bad boy down! When the timer goes off, then you can go back and read each word and consider its value and importance. Do any of these words connect with the things you wrote about in Steps 1 through 3? What resonates with you? Your subconscious is a powerful tool so when you free flow and let your mind write for you, real gems will rise.
Pray, meditate and ask for guidance. Like I said, your word has already been chosen for you — you just need to get in the right energy to receive it. You need to be in alignment with that word before it will be unveiled to you. When the Universe knows you're ready for it, it will send it to you.
Once you have your Word — share it in the Comments!
Here's to an amazing New Year filled with hope, promise, fulfillment, and __________ (insert your Word here)!
April Adams Pertuis is a writer, storyteller, speaker, and the creator of LIGHTbeamers ― a Blog & Community geared toward inspiring and motivating women to rise up, tap into their personal power, and shine their individual lights. Her philosophy is "everyone has a story" and she's fascinated with helping people get to the core of what that story is, because "when people tell their story, they speak their truth!"
This post was published on the now-closed HuffPost Contributor platform. Contributors control their own work and posted freely to our site. If you need to flag this entry as abusive,
send us an email
.