Welcome to 2017! The start of the new year creates an opportunity to begin fresh and set simple achievable goals for getting healthier and losing weight.
As a nutritionist and wellness advocate, I have never been a fan of rigid diets or all-or-nothing New Year's resolutions that you cannot keep. Instead, I advocate making small actionable changes that you can incorporate into your day-to-day life which can be kept throughout the year.
Planning in advance, looking at the positive, making small changes when food shopping, eating out, and eating at home can make a big difference to your overall health and weigh loss efforts.
To make your life healthier, and even help you shed some unwanted pounds, below are 10 practical suggestions to help you improve your diet this year.
Food portions are not the only things that have increased over the years — our plate sizes have too. And the bigger our plates, the more food—and calories—we pile on. It makes perfect sense. Consider your favorite breakfast cereal. The recommended serving size for breakfast cereal is around 1 cup. If you pour a 1-cup serving into a big bowl, it won't look like much and you will, most likely, feel deprived. Try pouring it into a smaller bowl, perhaps even a bowl from your grandmother's set, and it will look a lot more satisfying. Perhaps because for a dieter, nothing is worse than staring at a half empty bowl or plate!
Even if your cereal is a healthy whole grain, if you eat too much, the calories add up quickly. And after experimenting with clients, I found that many of us easily pour 2-3 cups of cereal into our breakfast bowl, thinking we ate only 1 serving and not too many calories.
A client of mine lost 20 pounds, effortlessly, when switching to smaller plates and bowls. If we downsize our plate, we tend to eat less. Give it a try! This study found that halving plate size led to a 30 percent reduction in the amount of food consumed. I offer more portion-control tricks here and here.
2. Swap refined carbs for healthy fats.
Gone are the days where going fat-free is the healthiest option. Nix the big bagels and oversize muffins and enjoy some healthy fats. Enjoy a schmear of avocado on your whole grain toast, spread your favorite nut butter on a rice cake or two, sprinkle olive oil on your salad, and don't feel guilty! And swapping carbs for healthy fats is also good for your heart.
Good news if you are a volume lover. As I referred to them in my book, The Portion Teller Plan, volume eaters like a large portion of food. A solution: fill up on fruits and vegetables which tend to be low in calories (while also being super nutritious and chock full of vitamins and minerals.) Good options include berries, melons, citrus fruit, leafy greens and, cruciferous vegetables such as cauliflower and broccoli. Enjoy a bowl of mixed berries at breakfast with your yogurt or oatmeal. Eat a large colorful salad every day composed of a variety of different vegetables. Just ask for the dressing on the side and hold the croutons. And as I often say, no one got fat eating too many carrots or bananas.
4. Shop from a list, don't buy in bulk, and eat before heading to the grocery store.
What you bring into your house will ultimately determine what you eat, at least when you are eating home. So here are some shopping tips that can help you shop smart. Do not go food shopping on an empty stomach. Eat a healthy snack before heading out to the store and you will end up choosing healthier foods. I also suggest making a list of the foods you need and stick to the list. Finally, steer clear of jumbo portions; the bigger the package, the more most of us eat, even if we aren't hungry.
5. Go meatless once in a while.
Incorporating plant based proteins including chickpeas, lentils, black beans, tofu and tempeh into your diet offer up many health benefits, ranging from weight loss to lower cholesterol and improved blood sugar. Beans and legumes are high in fiber and protein as well as vitamins and minerals such as folate, iron, and magnesium. And here's another reason to swap red meat for legumes. According to a new study, beans and peas make people feel fuller after a meal than meat. Enjoy a split pea soup with a colorful salad or a bean-based veggie burger instead of a hamburger for a healthy meatless lunch. And at your favorite Chinese restaurant, order tofu with veggies and brown rice (with your favorite sauce on the side) instead of spare ribs with fried egg rolls. Your heart and your waist will be happy!
Rather than dwelling on the foods you cannot eat, focus on what you can eat. I tell my clients that there is no restaurant or cuisine that is completely off limits. You can always find something healthy on the menu. And you do not have to order off of the "diet" menu. For example, when going to an Italian restaurant, instead of dwelling on the fact that you shouldn't eat garlic bread and fettuccine Alfredo, focus instead of what you can eat: start with an arugula and endive salad, minestrone soup, or grilled veggies and for a main dish, you can enjoy whole wheat pasta with veggies and fresh tomato sauce or grilled fish with sautéed spinach.
7. Roast your vegetables.
I love roasted veggies and enjoy them quite often. For a change from steamed veggies which are bland and boring for many of us, you can roast whatever veggies you have in your fridge--broccoli, cauliflower, onions, and red pepper and zucchini to name a few. For a healthy--and filling--starch option, you can also roast sweet potatoes and butternut squash. Just go easy on the oil and you won't have to worry about the calories.
There is no better way to get a handle on what and how much you eat than by keeping food records. Don't worry; you do not have to keep them forever. People who keep food records become more mindful of their mistakes are then able to make corrections. Food records help you see your patterns, both positive and negative ones. For example, are you nibbling mindlessly while watching TV, and how much are you really eating? By identifying your bad habits, you can easily substitute them for healthier ones. Today, more than ever, it is easy to keep food records as there are so many apps on your smartphone which you can use.
9. Want dessert? Serve yourself.
If you are trying to eat healthier, a new study found that serving yourself can help curb unhealthy indulgences. People who choose their own piece of cake and, cut it themselves, eat less of it. And, better yet, they may even end up not eating cake at all.
While serving yourself stops people from eating unhealthy foods, it didn't stop them from eating healthy food, the study to be published later this year in the Journal of Marketing Research found. So next time you are at a dinner party and your host offers you a fruit salad, go for it, but when it comes to the cake and cookies, serve it yourself.
When we feel stressed, many of us turn to food. Comfort food, that is as opposed to healthy salads. While it may be easier said than done, worrying will not make our problems go away. To beat stress and worry, exercise regularly and develop a daily meditation practice. It is also ok to start small. And be sure not to stress about the exercise: choose an activity you love (my favorite is yoga and swimming) and schedule it on your calendar at a time that works for you so you don't feel rushed. As for meditation, start with 5 minutes before bed and work up to a longer period slowly. For an added boost, exercise and meditation also improves your mood and your health.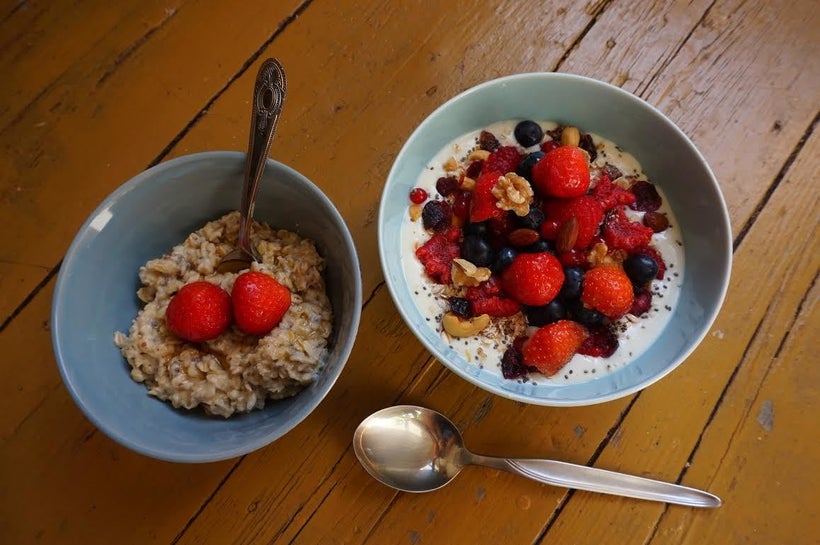 This post was published on the now-closed HuffPost Contributor platform. Contributors control their own work and posted freely to our site. If you need to flag this entry as abusive,
send us an email
.