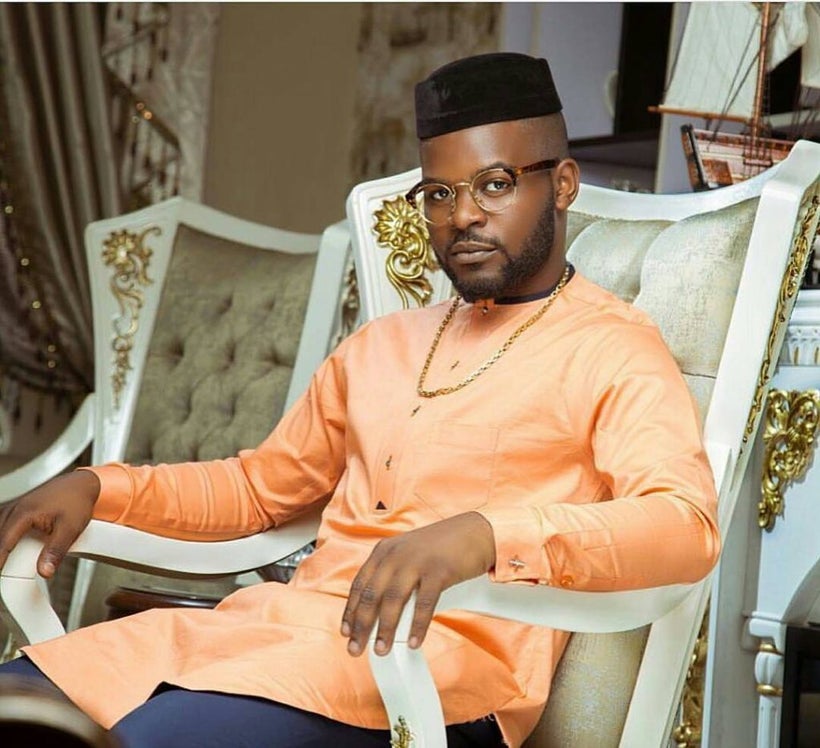 I'm overjoyed and nervous to be meeting Folarin "Falz" Falana during my trip to Lagos from Switzerland. Overjoyed, because, I'm going to the house of a man who has completely taken over the Nigerian film, music and comedy scenes. Nervous, because even though we formed a solid friendship at the Nigerian Law School, he is now a very big deal, and we even got into a spat over the umpteen attempts it took to schedule this interview. "This is the hottest act in Nigeria right now!" Everyone told me, from my mum to my friends. "So just be humble about all the schedule changes." I take their advice, and I'm now also very intrigued: Is Falz still the same down-to-earth person I knew?
A man wearing a bright yellow Korean gat, sunglasses and a shirt/short combo with layers of both black and multicolored stripes greets me outside the gates of the house. "I'm Sidney. Sidney Sule, Falz's business partner," he says, as I alight from the Uber to shake his hand. "Falz isn't here!" I almost collapsed. "But come in, we'll get you settled."
When you step into Falz's house in Ikoyi, Lagos, the first thing that stands out are the awards on display. There are a significant number of them to wrap your head around: The Soundcity MVP Viewers Choice Award (2016). The Africa Magic Viewers Choice Award for Best Actor in a Comedy (2016). The 2016 Headies Award for Best Collaboration with Simi is on its way. (The crystal piece they hold on stage is symbolic). The Nigerian Video Music Award for Best Afro Hip Hop Video (2016). Essentially, in Nigeria, he's won virtually everything. At 26. Did I also mention the BET Award for Best New International Act in 2016? That's what took him to Los Angeles to give a speech you must watch on YouTube.
His office assistant, a reserved lady called Olamide, is watching Soundcity TV in the living room, with half her attention, and simultaneously going through her phone. She greets me with a nod and a smile accompanied with a seated, regal handshake. Sidney reappears with water for me, and we talk about our day jobs, before he gets a call. He has to leave. Before setting off, Sidney introduces me to an alert man, entering the house. He has a no-nonsense aura. "So this is Femi Soro. Falz's manager". Femi's handshake is very firm. He refills my water and joins me in the living room. We're soon talking about Falz's remarkable journey to success. Femi uses the word "team" a lot, giving homage also to SESS, Falz's producer. I hear the living room door opening behind me.
It's Falz! Swagger intact. It's the first time I'm star struck about meeting a friend. "The Bahd in Bahd, Baddo, Baddest," I jest, embracing him with a signature Nigerian finger-click-handshake. After some jokes and catching up, we start.
Some days I have up to five shows! Mostly private events, concerts, end of year parties, so that's why my schedule has been crazy, Daniel! Do you get bored with it? Never! When you are doing something you genuinely enjoy, it's never boring. Every new performance is a unique experience. You are eager to see what the reaction will be each time, and the crowd acceptance. Remember, it's always a completely different crowd. For example, at the One Lagos Fiesta (an epic eight day music festival, counting down to the New Year) I performed at Ikorodu, Agege and Victoria Island! Which was your favorite crowd? Was it the Victoria Island people? Agege or Ayetoro? (Laughs). To be honest, at the Fiesta, it was the Victoria Island crowd, because there were so many people and their reaction was insane. But generally, I think I prefer performing on the mainland. The people there don't hold back. They are ready to turn-up. They are so excited to see you and they show that excitement. On the Island, people are more bourgeois, you know? Trying to form, holdback, show how much money they have. They like you–they love you–but they are just like: "Unh, yeah", he says with a Biggie Smalls voice, crossed arms, a swaying upper body and a smug expression to match. (Laughs). It's love from a distance.
Do you remember when you gave me your first mixed tape? To be honest with you, I didn't take it seriously. But what actually made me realize you had a certain fire about you was what happened after our first disagreement: when I formed our second study group, for Bar II, and you didn't show up to the first study meeting because you went to town to have a good time! (Laughs). Okay, yes, I remember! Then I said, Falz, you're out, don't come to this study group anymore. (Laughs). But after that, you went on to do better in the final Law School exam than everyone in the study group. (I remember that, he says, laughing.) And that's when I said this guy has some fire in him. What comes to your mind when you think, not just about that experience, but this fire that has been burning?
At the end of the day, if you're really passionate and determined about something in life, you have to go that extra mile to achieve it. So even when I was at law school and really passionate about my music (I was trying to record, perform, work on tracks) I also knew I had to get perfect grades. So it was double the work I would have done, as a regular guy, just doing one or the other. That same drive and determination to go the extra mile, made me feel I had to get this done and out of the way, so I could pursue the music.
Finding Passion and Pushing Forward
You'd been pursuing music since you were in high school at Olashore, so at what point did you say, "I know this is both high risk and high reward, but I'm going to officially take a jump?" I think it was at university. I just found out that as I continued on the journey, since school, things were evolving. My passion was growing too. And I felt, this is what I genuinely love! I have to give it a shot. I can't just sit down and say, I'll go into law and become like my dad. Passion is key. So I went all in.
Overcoming Discouragement
When you started what was your biggest discouragement? A moment where you said this thing looks good, but I am not sure it will work, maybe I should back out? There was one performance that went horribly wrong. I was at University of Reading and went to perform at another African and Caribbean Society (ACS) event. I think it was at Bradford. The way the performance was organized meant I was performing while some models were walking on stage, and at the time I wasn't really known. So I was completely lost on the stage. (Waw! Not like today, I add. Laughs.) Yes, people didn't even know I was performing. They were looking at the models. Everything was just completely shambolic. (Laughs). At the end of that one, I was like, "ah, men, is this really what I want to do?" Falz laughs about the experience now: The doubt only lasts for a while if it's something you genuinely love. You snap back. You say, "I will give it another try!"
Can we all follow our dreams?
A lot of people, especially in Nigeria, they see you've made your dreams happen. If they are thinking about doing the same for themselves, but need a steady pay check in this recession, what's your advice to them about following dreams? Be realistic please. Being realistic, I'd say do not look at any limited resources as any form of restraint. I'd say whatever means you have, try and harness them towards the end you desire. In my own case, at the time, there wasn't a big money investor somewhere that was pumping money into my career. No. The little that I had, I channeled into shooting my own music videos. Booking studio time (I didn't have my own studio then). Whatever hands I could pull, I used to my advantage, but it was essentially only with what I had. I also started to build my fan base online. So I'd say just start something for yourself. It's key. I found that after I started professionally pushing things for myself, since 2009, so many labels were calling me by 2011-2012. They wanted to sign me. (See from 7:16)
A few labels wanted to sign me on
There was never a deal that seemed like it was the right deal. Why? I had to consider every possibility. Perhaps I was also over-analyzing every deal because of my legal background. But I had to look at a lot of things: What the label is going to do for you that you can't do for yourself? What percentage of your earnings will they take? How long will the deals last for? You don't want to sign something you will regret, or make a move that you can't necessarily back out of. There were some that seemed like the right deal. But then they just never came through. (It turns out some are yet to follow up on their "we'll get back to you" pledge.) And that's been a huge blessing, he says, I think it was divinely ordered. Now, I've been able to build my own company and label from scratch. I understand the business in-and-out, and the industry a lot more. While working with people that have been with me from way back. I pray it stays that way. Amen!
A towering young man suddenly joins us in the room. He is accompanied by some folks and greets absolutely everyone present with a handshake. I later learn he is Kunle "Shody" Oshodi-Glover. Shody tells me that as the hypeman he gets the crowd pumped up before Falz comes on stage, just as DJ Khaled would for Fat Joe, he adds. The man known as "The Turn up King" settles into playing FIFA 2017 along with Femi Soro. Our interview continues. They're half-listening to us.
You were working at your dad's law firm full time, after qualifying as a lawyer. What time period was that? Well, after qualifying in 2012, I was with the Lagos State Ministry of Justice. Then throughout 2013 and 2014, I worked at my dad's law firm. Tell me about your average day in 2013-2014? It was ridiculous. It was hectic. I would be in chambers or at court by 7am or 8am. I would be in court till about noon or 1pm. Then attend to clients in chambers for sometime. Then I would realize, "I have to be in the studio!" (Laughs). Because I have some collaboration to work on. So I would have to get ready for that. I was living two lives. I felt like Clark Kent. (Laughs). It was tough. By the end of 2014, and into the beginning of 2015, it was impossible to live both lives anymore. I would be in court and people would come up to me, asking, "Are you not Falz the Bahd Guy?" I would say, "Yeah, but…" he places a finger to his lips and makes the hush sound. (Laughs). Because the legal profession is very conservative. You are not really allowed to be in the profession and at the same time be doing "something as outrageous as being a musician." (Laughs). It was crazy and 2015 was when I went fully into entertainment.
I signed up to everything, but not this!
What was the one thing about the music world and the celebrity life that you didn't like? I think it was the fake life style. I didn't go well with my character. Tell me more. He obliges. I am someone that is very real. What you see is what you get. But I found out with "the game" you have to be fake. It's showbiz, it's make believe, you have to make people see what you want them to see. Manipulate certain things. You can't, just, be yourself. And even with relationships within the industry, everything was fake! So many people would smile with you, but later on they are saying something. There were no genuine friendships! Till now? He is resolute: Till now, there are no genuine friendships! Save for maybe one or two people that I have genuinely connected with. Everyone else is concerned about what they can gain from the affiliation with you. How they can benefit from your brand.
Tell me about Funke Akindele
She definitely is one of the few people that I'd say I've been able to form a genuine friendship with. She is one of the hardest working people in entertainment. She is very encouraging and always trying to help people. Someone with a good heart. It turned out that my second acting gig was what got me the Africa Magic Viewers Choice Award, which is probably the highest honor in the film world. I did a movie, and of course I featured in her show, Jenifa's Diary. And that was an instant hit. I share that I'm a major fan of the show and he tells me to watch out for his character's return.
Crossing Over Successfully
How do you feel about picking up the AMVCA award, something veteran actors are nominated for? It felt particularly huge for me. Because it was a successful crossover and a successful merge. To my knowledge, there hasn't been any artist here that has been able to successfully combine music and film and comedy. My initial fear coming up in 2014/15 was that short comedy skits I'd put up on Instagram would place me into a box. The funny comedian, not seeing the brand is much bigger. So at this point, I felt I had established myself as an all-round brand, "popping" in all three worlds.
Your following from the comedy skits helped you get mainstream attention. Definitely, he acknowledges with pride. Tell me about that. I stumbled on those skits to be honest. My first ever skit was during a family holiday in Paris in 2014. Still the Barrister! My sister was recording me being silly. Talking in the trademark accent. The Brother Taju voice? Exactly! And it was about how I was in "Ju-rope (Europe) and so much enjoying myself" that I'm not coming back home again. (Laughs). As soon as I uploaded it on Instagram it gained so much traction, likes, comments. My Instagram page was open, and I noticed all the new followers. Every single video after that was intentional. I "started" with about 5,000 followers. After 3-4 video skits that number doubled. "Hmmm. I'm onto something," I thought. Now there is this constantly growing following, and there is music I am trying to push. Why don't I channel one into the other?
So I came up with the idea of the marry me challenge. I recorded a video about how I was looking for a wife – as a comedy skit. With the hashtag marry me. That was the name of the song I was trying to push at the time, featuring Yemi Alade and Po. The skit exploded, and so the song became a huge hit on its own, and with complimentary timing to Johnny. After Marry Me, I sat down with my team, these same guys, he says, pointing them out. (Laughs). We said this thing is going further than we imagined. The following is growing ridiculously. I now had about 100,000 followers. Let's plan another challenge.
Then we broke the Internet
The Ello Bae challenge was next – and it broke the internet. Valentine's Day was coming up. I had already opened so many comedy skit videos with the line, "Ello Bae" – so it had become my trademark. So my team thought: Why don't we get people to do their closest impressions of that persona, while sending a message to their loved ones? (He whistles, claps his hands and then clicks). From then on, Daniel, thousands of post! Thousands! With the hashtag "Ello Bae"! Did you practically invent that expression? Yeah, I did. So the even the word "bae"? No, the word "bae" – that was already there. Foreign? Yeah, I think Beyoncé at the time had been using it. Apparently it meant "before anyone else." But the Nigerian twist "Ello Bae" is a trademark of Falz. Nobody can take it from me. (Laughs). So the challenge blew up, and I dropped the song to match. Everything was cemented from there. I didn't stop. Everything just kept exploding.
Celebrity Girlfriend was the same concept. It became our formula. Falz, what I love is that you make people get emotionally invested in the song before it even drops. They want to see if their celebrity girlfriend look-alike made the cut: from your Instagram hashtag challenge to your video. Exactly! Is this something you can keep doing? We try to space it out. After Celebrity Girlfriend, we haven't really done it again. But we still build up some anticipation with hashtags on social media for our songs, as with Karishika.
In February 2016: More Instagram followers than Donald Trump
Did you look back on your Instagram following one-day and see you had over 1.5million followers, or were you taking note of the milestones? I was taking note, but everything also happened so fast. With that following, you had more Instagram followers than Donald Trump did in February 2016 – during his presidential campaign. Hmmm, he responds. I want to segway into that. Do you follow what's going on in foreign politics? We can't escape it. It's in the news. We have to follow what's going on, without crying more than the bereaved. We can't lose track of pressing issues here and carry American elections on our head.
Where you guilty of that, for even a second? Developing an opinion about the candidates? I did. I had an opinion on Trump. Can you tell us? I thought he was never going to win. Because he was everything bad. The discrimination. What he said about black people, calling Mexicans rapists. The grabbing. The wall. He said horrible things and still won. The Electoral College contributed to that. Why are you getting people to vote if their votes won't matter in some states? Why is there a popular vote if you're going to go with the EC votes? More people voted for Hillary. What did you think of her? A better option. The attention just seemed to benefit Trump. I watched an interview on Election Day where people echoed his views, so he tapped into that.
America: The Next Frontier?
Tell us about your BET Award in Los Angeles last June. It was a good experience. How did it come about? I just woke up one morning and received an email that I was nominated. Just like that? Yes! There was a phone call, explaining voting would be on social media. My followers really came through for me. I went to L.A. and I won! But I found they discriminated between my award and others from the UK and Africa, which were given on the International Day. Because the main day of the awards, the next day, was unbelievable. It was huge. So many celebrities and it would have been so different to receive the award there. More exposure, everything. You will still get there by God's grace. Amen, he says. Even bigger.
Actually, what's your biggest aspiration in all this? Awards wise, the Grammies! But success is not all about awards. For some people success is wealth, for others it is about touching lives with the talent you have/inspiring people. Even though wealth and awards are important, I subscribe to all three metrics for success.
Tell me about something you do on the charitable front? My mum has an NGO called Women Empowerment and Legal Aid. They rescue domestic violence victims. They provide a home away-from-home for women who need to escape the violence until they can find their feet. So I performed at a fundraising event there, where big personalities came and donated to the cause.
What sort of legacy do you want?
I entertained on all fronts, and put smiles on people's faces. At a much later stage, I'm also open to finding a way to bring my legal background back into play. Perhaps entertainment law or intellectual property. Developing the law in that area.
New to Falz? What you should listen to first.
How would you introduce an uninitiated listener to your music? Where should they start? Download "Stories that Touch," it will be the best way to understand my style. I really expressed myself there. It's on iTunes, Amazon, Spotify.
What film can you watch 10 times?
300! Why? The action, the lines! (Laughs). It was set in another time but still relatable. I love action movies.
The Influence of Mr. Femi Falana (SAN)
Who has influenced you the most? "Me," Femi Soro, says, shouting out! (Laughs). Are you the one they asked, Shody jokes. My dad, Falz finally says. I've always looked up to him as an icon and idol. Then there is the hard work he puts in. A lot of people see what he's been able to achieve, but they don't see the hard work he has put in the way I did. It pushed me to work harder. It gave me my work ethic.
Is there something about yourself you wish you could get rid of?
Long silence. Very long. "For me," I say, to fill the void, "it would be coming across as too serious. That's the automatic impression people have. I would love to be able to step into the Brother Taju persona in public. But it would be so weird, imagine that?" (He laughs, hard). I know what you mean. So I am actually a shy person. I've had to push myself because of what I do but I'd love to get rid of it totally.
What crime would you commit if you knew you'd never get away with it?
This is a set up, he jokes. (The room laughs). "Rob a bank," Femi Soro feeds to him. Yes, I was going to say that. Would you take everything or just a bit? I will take everything!
Which of your songs means the most to you?
Soft Work. It's the most genuine. It came from a very personal place. It's about the journey of working hard, but because I love what I do, it is soft work. That's my life philosophy. Do what you are most passionate about and it will be soft work.
When you see the struggle in Nigeria, what's your view?
It's tough. It's getting even tougher. The foreign exchange rate. The recession. I'm an optimistic person though. I believe there will be light at the end of the tunnel. We just have to endure and I hope the light comes quickly.
What have you learned from success that you can't learn from failure?
"Hmm, hay, where did you get all these questions from, Daniel? Ha!" (Laughs). I told you I wouldn't bring cliché questions. He pauses. Fulfillment is the highest level of happiness. When you succeed and you're doing what you always wanted to do and doing it well, that is probably the happiest you can be in life. And I think if I wasn't succeeding I probably would not see that.
He tells us, in the Brother Taju voice, that a U.S. tour is going to be something to watch out for in 2017. Drake, if you are reading this Falz is a huge fan and looks forward to working with you! Falz? "Yes boss," he replies. It's been a pleasure. "Thank you for having me, but Daniel, yay, I am tired!" (The room laughs). He asks his chef to dish me an amazing plate of jollof rice, chicken and moin-moin. At the dinning table, with his team, we soon end up reviewing The Wedding Party, and both agree that our favorite scene was Shola Shobowale's epic dance entrance into the wedding venue. Is Falz still the same down-to-earth person I knew? I'd understand if he wasn't. But he's actually remained as humble as he is successful.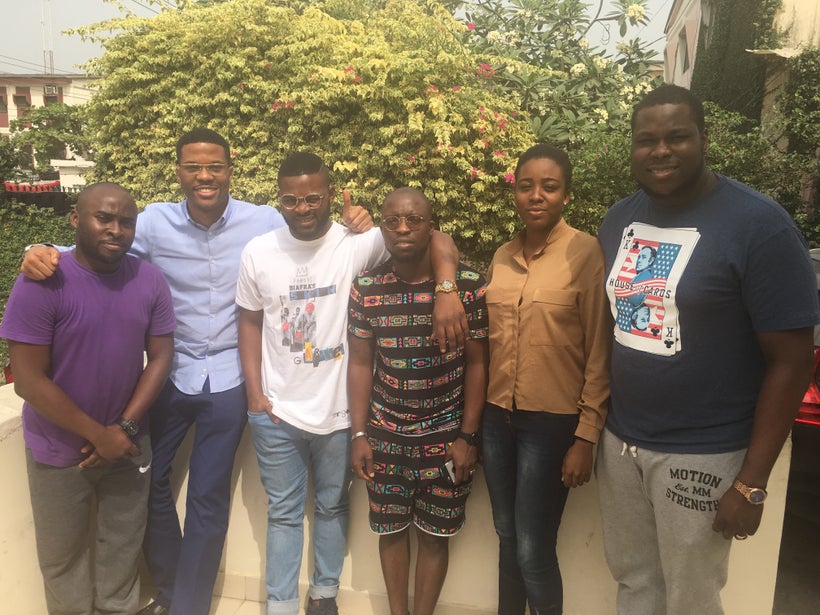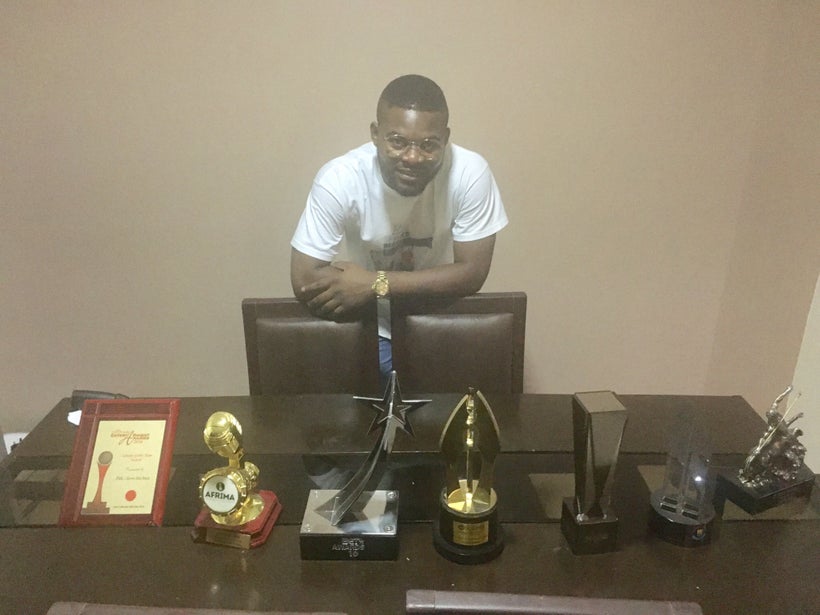 This post was published on the now-closed HuffPost Contributor platform. Contributors control their own work and posted freely to our site. If you need to flag this entry as abusive,
send us an email
.