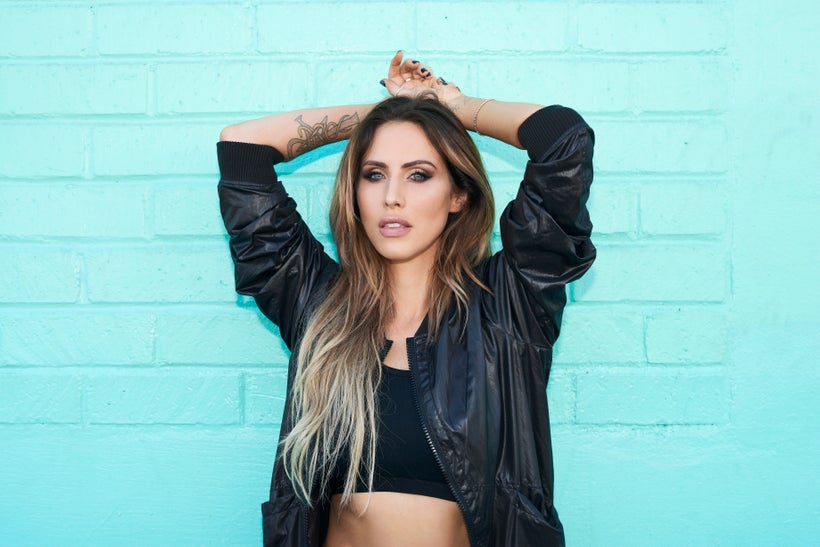 A good music video can transport us to another world, often a place we've rarely seen on film. In Helena Legend's new video, directed by James Winterhalter, we are transported through the night of Shanghai, the "real" Shangai, as our narrator decrees in the opening voice over.
Watch the video premiere and read the interview with producer Helena Legend and director James Winterhalter below:
How did you connect with Lyre, and how did the idea of "RU Feeling It" come about?
Helena: Lyre are a singer-songwriter duo from LA. When we originally went into the studio, we linked up through management teams, and we actually were working on another track. At the end of the day I threw it out to start a new track, and we started jamming, and RU Feeling It got hummed out. We sketched the demo in about hour.
James (the video's director) is an insane talent to be quite honest. I've been working with James since I moved to America. He was my very first videographer and we did loads of clubs shows and big after movies, including our 2015 tour in Asia. We've always talked about doing a music video, and it needed to be the right track.
James: Helena first showed me the track and I told her I thought it was massive. I pitched the idea of going to Shanghai to shoot. I walked upstairs to my roommate Mike (who also does sound design), and we stayed up the entire night snowballing concepts. One of the places we started was looking up mythological Eastern fairytales and we found this term, ego death. It means the subjective loss of self-identity. We came away with that and wanted to portray the concept as Helena's infatuation with a city.
Helena: I was going to be in Shanghai and after I had a festival in Shenzhen. This year I've been playing a lot in Asia. Shooting in a city like Shanghai, there's so much cool stuff. I thought it would be a good idea to involve the Chinese market as well.
How do you find the scene in Asia?
Helena: I kind of feel like when I was first djing in America. The scene is really fresh and the crowds are up for anything. You always have that honeymoon period. The market is just so so huge, and focusing on Asia, that's where everyone is predicting it's gonna blow up.
James: There are so many young creatives, and it was so dope to see this scene.
Did you have any difficulties shooting in Shanghai?
James: Yeah we definitely did, it was essentially a renegade style shoot. The day before we left we had to overnight our visas to NYC. Google maps was pretty much our only resource. 20 minutes after arriving to our Airbnb, we met up with a guy named Vitaly, who is a Russian guy living in Shanghai. He was a scene specialist of sorts.
Mike: He's one of those guys who hangs from a building with three fingers and takes a selfie.
James: One of the most notable things, location wise, is that we had written down that three of our key locations would be a night club scene. Because if you look into ego death, loss of self-identity can come from the use of psychedelic drugs. And we thought of paths that you experience, such as self reflection, that might get a little dark and introspective.
There was a gambling scene, and a place with mirrors. We wanted to find something strange and surreal. We were walking in the old town and we found this arcade, that turned out to be an installation place called Top of the World that had a rain room, a mirror room, and a casino. We were kind of amazed that all of the this was in one place.
It was way under our budget, and the security guards even opened the vending machines to give us water. They ended up leaving the doors open just so we could shoot, they wouldn't even take our money. It felt like moments like this happened the entire time we were there.
James: It was about two and a half days of shooting. Post production was about a week. Lots of back and forth, lots of sound production.
I want to shout out two locals Deena and Sasha, who are also in the video. They helped us every step of the video and Sasha did the voice over in the beginning. Deena did a lot of translating for us.
Helena what are you working on this year?
Helena: I've been releasing an EP split into two parts. Part 2 is dropping on February 17th. I was in the studio and just finished up "Dose Of You," which is featuring Kristin Maldonando from Pentatonix. I'm also working on another track that I'll be singing on. Lots of music coming from me this year.
More on Helena Legend HERE
This post was published on the now-closed HuffPost Contributor platform. Contributors control their own work and posted freely to our site. If you need to flag this entry as abusive,
send us an email
.