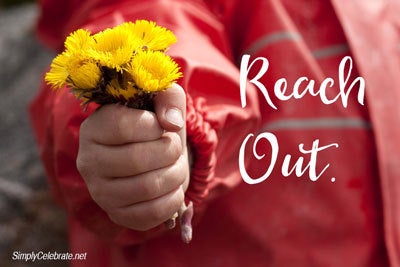 Hearts are heavy right now. No matter what side of the political fence you're on, it's likely you've felt the divisiveness and anger that has enveloped our country these past few months.
Personally, it breaks my heart to see so many people I love from all walks of life whose online posts are full of generalizations, stereotypes, slurs, and flat-out hatred.
I get it. I know people are fearful and frustrated. But I just can't imagine that hatred is the answer. We are colleagues, family, friends, and neighbors. That person we are generalizing about and belittling because of his political affiliation might be our neighbor whose mom just died. She might be our colleague whose daughter has cancer.
That person we believe we hate because they voted wrong could be the man at the bus stop who helped an elderly woman when her purse was stolen.
Have we forgotten that we share a common humanity?
Many of us practice spirituality or religion, meditation or prayer. Isn't it possible that we can each put our attention and energy toward the kind of world we want to live in — and do it with love, not hatred?
There are countless ways to put our love into action in far-reaching ways, especially by volunteering for or donating to causes that we believe in.
But for today, in celebration of Valentine's Day, I also want to encourage you to consider the impact of intentionally directing your love to just one person who dearly needs it.
Think about your circle of friends, family, and colleagues. Is there someone whose heart is especially troubled right now? Perhaps there is someone who can't seem to disengage from malice, anger, or fear?
Now, choose one love-into-action step below. Help bring light to someone who is in the dark. Don't wait. Do it today.
Create a Love List
Think about the person you know who is troubled, angry or fearful right now. Set your timer for 15 minutes and brainstorm all of the things you love about this person. If you need help coming up with creative ideas, click here for prompts and the replay of a Love List Making workshop. Sending someone a gift like this doesn't cost a dime, but it can be a priceless gift they treasure forever. And the secret sauce is, it will make you happy while creating it. It's impossible to feel unhappy when we're focused on love. If you want to literally give your friend some light, watch my five-minute tutorial on making a Love List Joy Jar with fairy lights.
Re-appreciate
Can you remember something loving this person did for you or said to you in the last year? Craft a letter to tell them how important that act of love was for you. Include a couple specific details about how it impacted you. Be the reminder to them of how love sticks to our sides. You can use this free printable I created — simply edit it, print it, and send it.
Make a Magic Moment
Set a date to get together with this person for a day, but don't tell them where you're going. Think about an adventure you could take them on that would lift their spirits. Maybe you take a bus to a nearby town with a great art exhibit and afterward you pull out some drawing pads and create your own art together? Maybe you take a scenic drive and end up someplace cozy and quaint for lunch. One caveat: try to refrain from using smart phones, tablets, or computers. Be as present as you can. And remember how important simple touches are — like a lingering hug, special music, or the gift of a single flower.
Mail a Memory
Remember when we used to print out photos and give them to one another? Do this! Remembering happy times is a way to lift someone's spirits. For less than a quarter, you can print a photo at your nearest drugstore. Buy or make a greeting card and jot a short note about what you remember about the time you shared together. "I love the look on your face in this photo. Remember, it was right after we found out we were both pregnant!" Pop on a stamp and off it goes. Too much trouble? Check out an app I love called Postagram, which allows you to create and mail a photo postcard within minutes.
Encourage anonymously
Type up a loving note and print it out so your friend won't see your handwriting. The note can be from Life, the Universe, God, Mother Earth, the Wizard of Oz, Santa Claus, Han Solo, or any hero your friend might have. Write some things about the person that are heroic and loving. "I see the way you pack lunches and hand them to the homeless in the Mission." "I appreciate that you are always at the ready with a smile and kind word for a stranger." If you really want to throw them off your trail, send the stamped letter in an envelope to a friend who lives in another state and ask her to drop it in the mail so it is postmarked far from you.
Thank you for putting love into action.
This post was published on the now-closed HuffPost Contributor platform. Contributors control their own work and posted freely to our site. If you need to flag this entry as abusive,
send us an email
.