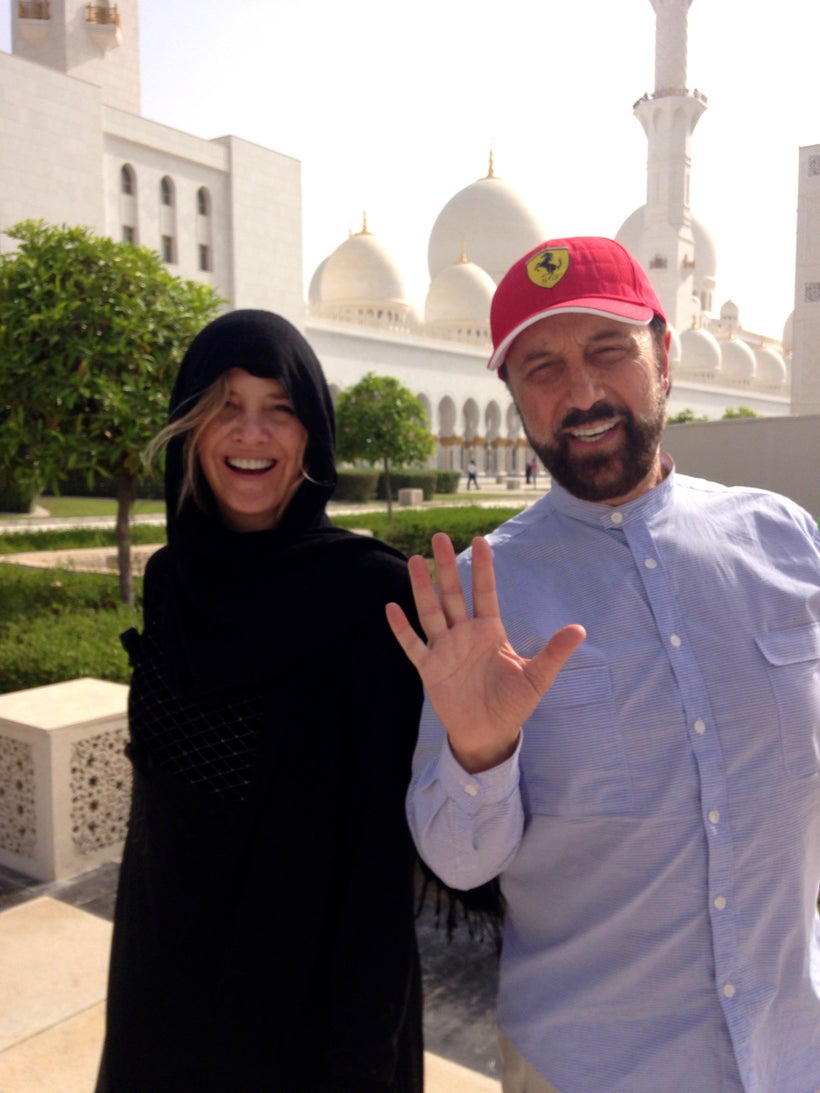 Have you ever been on a trip with someone you barely know and then things go wrong?
In 2015, I went to the Middle East with Yakov Smirnoff. Yes, Russian comedian, Yakov Smirnoff. We met on my show Story Worthy, and became friends. We went out to lunch and dinner a few times, mostly discussing business, his career and the social media environment. He needed help with social media and hired me to manage his Facebook and Twitter accounts. About 6 months into our business relationship, we started doing other things together; paddle boarding, playing tennis, and going to museums and comedy clubs. Lots of comedy clubs. Were we dating? I'm not sure.
One day, out of the blue, Yakov calls me and asks if I want to accompany him to Mumbai. Yes, Mumbai, India (I think that's the only one.) He's performing on a cruise from Mumbai to Dubai and he's wondering if I want to go with him. Mumbai to Dubai? Do I want to go bye bye? He says it's for three reasons- to work on his social media together, to help with his shows, and also for companionship. Oh, and it's all first class and will be completely paid. Am I interested? Do I go? Of course I go.
A few days before the trip Yakov called me to tell me his assistant Gary (Russian pronunciation- Geary) would be dropping off luggage for me to use. I thought this was odd. Why would I use his luggage? But he explained it was easier to keep track of our bags, especially internationally, if they matched. 0k. I'll go with it.
The lime green suitcases show up one afternoon and I start thinking about packing. I've never been on a cruise before, let alone in the Middle East with a Russian comedian, so I'm not sure what the guidelines might be. Considering the luggage specificities, these details may be something I shouldn't overlook. I think about the luxury ship we'll be on for 10 days and the things we'll be doing. I better get some dress-up clothes stat! I swing by my local Crossroads Trading, "gently worn clothing" store. Their motto is "Designer Fashion Without Designer Prices." It works for me every time. I spread all my new purchases out on the bed and then I pack the lime green cases.
The day we leave, I take my daughter to school and hug her tightly. I assure her we'll be in touch almost every day. I gave her dad 18 small packages to give to her each day I'd be gone. It was hard. I'd never been away from her for more than two or three days. But granny is here to help and… it's all first class you guys!
Once I get on the road and head out to Yakov's place in Malibu, it gets easier. It gets exciting. When I arrive, Gary is helping organize the luggage and Yakov is in his bedroom still packing. Finally Yakov emerges and he is wearing a dark colored suit with a lime green shirt that matches the luggage perfectly. I'm not kidding. Gary jokes "You didn't get the memo about green?" It's funny. We all laugh.
Yakov and I fly business class to Paris and have a fabulous 12 hour layover, where I insist he sees the Catacombs of Paris, which I've previously visited. We take the metro in to the city to the Denfert-Rochereau metro stop and walk across the street to the completely unassuming entrance to the Catacombs of Paris. If you didn't know it was there, you would miss it. Once you pay the entrance fee, you begin to walk down…down.. down… The Catacombs is an old lime quarry under the city and millions of Parisians were buried after the French Revolution. You walk thru miles and miles of tunnels full of bones, on either side of you. It's fascinating, creepy and oh yeah, I think I'm on a date with Yakov Smirnoff.
After walking several miles through the Catacombs, we emerge and spend time wandering the streets of Paris, as one does. We eat crouque mossieur sandwiches and drink Leffe beers and then return to Charles de Gaulle airport to fly to Mumbai. The flights, by the way, are exquisite. As a former flight attendant, it was fantastic to be on this side of luxury, getting pampered in my own little pod.. even the first class lounges are luxurious. One even featured facial massages.
By the time we get to India, we had been traveling for about 34 hours and we're both exhausted (not as exhausted as we would have been flying coach, but still…) We navigate our way thru the airport (with a 45 minutes delay at Immigrations because they couldn't get an imprint of Yakov's fingerprints clearly) and finally get a driver and head to the hotel.
The trip from the airport to the southern part of Mumbai, near the waterfront, took about an hour. What I was seeing outside the window of the car was unlike anything I'd ever seen. The dilapidated buildings, the brightly colored billboards, the slums, the sheer amount of people, was fascinating.
Finally, we pull up to the hotel and Yakov and I both fumble with our bags to get a few bills to tip the driver. It's then I realize my wallet is gone. I check every lime green bag I have, assuring everyone within earshot "It's here. It's here. I'm sure it's here.. Hold on.." But it's nowhere. My wallet is gone. As I think back, it may have fallen out of my fanny pack in the Catacombs of Paris. It was dark and I kept going in and out of my bag to get my phone out to take picture. The fanny pack kept flipping over, and now that I think about it, I'm sure it fell out.
I turn and say, "Yakov, I lost my wallet." He says, "It's o-k… Don't worry about it. I got this." I'm completely embarrassed. I barely know this guy and we just started this trip. Now I have no cash, no credit cards and I lost my favorite leather wallet. I do have my passport, thank goodness, but that's it. So what am I going to do? Go to the Embassy, call my sister, and get money wired? Or do I rely Yakov Smirnoff? My options are limited and I do trust him.
Next we change our clothes and head out to explore the area around our hotel and the famous Gate of India. Mumbai is hard to describe, but I'll try. The streets are full of honking cars, motorbikes, and people everywhere. There do not appear to be any traffic rules whatsoever. There are cows and goats in the streets, malnourished cats and dogs wondering around in a daze of heat and starvation. In one direction you may see a guy getting a shave and beside him, a kid defecating on the sidewalk… then a person taking a shower. It's as if there are no walls in the city…just humanity…everywhere.. I've never been anywhere like it.
We return to the room and before we even unpack, I head into the bathroom to brush my teeth. We are so "not-unpacked" I'm still using the first class amenity kit. I'm brushing my teeth with an Air France toothbrush, and all of a sudden, my tooth falls off. I'm not kidding you. The laminate on my front tooth comes off! Without a laminate, it's like a tiny little pirate peg tooth! They scrape all the enamel off the tooth before they adhere the laminate.. so it's truly disgusting… like a little grey/black peg. I lost my wallet two hours ago and now I lost my tooth!
I walk out of the bathroom upset and humiliated. Holding my tooth in one hand and covering my mouth with the other I say, "Yakov, I shit you not, my tooth just fell off." He looks surprised and then says, "It's o-k. We'll figure it out." I could not have been more embarrassed. I'm looking down the barrel of a 17-day trip with no tooth and no wallet and I've never even spent the night with this person (unless you count the 35 hours traveling time.)
We head back out to the streets to look for a pharmacist, a dentist, or a miracle. It's 105 degrees outside, but I keep a scarf up over my mouth. I don't want to scare the lepers on the streets of Mumbai with my little meth tooth. In and out of every little store front, asking the clerks if they have "stick-a dent" or some sort of dental creme. Every single one of them looks at me like I'm crazy and then either puts toothpaste and/or Indian Viagra on the countertop assuming this must be what I need.
The next day, Yakov has an idea. He suggests we go to the nicest hotel in the city, the Taj Majal, and ask the concierge for assistance. We do and the concierge (who thinks we're staying at the hotel) calls a dentist and gets us a cab. Within 15 minutes, I'm standing outside a dilapidated medical building in Mumbai India with Yakov Smirnoff, and I'm about to get some dental work done.
Although the 8 story building looks like it may fall down on the outside, once inside it's pretty nice. In fact, this dentist office is more sophisticated than my dentist's office in LA. There's a lot of computer monitors and television screens and while they bonded my tooth back on, they gave Yakov a foot massage. Less than an hour after arriving, my tooth is bonded on and it's time to pay the bill. It's 4000 rupees, and as you know, I have no rupees. I have no money whatsoever. I look at Yakov, and he says "Don't worry, I got this." He pays the 4000 rupees. (By the way, 4000 rupees is like 60 bucks.)
A few days later we board a Regent cruise ship, where Yakov will be performing. This is a high-end luxury cruise and it's hard to explain how decadent it really is, but I'll start with saying, every room is a suite with a balcony. The cruise is all-inclusive including the off-shore excursions. The ship is fancy and beautiful and full of wealthy, old, white people. I fit one of those categories.
We had just departed Mumbai on the way to Oman and we're in our suite. I am unpacking and Yakov is taking a nap. I have to go to the bathroom…I mean, I really have to go to the bathroom. We've been traveling for days… and I'm finally starting to relax. I use the toilet and I flush, but it's not flushing. The toilet is not flushing properly. The water starts backing up, so I flush it again. Now the water is rising… the waste is rising. What kind of luxury cruise ship is this?
I look around the bathroom full of white cotton towels and shiny brass fixtures and I realize, there is going to be spillage. I am on a ship in the Arabian Sea with Yakov Smirnoff in the other room napping, and the toilet is going to overflow! My mind races.. I can't call the desk for maintenance, because Yakov will hear me on the phone and wake up. I can't leave the room to get help because, what if he wakes up while I'm gone and uses the bathroom, and see's what I've done?
The water is starting to crest over the top of the toilet… it's coming over the rim! I grab fluffy white towel after fluffy white towel and drop them on the floor. I start to panic…I have to get out of here. I catch a glimpse of myself in the mirror… I'm sweating and I look crazed. Finally, I yank the spa bathrobes off the back of the door, drop them in a heap at the door, and squeeze my body out of the bathroom.
Now, what do I do? I see my cell phone on the table across the room. I make a lunge for it and instinctively text my sister 8,000 miles away in Pittsburgh, Pennsylvania. I quickly type out the situation. "On ship- backed up toilet- poop on floor- Smirnoff sleeping- what do I do?" Miraculously, she texts right back- "You bonehead! Wait till he wakes up and tell him truth." The truth? What is she talking about? There is poop on the floor in the bathroom! The truth is the last thing I'm going to say! By the way, those two texts from the Arabian Sea, $169…thank you very much, AT&T.
I sit at the foot of the bed and watch Yakov Smirnoff sleep. After a few minutes, he wakes up. He opens his eyes slowly and looks at me- "Now what?" he asks. I tell him there's a plumbing emergency and we need to leave the room for a little while. He says, "No problem…let me just use the bathroom and then we'll go…"
"No, no! You can't use the bathroom! That's the problem area!" I scream.
We leave the room and I discreetly inform the front desk. When we return, there is no evidence of the crime whatsoever. As it should be on a luxury cruise ship.
I guess what the lesson here is, losing your wallet in the Catacombs of Paris is bad; losing a tooth in Mumbai is a disaster; and losing your shit on the Arabian Sea is downright humiliating…but if these things happen with Russian comedian Yakov Smirnoff, it's not that big of a deal.
This post was published on the now-closed HuffPost Contributor platform. Contributors control their own work and posted freely to our site. If you need to flag this entry as abusive,
send us an email
.