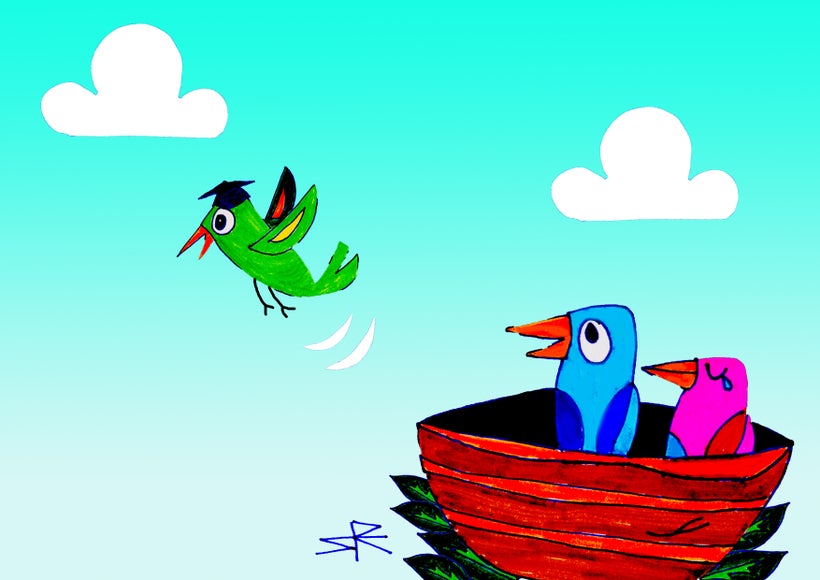 Last fall, I officially became an empty nester when both of my kids flew off to college. Actually, neither of them flew to school, but instead, Hubby and I drove them across multiple state lines in stuff-filled cars.
As a mom who works from home, I knew that this was a big life transition for me, too. While I readied my birds for school by stockpiling linens and towels from Target and Bed Bath and Beyond, I readied myself by stockpiling information off the Internet on what life would be like when both of my children left my carefully tended coop. I found article after article on what to expect when your nest empties.
According to other parents, I could anticipate an eerily quiet house, unscheduled days, static silence from the baby birds, which meant dwindled texts and phone calls. Some empty nesters claimed to be sad, depressed, and quick to cry. On the opposite side of that were parents who took an immediate shine to their new freedom, so much so that they literally threw off their clothes and danced around their homes naked because now they could.
I moved into this transition well-informed, but then I realized one thing that none of the articles, or friends, had mentioned—for me an empty nest also translated into an empty pantry.
As a self-proclaimed foodie, I was surprised and saddened. I love to cook and for years I'd tinkered with new recipes to produce dishes my husband and kids would enjoy. I am a writer, too, and concocting new culinary treats was another creative outlet for me.
Back when my family was young and growing, I made dinner together a priority, and preferred home-cooked meals. From the time my kids moved out of high chairs, our family dinner table sported flatware and dishes resting on pretty, or playful and kid-friendly, placemats. We ate family-style and shared details from our days along with fresh-from-the-oven plates of food.
By the time my kids had entered their teen years and nights filled with homework and extra-curricular activities, family dinner times were a challenge and took more planning. My modus operandi was to cook in bulk, doubling and tripling recipes, after which I froze the extras for future meals. It was how I managed to carpool, help with homework, volunteer at school, carve out writing time, and still feed my family.
Once the kids left for college, my doubling-and-tripling-recipe days jerked to a halt. For the first month of my empty-nest life, I barely cooked at all. My husband traveled some for business, and on nights he was away, I tossed together a salad, or instead, I met friends at restaurants. One girlfriend suggested we get together for dinner every Tuesday. She was worried I'd be lonely. I barely took a breath before readily accepting her offer.
The difference in my food habits became instantly apparent at the grocery store, too, where I stocked up on fewer chips and snacks, and the overall volume in my cart shrank. I was glad for the newer mini-carts most supermarkets offered.
My empty-nest dining habits were brought glaringly into focus when my youngest returned home for fall break. One night for dinner, I happily made his favorite dish—beef stir-fry and rice—and when it was time to eat we sat at the kitchen table. The funny thing about where we ate was that for the past two months Hubby and I had exclusively shared meals at our kitchen's bar counter.
"It felt strange to be sitting at the table," my husband said while we cleared and cleaned after dinner.
"I was thinking the same thing," I said.
Of course, with our youngest home, it was wonderful, too. Still, after he went back to school, Hubby and I went back to eating at the bar counter—it was our new normal.
Now, a full semester into this empty-nest thing, I've gotten back into testing new recipes—things Hubby and I want to try—and I chop, mix, and measure in smaller quantities than before. Two of my favorite recipes in couple-sized proportions are marinated ahi tuna and cauliflower crust pizza. I've even grown to accept the empty space in my pantry. It's not so bad to spot an ingredient without first juggling boxes and cans.
The Internet articles I'd read were on target in a lot of ways.
My house did become quiet and I've had some teary moments. Thankfully though, my two sweet birds have been good about texting and calling the nest.
And while I'm adjusting well to this new phase of life, I haven't tried dancing around the house in my birthday suit—at least not yet. So be advised: if you're planning on popping into my empty nest, make sure you text or call first.
This post was published on the now-closed HuffPost Contributor platform. Contributors control their own work and posted freely to our site. If you need to flag this entry as abusive,
send us an email
.