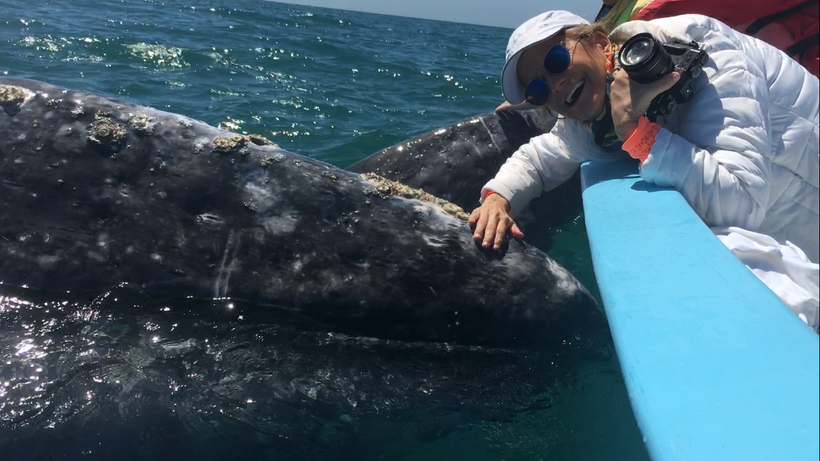 Yep, you read that correctly. I landed a big smooch on a 35 ton ballena's schnoz in Mexico's San Ignacio Lagoon.
Gray whales begin migrating from Alaska's Bering Sea in January to give birth to their calves in the warm Pacific Ocean off Baja. The beautiful behemoths winter roughly 550 miles south of San Diego, California, until they head back north in April. Their 12,000 mile roundtrip journey is said to be the longest migration of any mammal on Earth. The aforementioned San Ignacio Lagoon and Guerrero Negro are the best places to interact with them.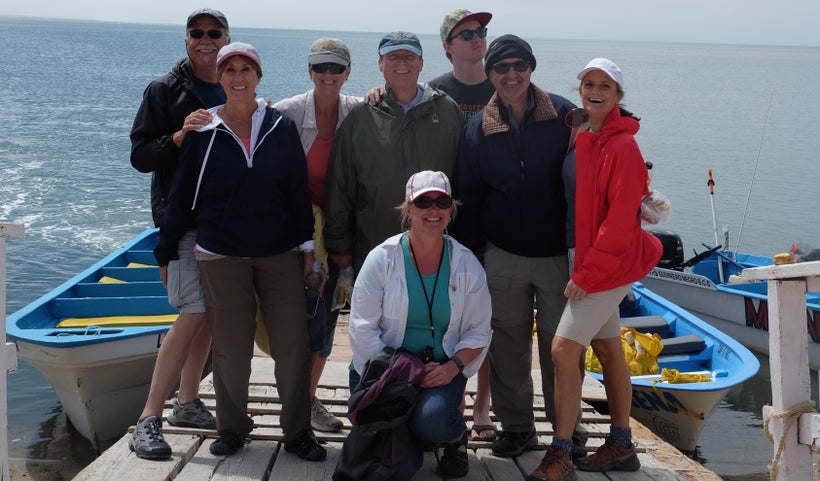 Myself and seven friends started a three-day whale bliss-a-thon at Guerrero Negro. Jose, who lead our first excursion, was at the helm of our eight passenger wooden boat — or panga. Within 30 minutes a gentle giant and her baby approached us, swimming around and under the craft. They wanted to play. We petted, tickled, and massaged their rubbery skin encrusted with barnacles. They'd nudge our vessel, turning it around, then pop up for more lovin'. Our excitement level was off the charts. I caught the interactions with my camera, but couldn't capture the emotional high. We hung over the edge getting so close we'd be soaked when they spouted from their blowhole. Our two hours among new friends flew by. No one wanted to say goodbye, including the whales. We thought day two couldn't top our unbridled excitement. Little did we know.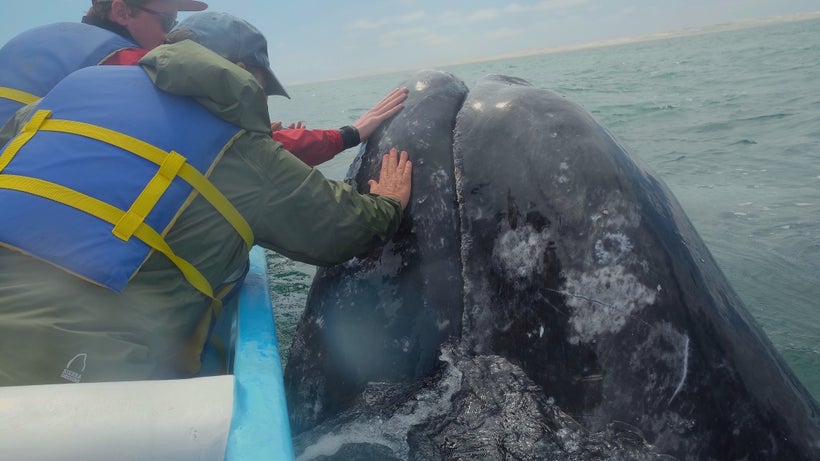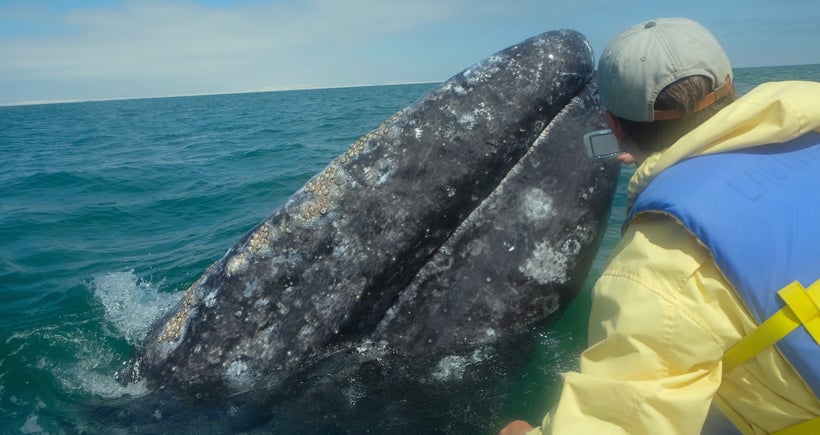 Our next rendezvous with the glorious creatures was in San Ignacio Lagoon. Marine biologists counted 277 whales in this remote basin an hour and a half SE of Guerrero Negro. The Mexican government strictly regulates access, providing protection for these cetaceans to reproduce. Captain Molo manned our panga's rudder. Guiding seven tours a week, he knew the darlings as if they were his pets. He whistled and tapped the side of our boat. All of the sudden we were surrounded by six mama and baby whales. We scurried from side-to-side as the boat keeled left to right. Proud mom's wanted to introduce their offspring as they nudged and lifted them upward towards us. The "kids" twirled and blew bubbles. We bent over and planted big kisses on their wet noses, and petted them as we do our family dogs. Pure euphoria filled the dinghy as we cooed and showered them with terms of endearment… "hi, sweetheart," "such a pretty baby," "who's a good whale?" This was the blueprint on our third day with the majestic mammals, as well. Two hours of total joy.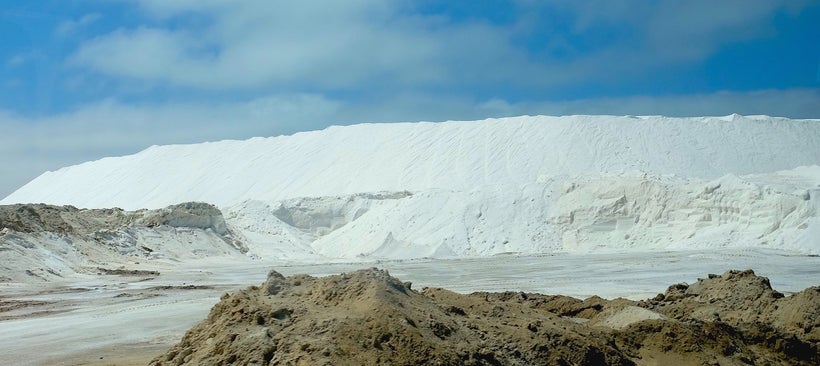 When not whale romping, the small towns offered other highlights. Guerrero Negro salt mines are one of the largest producers in the world. Acres and acres of oceanside flats collect sea water. Sun and wind evaporate the H2O, leaving behind precious salt. Mountains of the white condiment sit on the shores. Over nine million tons are collected and exported yearly.
The San Ignacio Mission resides over its namesake village plaza. Inside, informative plaques told the history of the 289 year old beauty. Family run restaurants surrounded the quaint square, offering a bevy of delish local fare.
Numerous tour companies offer whale petting trips via bus or plane. Or, you can plan your own venture. Either way, grab your passport and go.
This post was published on the now-closed HuffPost Contributor platform. Contributors control their own work and posted freely to our site. If you need to flag this entry as abusive,
send us an email
.