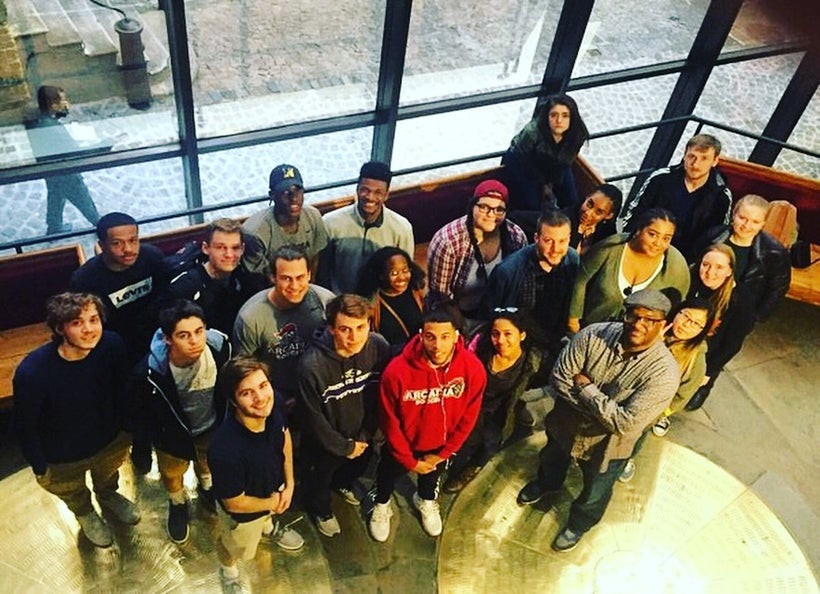 Last month, Dr. Bruce Campbell Jr. led a delegation of 20 students, from Arcadia University, on an international learning excursion. As part of Campbell's course, Get Your Groove On: Exploring the Urban Music Scene in London and Philadelphia, students continued their educational immersion into the London and Philadelphia music scenes.
"It's always humbling to meet Junior's students year after year," said London based producer and DJ, Simbad.
"It makes me happy somehow to share bits of my passion with these youngsters who are, for most of them, traveling outside their country for the first time and trigger their curiosity."
Offered during the spring semester as part of the University's Preview Program, Get Your Groove On is designed for Arcadia first-year and new transfer students. The program offers week-long international experiences over spring break.
The course convenes weekly and is designed for students to examine the rich complexities of Philadelphia and London's music scenes including their relationships to history, art, the global economy and popular culture.
"In order to secure a bright future for our students and community, it has always made sense to invest in courses like Get Your Groove On," said Campbell, Assistant Professor in Arcadia's School of Education.
Guest artists, including Rich Medina, Ursula Rucker, Fatnice, DJ Mike Nyce, DJ Skeme Richards, Stacy 'Flygirrl' Wilson, and DJ Mr. Sonny James, have presented to the class since it began in 2013.
Deeply rooted in Philadelphia's music scene, the artists address issues such as the sociopolitical climate, politics and economics' impact on the scene, and the state of the global music business today.
"Let's make positive and impactful change now so we don't have larger issues as a result in the future," Campbell stated while speaking on the state of education and programs like Get Your Groove On.
President of the Education Law Center Board of Directors and Director of Arcadia's Educational Leadership Master's & Supervisory certification programs, Campbell recently earned tenure for his scholarship. He is also known as DJ Junior.
"I usually DJ while I am there," Campbell said of his performance at London's Jazz re:freshed weekly series at the Mau Mau Bar. "Students freak out when they see that their professor is a real DJ!"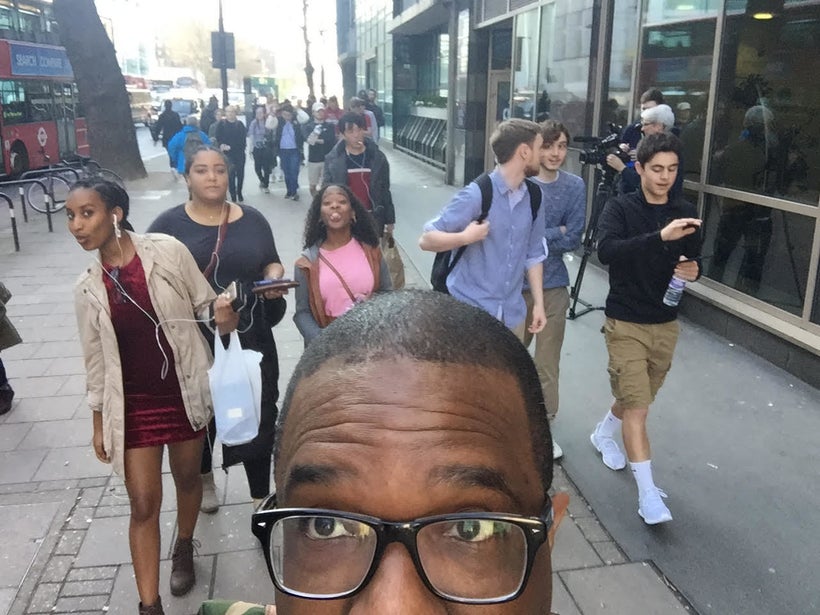 Prior to the spring break travel component of the course, Campbell's students engaged in discussions on the history and types of music found in London's and Philadelphia's urban music scenes. Co-led with Arcadia's Enrollment Management Counselor, Ashling Suppan, Campbell instructs students choose a genre of music to research and present their experiences and findings next month.
The comparison between the student's experiences in Philadelphia and London will form the basis for their April 7th presentations at Arcadia's Annual Global Expo.
"As our campus seeks to embrace diversity in all its forms, it is encouraging to confirm that our students and faculty endorse our institutional commitment to globally located learning and engagement with difference," said Lorna Stern, Arcadia's Executive Director of The College of Global Studies.
Last November, for the seventh year in a row, The Institute of International Education (IIE) recognized Arcadia as number one in the country for study abroad participation.
According to IIE's Open Doors report, Arcadia has a significant percentage of undergraduate students that participate in study abroad experiences at a master's level college or university.
"Its been a different interaction with every class which is even more inspiring," exclaimed DJ Simbad. "I hope what Junior has achieved with the program can be a model for every American university," he added.
"It's a truly beautiful and beneficial experience for everyone!"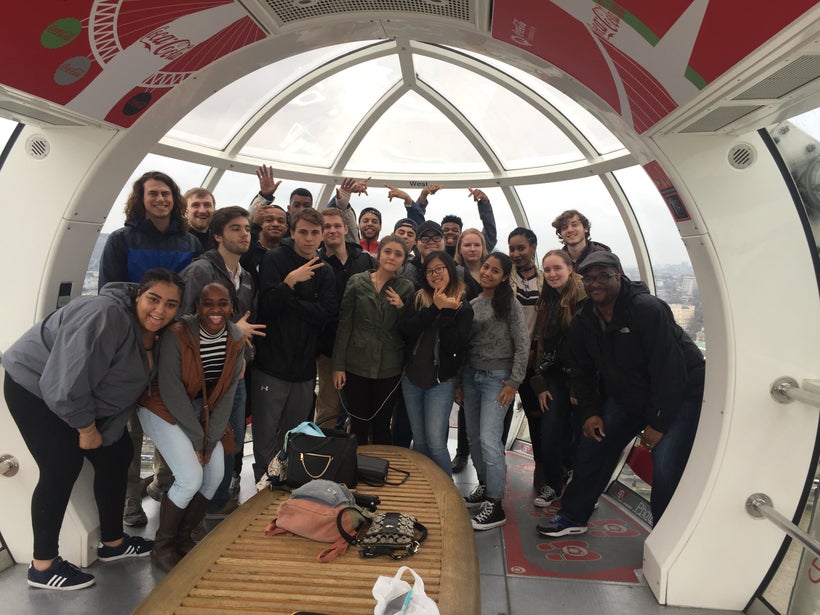 This post was published on the now-closed HuffPost Contributor platform. Contributors control their own work and posted freely to our site. If you need to flag this entry as abusive,
send us an email
.