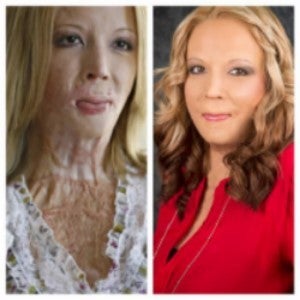 Stephanie was physically unable to fully smile for over 20 years, suffering a venous malformation on her face after being raped and stabbed in front of her small children. Anna's boyfriend tortured her for days, breaking her nose and cheekbone.
These may sound like extreme and unusual circumstances, but in the US a woman is beaten every nine seconds by a domestic or intimate partner, often to the face and neck. The fallout from domestic abuse is tremendous. A violent crime (or worse, habitual mistreatment) creates a web of problems for the victim and those in her care. Survivors and their families are in dire need of counseling, and a safe place for to go with their children. They require legal services, and medical attention. And sadly, many are left permanently disfigured.
Over five million women per year are affected by domestic violence, and over one million require medical assistance.
Help for survivors who are maimed and disfigured by domestic violence is available.
"Face Forward, a non-profit organization, provides emotional support and reconstructive surgery for women, children and men who have been victims of domestic violence, human trafficking or any cruel acts of crime," says Mandi Edwards, Face Forward Executive Director.
The organization donated over $780,000 of surgical and counseling services to patients from around the globe in 2016, and aims to expand its services to more survivors.
Face Forward also helps victims overseas. Nicodemus, an orphan from Kenya who was knocked across his head and face with a machete-like object, lost several teeth and suffered scarring to his mouth. Setara, a 24-year-old mother of four from Afghanistan was beaten with a rock by her husband, who then sliced off her nose and lips before leaving to join the Taliban. Her injuries rendered her unable to care for her children on her own.
Help for Those Who Lost More Than Hope
Dr. David Alessi and his wife Deborah Alessi founded Face Forward. While Dr. Alessi and members of an advisory board of surgeons perform pro bono surgical procedures, the organization would not exist without donations to support all patient care needs, including accommodation, transportation, surgical center costs, nursing aftercare, and medication. Victims with multiple severe injuries may require five to ten surgeries or more over time.
"We want to empower those who suffered violent and disfiguring crimes, to truly show the world that they are survivors, and not victims," Deborah Alessi says. "With help, they can move confidently ahead with their lives to do great things."
Actor Christina DeRosa, a member of the organization's Board of Directors, explains how recovery from facial disfigurement can heal post-traumatic stress disorder (PTSD), and give hope when starting over:
"The face is a vital component of one's personality and the seat of recognition. Learning to cope with the social responses to facial disfigurement can be an enormous challenge and deplete a survivor of domestic violence of the confidence to get a job – or continue living. PTSD often leads to addiction and the feeling of being alone in this world. Face Forward understands that trauma is stored in the body, emotionally and physically. The doctors and supporting members of the Face Forward organization begin the physical healing of internal organs and bones, and continue in helping to heal the souls of survivors."
Face Forward can provide additional services by partnering with organizations in the community: housing, counseling, job searches, and legal assistance. "We help by being one humble part of the recovery process," says Edwards, "so that women, children and men can put their best face forward again."
Safety First – Warning Signs of Potential Abuse
Are you concerned about your relationship? Warning signs of abuse include being scared, criticized or blamed by your partner. If your partner tells you what to do or who to see, or has ever hurt or threatened you, or pressured you to have sex, you may be in a potentially dangerous relationship. FuturesWithoutViolence.org says, "You are not alone. Abuse happens in every culture, every country, and every age group. No one deserves to be abused or threatened. You cannot stop your partner's abuse, but you can find help and support for yourself." The organization recommends:
Call the police if you are in danger and seek medical attention if you are hurt.
Talk with somebody you trust such as a friend or relative, someone from your job or house of worship, or your health care provider.
Develop a safety plan with your children including people they can call in an emergency.
Put together an "emergency kit" for a situation where you have to leave suddenly (keys, money, legal and important documents, medicines, etc.).
Remember that you are the expert about your own life. Don't let anyone talk you into doing something that's not right for you.
No matter where you live in the United States, help is available.
Rebecca J. Lacko is an author and journalist with a passion for music, education and healthy living. Get acquainted at The Written Word.
This post was published on the now-closed HuffPost Contributor platform. Contributors control their own work and posted freely to our site. If you need to flag this entry as abusive,
send us an email
.