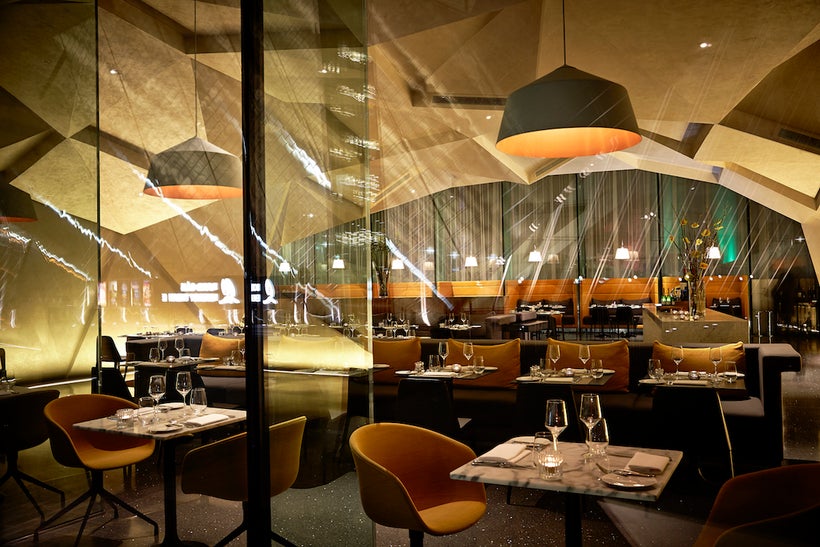 Brasserie at the Marker Hotel, Dublin
If the photo above doesn't quite conform to your idea of a Dublin restaurant, rest assured that there are plenty of pubs, fish and chips shops, and traditional Irish restaurants that will. But The Brasserie, set within the ultra-modern Marker Hotel on the fast-growing north shore of the Liffey River, is very much indicative of how far and how fast Dublin's dining scene has evolved since the turn of the century. Let me tell you about a few signal places to go right now.
THE BRASSERIE The Marker Hotel Grand Canal Square, Docklands 353-1-687-5100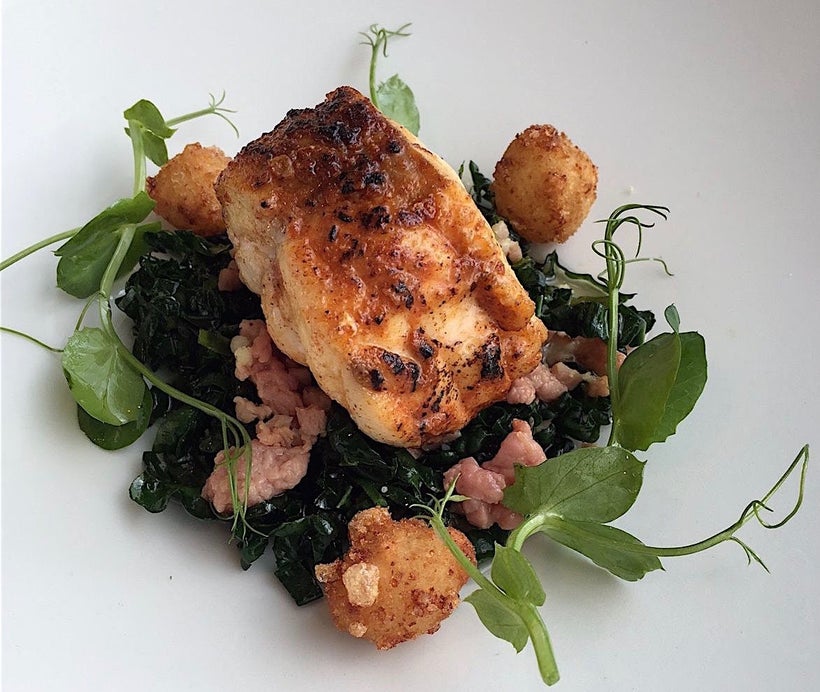 Nothing better shows the leaps that Dublin north of the Liffey has made than The Marker Hotel, whose glass-sheathed 21st century design takes full advantage of its landscape. Just 187 rooms makes this an ideal modern hotel for both business and pleasure, its rooms spacious, done in contrasts of off-white and brilliant colors, the large bathrooms excellent and well lighted, the free wi-fi works well, and the reception and concierge staff could not be more accommodating. The Brasserie soaks up the sun and the light from, to evoke James Joyce, "rivverrun ... from swerve of shore to bend of bay" in the fast-developing Grand Canal section of the Docklands area. This could be the officers' dining room on the Star Trek ship Enterprise. The excellent young staff is genial in the most affable Irish way, knowledgeable and eager to grant requests. The wine list is first rate.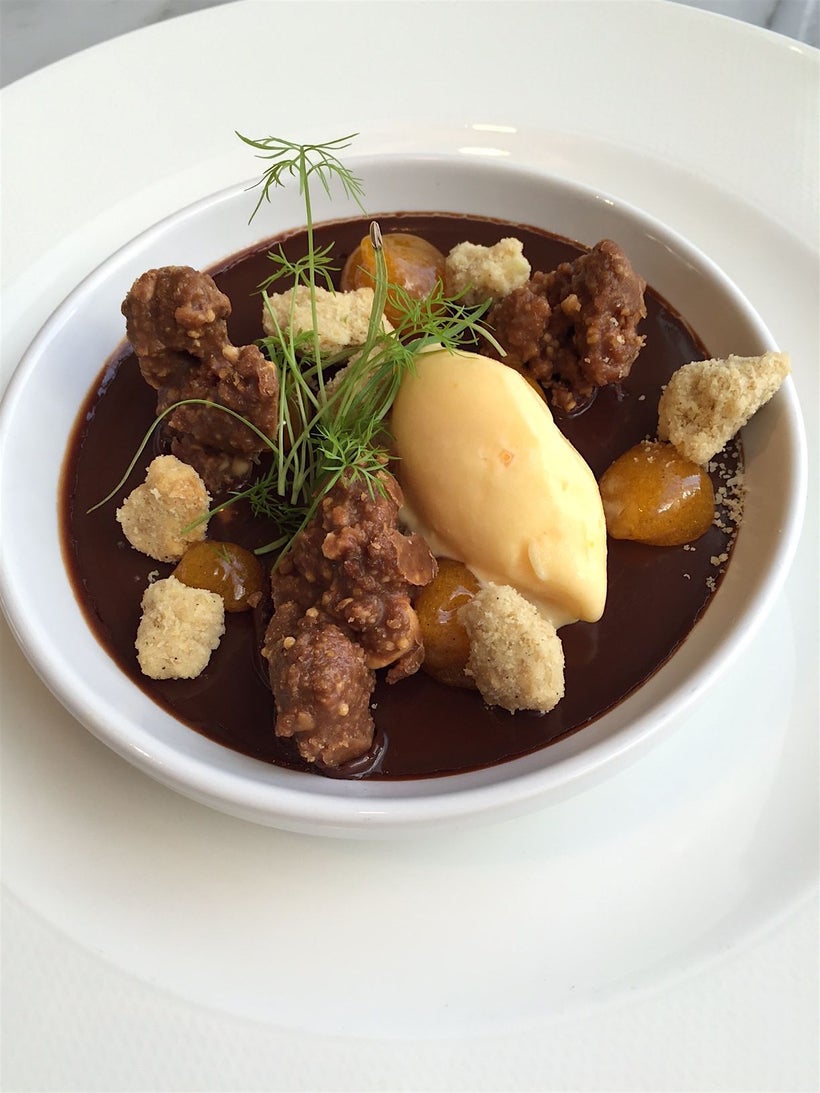 Executive Chef Gareth Mullins exults in the quality of the products used, delivering beautiful dishes whose deep elemental flavors are enhanced by well-reduced sauces in dishes like roasted pigeon with grilled chicory, carrot spaghetti, cauliflower cream, and a truffle and citrus vinaigrette. Barbecued monkfish comes with black cabbage, baby onions and a sweet bacon dressing. For dessert the orange and dark chocolate crèmeux is dressed with apricot and orange sauce, orange ice cream and praline crumble.
L'ECRIVAIN 109A Lower Baggot Street 351-1-661-1919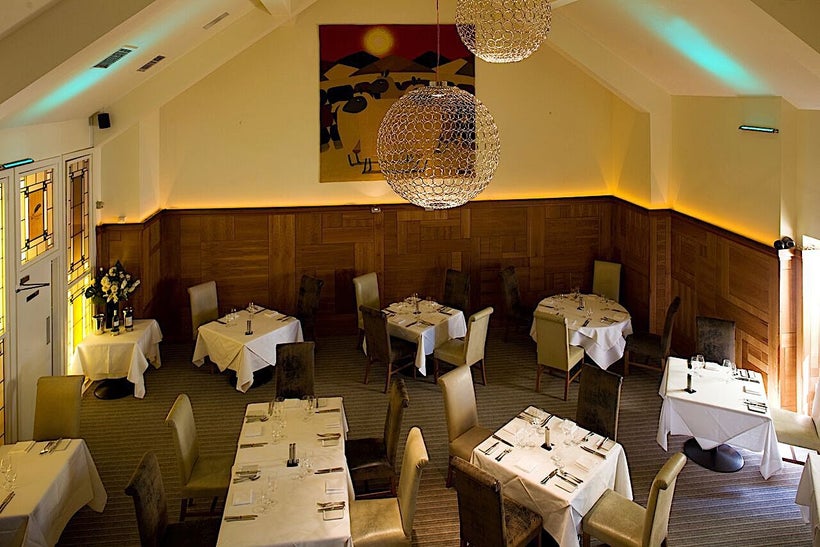 While the Brasserie represents innovative Dublin dining in 2017, L'Ecrivain was the instigator of the city's fine dining movement back in 1989 and ever since has been maintained under the discerning eye, hand and heart of Sallyanne and her chef husband Derry Clarke (below), who have maintained its genteel good looks including its chapel-like stained glass window.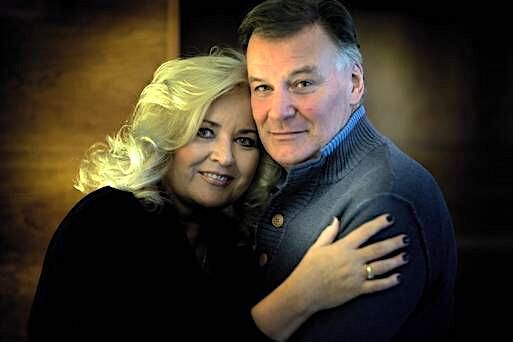 And after all these years, the place does banner business, not least because of the attention the Clarkes and the staff show to both regulars and newcomers. Sallyanne seems as ever joyful at greeting guests, telling her story, nudging you to try this or that new dish or wine, while Derry, with head chef Tom Doyle, has never flagged in applying the rigors of French techniques to the very best Irish products. Kudos, too, for a superb wine list with plenty of excellent choices under €75.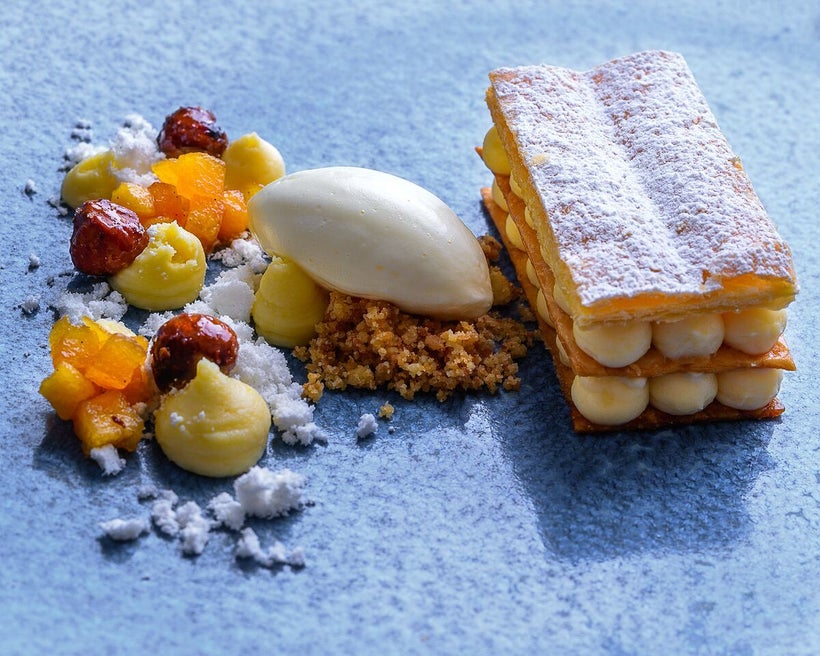 As part of the €75 Seasonal Dinner Menu you get amuses to pop in the mouth. Impeccable cooking technique informed a luscious breast and leg of squab with beets, endive, tangy-sweet blackberries, and a lovely potato mousse with the squab's jus. Also indicative of how a long tenure gets things right was a gently roasted cod with charred gem lettuce, sea vegetables and oyster cream. L'Ecrivain is the kind of restaurant where you'd never refuse the cheese course, and I enjoyed two marvelous desserts: and opera cake with salted caramel ice cream, and a sumptuous dish of Mirabelle plums with a little doughnut, cream, a tuile cookie, and vanilla ice cream, as I sipped a Monbazillac 2011. That L'Ecrivain has been an inspiration to every good restaurant in Dublin is obvious from the way other chefs speak of it. Now, after two decades, it still is.
ANANDA Sandyford Road Dundrum Town Centre 353-1-296-0099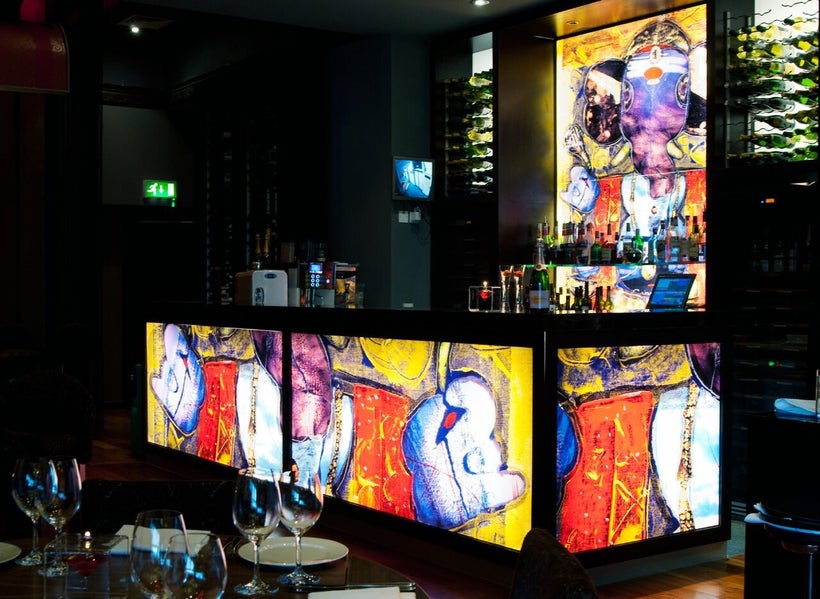 Having noted how Dublin's gastronomy is now international, it should come as no surprise that Ananda, located outside of town is one of the best Indian restaurants in Europe, not least for its modernity, color, décor and attention to service, thanks to owner Asheesh Dewan, who was a college mate to Chef Sundeep Bhagat. The place has won numerous awards both in and outside of Ireland, and deservedly so, for Indian cuisine of this high order is not what you'll still find at the old-fashioned curry houses that dot Dublin. The food is beautifully presented and tastes every bit as good as it looks, beginning with so many starters that it's difficult to turn away from them and go on to main courses. There is goat's cheese tart tikki with savory potatoes (€8.50) and duck two ways —smoked breast and crisp potted leg—with apple cracker and orange jam (€12.50). Pray they always keep the Mumbai-style scallops with tomato ragôut (€14.50) and the juicy kurkura lamb kebabs with chestnut and rocket pesto, eggplant fries, chili and garlic (€12.50).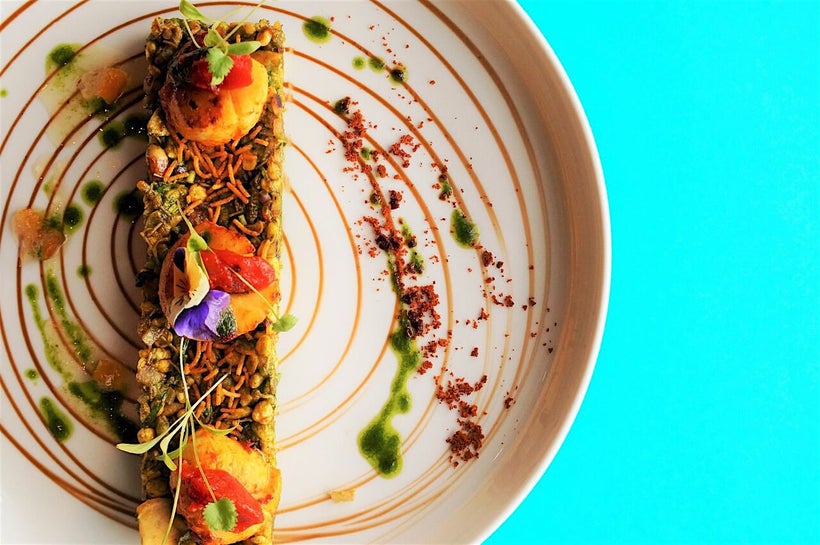 But do go on to the main courses and you'll be rewarded with aromatically spiced dishes, some mild, some assertive, like Jhinga neel giri of wild Indian Ocean jumbo prawns in a curry leaf, with coriander and coconut korma (€25.50). One of the specials among many special dishes at Ananda is the signature Sigri lagosta, tandoor-roasted lobster with a hint of cardamom and the fragrance of masala rice (€35.50). Desserts go way beyond the usual rosewater creams, and are equally as lovely and complex as what precedes them. If Ananda's has not the finest wine list in any Indian restaurant in Europe, I've not seen better, with many wines by the glass at reasonable prices and a very international selection that goes on for pages.
Dawson Street 353-1-676-7015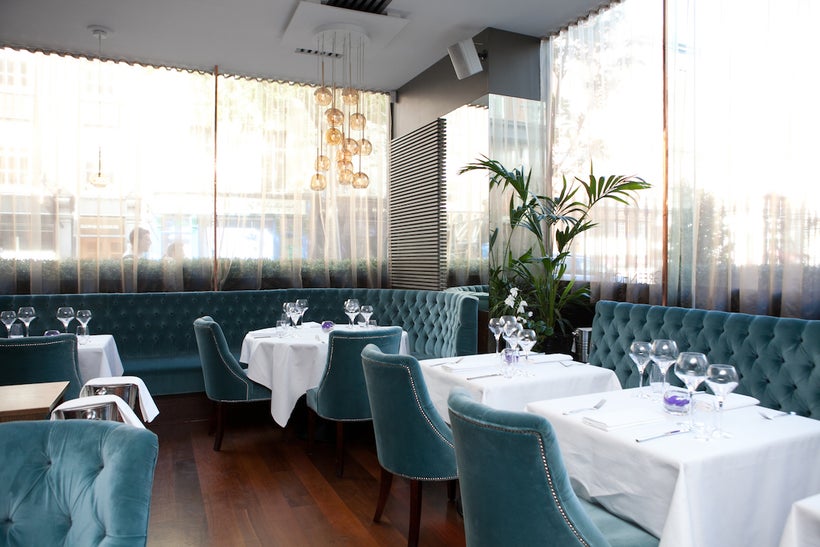 If L'Ecrivain has a nose-to-nose competitor in Dublin, it's The Greenhouse, opened in 2012 near St. Stephen's Green, a sedately decorated, small, quietly serviced restaurant where, with only 40 seats that are staggered in booking, a reservation is requisite for dinner. The restaurant's dedication to wine in unparalleled and very well selected in all categories, though many are priced high.
Mikael Viljanen, a Finn, likes fancy plating, sometimes a bit twee, but it doesn't detract from the flavors of the food. My margin notes ran from "very good" to "exceptional" throughout the meal, beginning with a plump lobster raviolo, cabbage, trumpet mushrooms and corn; a carefully roasted foie gras, seared and buttery outside, soft and creamy within, appended with sweet apple, the subtle scent of sorrel, the surprise of smoked eel and Riesling wine to cut the fat.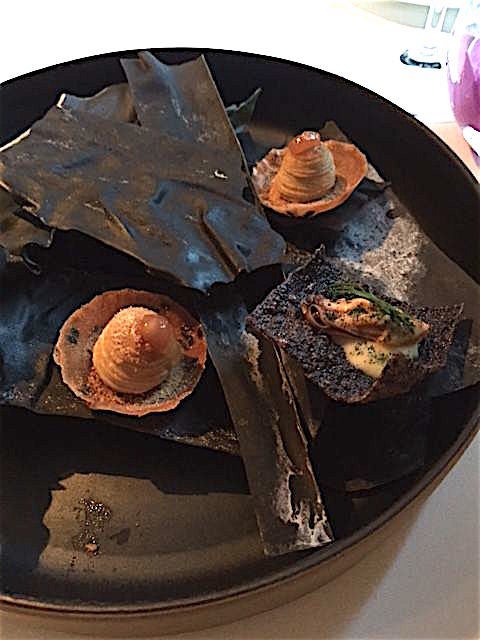 Exceptional indeed was a roast seabass with crab, broccoli and lightly smoked yogurt to enrich it, and Sika deer partnered with Brussels sprouts, cèpe mushrooms, salsify and blackberries. Caramel custard tart with banana and hazelnut was delicious and equal to the praline and milk chocolate cream with citrus and salted milk sorbet. You may begin an evening at The Greenhouse in a somewhat hushed room, but after a glass of wine and such splendid food, everyone will be talking in admiration of what they are so obviously enjoying.
This post was published on the now-closed HuffPost Contributor platform. Contributors control their own work and posted freely to our site. If you need to flag this entry as abusive,
send us an email
.