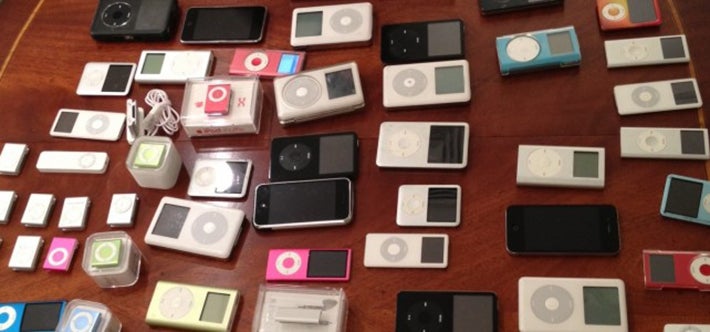 Can music playlists improve lives?
Dan Cohen, founder of Music & Memory, believes they can. He says old iPods – the ones we've forgotten about in our desk drawers – can be recharged and renewed into life-giving mechanisms that deliver memories and joy to thousands of Alzheimer's patients and others suffering from memory loss, dementia, severe anxiety or various ailments.
Cohen, a social worker with a background in sales and technology who has been working with repurposing iPods for more than a decade, officially launched Music & Memory in 2010. Now, award-winning singers Elvis Costello, Carole King and Kenny Chesney are but a few of the believers in the charity's unique process of 1) distributing personalized music players to care facilities, 2) filling those iPods and MP3 players with music, 3) tailoring the tunes especially for patients, and 4) training caregivers to maximize the music's effects.
"Originally, I called up nursing homes and said, 'Music is already one of your most popular recreational activities; can we see if there's any added value if it is totally personalized?' " Cohen says. "Then, with a few iPods and my laptop, I started setting up playlists. I didn't have any previous experience with dementia. I was simply a volunteer."
The magic began in 2008, when Cohen brought 200 iPods to residents of four New York long-term care facilities and the music players were a huge hit. Along the way, footage for a film, Alive Inside, captured the awakenings of dementia patients and helped boost Music & Memory's visibility. That documentary – a 2014 Sundance audience favorite – featured Cohen, as well as Oliver Sacks (author of Musicophilia: Tales of Music and the Brain), and musician Bobby McFerrin. But its true star was Henry, a reclusive and unresponsive dementia patient who emerged from his shell to talk about his love for 1930s big band leader Cab Calloway after hearing jazz and gospel songs on an iPod configured just for him.
Henry demonstrated the amazing results of the Music & Memory program, yet his story isn't singular. Music & Memory has countless examples of how songs affect patients: watch Adeline sing "Volaré;" witness Libby listening to "Pennsylvania Polka;" and read about Jo falling in love again with the music of Eddy Arnold, Hank Williams, Merle Haggard, and Willie Nelson. These encounters, says Cohen, not only activate memories with music but also may result in reduction of patient medications and physical health improvements, too.
Personalization of the playlists is key. A hundred Frank Sinatra songs isn't the same as a carefully-crafted list of music that spans a person's lifetime, locale, and experience, Cohen says. "Even if people have dementia, music is a backdoor to their personhood. Music helps patients maintain their sense of identity, bring back their memories and feel more alive."
Cohen, who says his own all-time favorite song is the Beach Boys' "God Only Knows," believes the intimacy of listening to personalized music with headphones is something to which everyone can relate, because each of us knows songs which reminds us of special times in life: "The music that we love is not tied to our cognition, it's tied to our emotions."
Since Cohen's initial 2006 brainstorm about how to use music to unlock emotional receptors in the mind, Music & Memory has distributed pocket-sized players to facilities across America and in nine other countries. In addition, doctors are now backing the program's benefits, its methods are being used in private homes, and twenty-one U.S. states have made Music & Memory part of their public policies.
In this age of smartphones and bluetooth speakers, iPods may seem less popular that their successors, yet they can have immense value to a care facility. Donating an iPod to Music & Memory, or even hosting an iPod donation drive, is an easy way to get involved with the organization's important work. During a time when American healthcare is in flux and budgets everywhere are being cut, a program like Music & Memory is a cost-effective addition to facilities' programming – and a perfect way to use music for good.
For more information, click here.
This post was published on the now-closed HuffPost Contributor platform. Contributors control their own work and posted freely to our site. If you need to flag this entry as abusive,
send us an email
.