Isolde Fair is making an impression on girls and women of all ages—and specifically Hillary Clinton—through her music.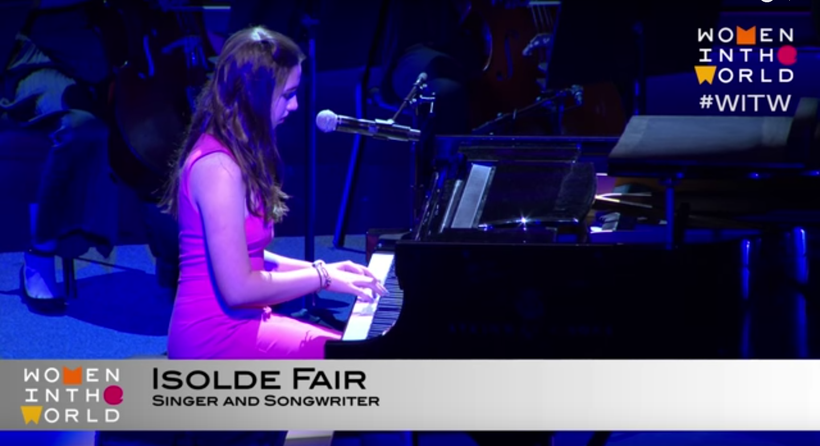 I first introduced you to 13-year-old Isolde Fair a few months ago when she created a music video for her song "To All The Little Girls," which was created from words in Hillary Clinton's concession speech.
Since my first article appeared on Huffington Post, an avalanche of exciting events happened for the talented young musician.
A doctor in Los Angeles heard Isolde's song and saw her video, and she was passionate about the message. She contacted Isolde's family through the music school's website and told them that she had sent the link to an aide of Hillary Clinton, and that she responded that she liked the song very much. A few weeks later, former Secretary Clinton sent out a tweet with a link to the video, thanking Isolde and the girls that joined her in the video for the song.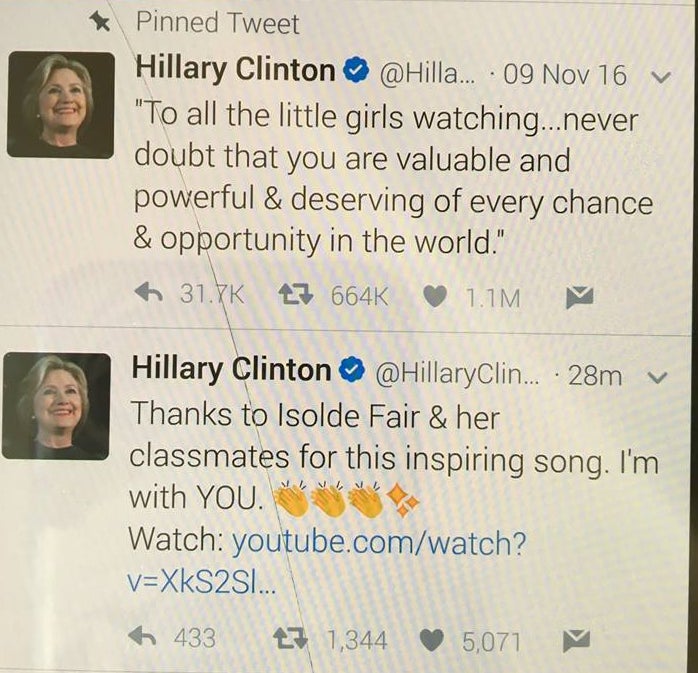 From that tweet, a lot of interest was generated from news around the world, including producers of an event sponsored by New York Times and Tina Brown Media, called The Women of the World Summit (WITW).
The WITW Summit is in its 9th year and brings together women from around the world who participate in moderated panels about important issues. These women include celebrities as well as those in the trenches of war, people in the advertising world, journalists, and everyone in between. They felt that Isolde's song and video was a powerful message empowering young women and girls (and really women of all ages), and wanted to bring her to Lincoln Center in NYC to perform it for the event.  
Isolde and her mom put together a group of 13 wonderful high school-age string players from the Mannes/New School in Manhattan and a choir of 16 girls ranging from sixth grade through high school age—which was a combination of girls from the Renaissance AmpUp program thru Berklee College of Music and Mannes Prep. Isolde's mom, Starr Parodi, had the honor of conducting the performance.
It was an incredible honor for Isolde to play her song on that historic stage, and be joined by the girls from Mannes and Renaissance. It was important to her to share this message with the world, and she felt empowered, valuable and strong, just like Hillary's words encouraged her to be.  When she first walked out for the rehearsal and sound check, her breath was taken away. 
"Playing on the Lincoln Center stage felt like a dream come true. Hillary's words inspired me to do what seems to be impossible," said Isolde.
Parodi commented "All the people involved with the Women in the World Summit, and the crew at Lincoln Center, could not have been more lovely and accommodating.  The group of smart, talented and kind young women joining Isolde on stage were absolutely amazing. It was a wonderful experience and was received by the sold-out audience with a standing ovation."
"I have been working with Isolde and many of her friends helping them with music, and often volunteering at her schools to help out with music since she was 5 years old, so I am used to working with young girls.  I can't say enough about this group that I was conducting, as well as the girls who played and sang on the original video.  They were responsive and attentive, hardworking, and with nerves of steel to get up at such a young age and play and sing at Lincoln Center. 
"And to be making music with my daughter on the stage at Lincoln Center was an incomparable joy.  I am so proud of Isolde, her beautiful voice, her writing and her kind, strong, empathetic spirit.  I looked over at her many times to cue her during the performance, and we shared many moments and lots of smiles onstage that day."
The morning of the performance, Isolde received an email stating that Hillary Clinton would like to meet her. They set up a meeting after Isolde's performance and before Hillary was to speak to close out the summit for the day.
"When I first met Hillary at the Lincoln Center I could barely breathe. She gave me a big hug and said 'Hi Isolde.' I was speechless and emotional." – Isolde Fair
Parodi commented further, "She couldn't have been more warm and encouraging to Isolde, as well as to my husband, Jeff, and me.  She gave us all big hugs, and encouraged Isolde to continue to speak out and write songs with a message.  She also encouraged Isolde to always stand up for herself and to stand up for others as well when she sees a wrong being done.  When Isolde first saw Hillary Clinton walk into the green room, she started crying.  She was so moved and happy to meet her; Hillary is such a role model in so many ways for her.  It was really such a thrill for us all to meet her."
Isolde is a true role model for young girls, using her music to help make a difference in the world. I can't even imagine having the presence and composure to perform in front of nearly 3,000 people at any age — and knowing that Hillary Clinton is watching. Isolde did it with confidence, passion, and grace.
It only takes one person to create change, and we can all learn from Isolde's lead.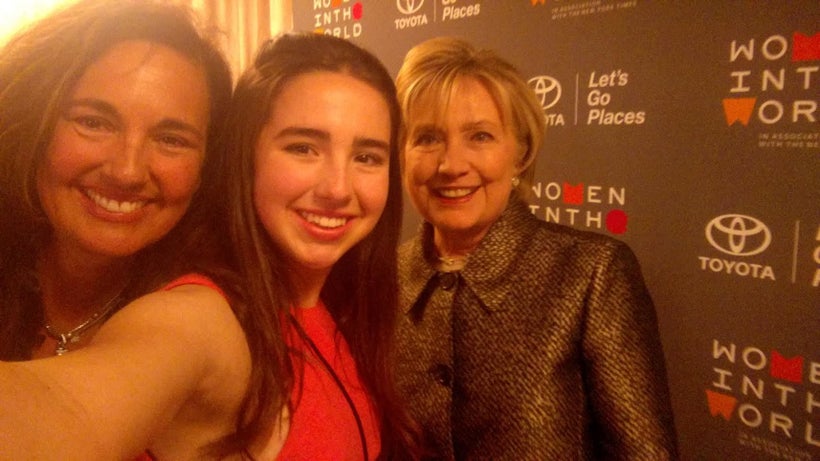 Watch Isolde's performance at the #WITW Summit
Watch Isolde's original music video
Amy Zellmer is an award-winning author, speaker, and advocate of traumatic brain injury (TBI). She is a frequent contributor to the Huffington Post, and has created a privateFacebook group for survivors and also produces a  podcast series. She sits on the Brain Injury Advisory Council (BIAC) through the Brain Injury Association of America's and is involved with the Minnesota Brain Injury Alliance. She travels the country with her Yorkie, Pixxie, to help raise awareness about this silent and invisible injury that affects over 2.5 million Americans each year.
This post was published on the now-closed HuffPost Contributor platform. Contributors control their own work and posted freely to our site. If you need to flag this entry as abusive,
send us an email
.