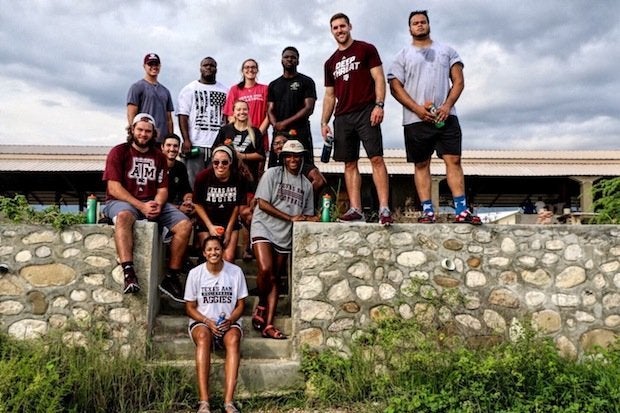 Next Saturday, a delegation of 85 Texas A&M University students, student-athletes, coaches, and staff will head to Haiti to serve the people of the Caribbean island. The week-long mission trip, hosted by Mission of Hope, Haiti (MOH Haiti), has become highly anticipated within the Aggie athletic community.
"We had 28 student athletes go last year, which is a great number for the first year of doing a mission trip like this," said Hinson. "The excitement grew, they came back buzzing, now we have 73 athletes going representing nine different sports."
One of the sports represented is the Aggie Soccer team, which had one student attend last year. This year, that number jumped to 17. "About ten percent of our student athlete population is going with us this year," Hinson said.
Former Aggie quarterback, Trevor Knight, completed his fourth mission to Haiti last year before signing as a rookie free agent with the NFL's Arizona Cardinals earlier this week. The San Antonio native, who began his career at Oklahoma University and transferred to A&M as a graduate student, took his first mission trip as a Freshman with the Sooners.
"You get to serve," Knight said last year during a press conference announcing the mission. "You get to get out of all this lavish life [where] everything is kind of given to you here. You get to go and get your hands dirty, and be in the hot sun. You break down the walls, you don't have your phone for a week. So, you're just out there serving and it turns into a whole lot of fun."
Having only three weeks off between the end of the spring semester and summer school, Hinson finds it impressive that the participating student-athletes opt to spend a week helping others.
"Coming to Haiti makes you really appreciate everything you have at home," Hall said in a video made during last year's trip. "The Haitian people are really happy with the bear minimum that they have. It's just making me thank God everyday," stated a grateful Hall. Selected 77th overall by the Carolina Panthers, in last weekend's NFL Draft, Hall stated that what he liked most about the trip was "the chance to play with all the kids."
"We got to talk about our relationship with God," said Martin. Modeling Christ's love through relationships and repeatedly sharing the Gospel are tenants that MOH Haiti operates by, which Martin models well.
"We come on this trip thinking that we're going to serve. We've been changed too. Our hearts are being impacted probably more so than the people that we're trying to encourage and trying to serve," said A&M's new left tackle.
New edition to the Baltimore Ravens and former Aggie, Eluemunor, said "I came here not knowing what was going to happen."
"And, I was thinking I was going to teach them, but they eventually taught me a bunch. Growing up playing rugby in North London before becoming a standout at Texas A&M, Eluemunor said "the coolest part about being in Haiti is that I learned so much from them [the Haitian kids]."
Officially founded in 1998, Mission of Hope has since grown from a small mission located on barren piece of land, to a fruitful organization that now houses an onsite orphanage, medical facility, school, and church. Through partnerships, the Mission also serves outside of its property by helping other orphanages, churches, and schools throughout the country.
Headquartered in Cedar Park, Texas, MOH Haiti exists to bring life transformation to the nation of Haiti through service. In a promotional video, MOH Haiti's president, Brad Johnson, offered some insight as to why MOH Haiti exists.
"Life in Haiti, it's a daily struggle for people to exist. There's a seeming lack of hope that many Haitians deal with, yet in the midst of that, they find joy," Johnson states. "They find joy in the small things. They find joy in relationships. Its taught me a lot about life being here in Haiti."
In 1972, Johnson's mother, Sharon, went to Haiti to direct a choir that was traveling around the country. She fell in love with the people of Haiti, returning each year with her husband, Bob. In 1983 they formed what is now known as Mission of Hope Haiti, acquiring land just north of Port au Prince in 1989.
As an organization following Jesus Christ, MOH Haiti exists to bring life transformation to every man, woman, and child in Haiti. By investing in the spiritual, physical, and community-wide transformation, MOH Haiti has an impressive footprint on the island that is changing American student-athletes' perspective on life.
"Initially, people say it will change your life," Knight stated. "I was a Christ believer, a pretty strong Christian. I kinda shrugged that off, then went down there with a group of my teammates and other athletes from the university and it really did. It was a life-changer, it was a perspective-changer."
Through mission trips, MOH Haiti has proven to be the perfect partner supporting the advancement of Texas A&M's mission. Hinson believes the trips will become another Aggie tradition.
"I think it's going to be a huge thing for not only this university but for our team," Knight said. "It's a culture-changer. It allows you to connect on a completely different level. I've always told people I learn more about my teammates in that week being in Haiti than spending a season with them."
"I think I speak for everyone that Haiti will forever have a very big piece of our heart. I know that I will definitely come back here," Reasor said.
Correction: The initial article, published on May 4, 2017, erroneously featured Mission of Hope International. Although nobly serving the people of Haiti, Mission of Hope International and Mission of Hope Haiti are two different organizations. For More information on Mission of Hope Haiti's great work, please visit www.mohhaiti.org.
This post was published on the now-closed HuffPost Contributor platform. Contributors control their own work and posted freely to our site. If you need to flag this entry as abusive,
send us an email
.