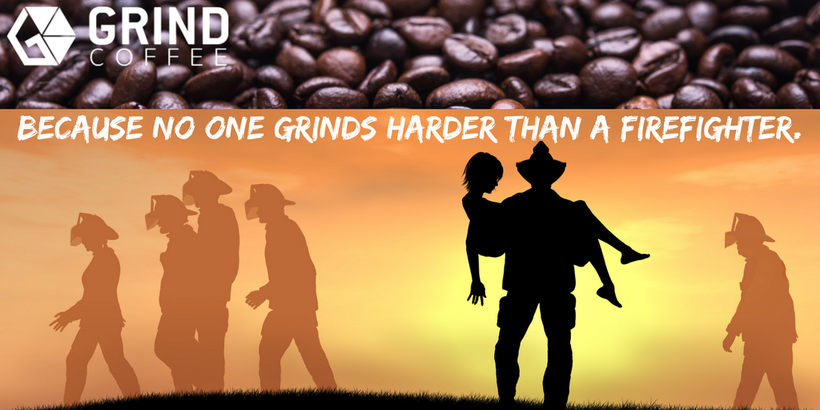 Grind Coffee officially launches on May 4th in honor of International Firefighters' Day, because no one GRINDS harder than a firefighter. To celebrate and recognize our local heroes, Grind is asking people to donate to the Boston Firefighters Burn Foundation, a local non-profit that works to ease the suffering and hardships of burn victims and their families. One contributing business will be selected to win free Grind Coffee service for a month. Grind Coffee will match donations up to $5,000.
"We want to use the launch of Grind Coffee to make a positive impact. Not only do these firefighters work tirelessly around the clock to keep our families safe, but they also volunteer with the Boston Firefighters Burn Foundation to provide relief for burn victims," said Grind Coffee Co-Founder Shea Coakley. "Grind Coffee is proud to be a supporter of these unsung heroes."
"It's good coffee for a good cause!" said Chief Dennis Costin, president of the Boston Firefighters Burn Foundation. "We would like to extend our sincere gratitude to the Grind Coffee team for using the launch of their product to help make a difference in the lives of local burn victims and their families."
The innovators behind Boston-based LeanBox teamed up with local artisan coffee roaster John Mahoney to create Grind Coffee. In addition to being the only New England based office coffee service to roast and brew to order, Grind created the first ever self-check-out coffee kegerator and mobile app system called "Grind on Tap." With Grind on Tap, companies can provide employees with a wide range of locally sourced beverages through a three or six tapped commercial kegerator.
Grind's kegerator program has over 20 beverages available, including cold brew and nitro brew coffee, a variety of lemonades, iced teas, kombuchas, and proprietary seasonal beverages. With this new, technology-driven office coffee service, businesses are bringing the barista experience in-house. From brewing stations and kegerators to full-scale espresso bars, every office can now have 24/7 access to truly fresh, artisanal coffee.
"Grind Coffee is a win-win for employers and employees alike. We roast and brew our own beans, and that keeps costs down considerably for employers," said Coakley. "And employees are happy because they no longer have to interrupt their day to leave the office for good coffee. It not only boosts worker productivity, it also increases morale and quality of life."
To make a donation to the Boston Firefighters Burn Foundation and to be entered to win free Grind Coffee for a month, visit www.GrindCoffee.com.
This post was published on the now-closed HuffPost Contributor platform. Contributors control their own work and posted freely to our site. If you need to flag this entry as abusive,
send us an email
.