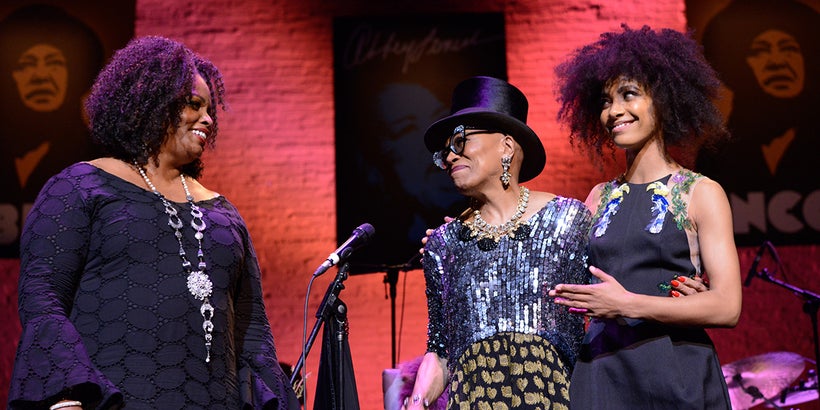 Black girl magic is a concept coined by black millennial women to express a mutual recognition, understanding and love between black women that simultaneously combats the constant pushback, rejection and disregard from society. Instead of being vilified for our very being, black girl magic encourages us to celebrate our simplest actions and regard them as extraordinary.
If anyone is a testament to this idea, it's Abbey Lincoln, an unapologetic black woman, activist and jazz singer who wrote of a similar idea in "Who Will Revere the Black Woman?" in 1966. But black girl magic isn't the only 'magic' that Abbey Lincoln subscribed to. After touring across the motherland with South African singer Miriam Makeba, Abbey became drawn to the kind of magic that's filled with spells, mysticism and the spirit realm of our ancestors.
And on the third night of the Women of the World, or WOW, festival, the nearly sold out crowd had the privilege to witness both forms of enchantment as three black women -- Dee Dee Bridgewater, Dianne Reeves and Esperanza Spalding -- took the stage together to pay tribute to the late singer at the Apollo Theatre on Saturday night (May 6).
"The music is the magic of a sacred world / Sacred world, a sacred world / The music is the magic of a sacred world / It's a world that is always within"
Although Dee Dee Bridgewater stepped onto the stage with a pair of crutches, the audience might later believe that it was only an illusion as she kicked her glittery leggings into the air, shimmied in her silver sequined top and sang the songs of her late friend. "It's the hat," she would later say before revealing that it was one of Abbey's signature top hats. Were the crutches a mirage or had she been healed through channeling Abbey's spirit as she tapped into her rockstar essence? Perhaps, it was both.
As the three black women continued to sing as they sat side-by-side, it became clear that it was no longer just a tribute -- but a seance. Between Dianne Reeves performances of "Bird Alone" and "And It's Supposed to Be Love," she waved a white, gold and black scarf as she shouted bird calls and hit operatic high notes like she was trying to conjure up the late singer's spirit. The audience later learned that the scarf was another relic of Abbey.
"And it's supposed To be love  / Yes, it's supposed to be love  / Well, it's supposed to be love  / Say 'cause it's all 'cause of love"
"It's real," said Esperanza, who unfortunately didn't have anything of Abbey's with her, but held her own with renditions of "Laugh, Clown, Laugh" and "Afro Blue."
She was right. Between the crackling of the microphone, the light that glowed through the singers' faces as they sung Abbey's songs, the grins displayed on their faces as they looked at one another shining on stage and their fingertips as they scatted and interlocked fingers in support of each other, it was as if Abbey were trying to break through. It wouldn't be hard to believe that Abbey's spirit was in the building either as the room continued to be filled her favorite things: love, black girl magic and the blues. And perhaps if we looked a little closer, we would have caught her roar.
"When my life on Earth is over and the struggle here is done / I will find a new dimension in the rising sun / in the place that is forever, I will spread my wings and fly / If you see a streak of lightning / I'll be passing by"
This post was published on the now-closed HuffPost Contributor platform. Contributors control their own work and posted freely to our site. If you need to flag this entry as abusive,
send us an email
.