Shortly after meeting in 2006, singer-songwriters Eleanor Whitmore and Chris Masterson began hitting the road together to begin a series of wild rides, misadventures and fantastic journeys as "pilgrims of the interstate."
Today (May 19), the husband-and-wife duo currently based in Los Angeles arrive with their best record yet. Transient Lullaby, their third full-length album as the Mastersons, is a masterful piece of Americana give-and-take from a pair exploring the literal and figurative travels and travails they experience along the way.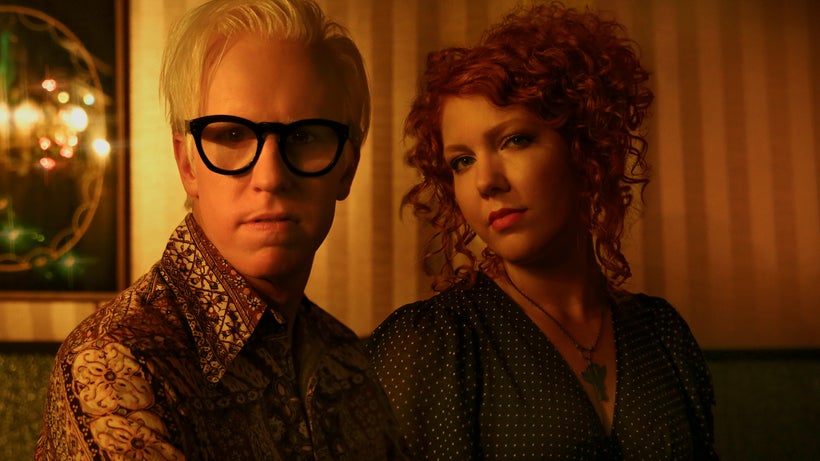 As solo artists, session musicians and members of other bands, most notably their ongoing gig with Steve Earle's Dukes, they have witnessed the pain and pleasure that the highways and byways of life present to anyone up for the task. Not everybody survives, though, or is capable of delivering a Transient Lullaby that's a calming influence for a reckless society in a rush to get there first.
"I think it's about constant motion and just trying to find peace within that," Masterson said as he and Whitmore conducted a phone interview on May 5 from — where else? — the road. "Because of touring with Steve and touring on our own, we sort of have two full-time band commitments. … And we literally don't stop. We've been in L.A. since October and maybe spent a month at home. And even when we're home, we're working."
A 24/7 existence as soul mates, song cowriters and touring musicians with distinctive voices that stand out in unison or on their own can present any number of challenges. But Whitmore (violin, mandolin and other string instruments) and Masterson (electric, baritone and acoustic guitars, harmonica), who co-produced the new album with George Reiff, sound like they wouldn't have it any other way.
"It kind of forced us to find time to be creative on the road because otherwise we'd never get a record written," said Whitmore, who finds the best time to write — either together or separately — is in hotels or on a tour bus when traveling with Earle's entourage. That certainly beats getting caught for speeding while driving 94 mph in a van blasting Nada Surf though Virginia, endangering your status ahead of the Mastersons' first headlining tour in Europe.
If life has been one great adventure for the Mastersons, they have faced a few bumps and obstacles since meeting at a music festival in Steamboat Springs, Colorado, in 2006. Neither would call it "love at first sight," especially since Whitmore had another boyfriend at the time.
Performing with Jack Ingram while Whitmore toured with Susan Gibson, Masterson, who prefers the Irish goodbye as a vanishing act following a gig, was talked into attending a "crazy after-party" with one of Ingram's crew guys.
Planning to stay only a half-hour so, he ran into Whitmore upstairs.
"There was a kinetic energy at first sight, for sure," Masterson said of the night he joined a group of musicians that included Whitmore and Ryan Bingham strumming guitars. "I remember hearing her play and I knew we were gonna make some music together. Or do something in some capacity. I didn't really know what the future held exactly."
Working during that time with Slaid Cleaves, Bruce Robison and Kelly Willis, Whitmore knew where this was heading, though. "I told him I had a boyfriend and then I came home from the weekend and then I broke up with my boyfriend and quit my job and moved back to Austin."
About two weeks later, she was dating a new boyfriend, and by 2009, they were married.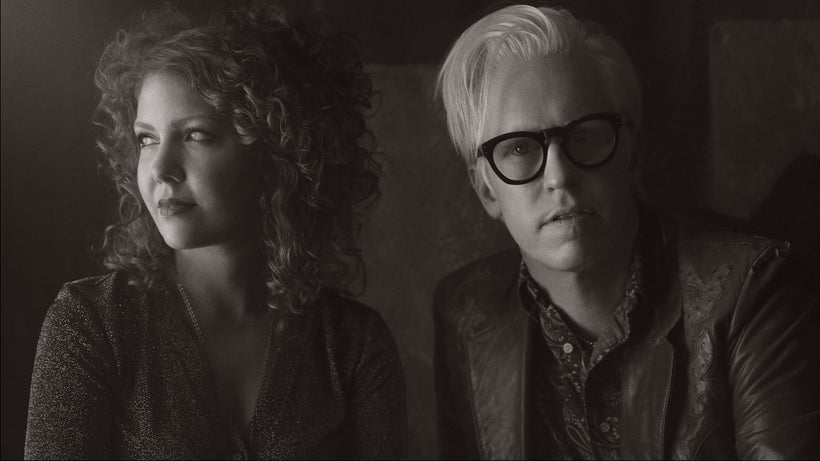 In 2007, Masterson made an EP, then produced 2008's Airplanes, Whitmore's solo album debut, despite getting a fiery response to his beleaguered attempt at brutal honesty shortly after they moved into a place together in Brooklyn, New York.
"I heard one of the songs and I said something about one of those lines sounds a little pedestrian," he said. "And that caused a small explosion. I think I had to leave the house for a while."
The personal relationship survived that test ("he's a great producer," Whitmore says), then developed into a full-time professional collaboration on a flight from New York to Austin, Texas, for South By Southwest.
"We each had a pile of songs and neither of us had a record deal or any prospects of one, so I think I just started joking," Masterson recalled. "I was like, 'You know, it's gonna be a real pain in the ass to each release a record this year. Shouldn't we just come up with a pile of songs that work together and make one record?' "
Earle provided the final push in 2010 when he recruited Masterson (who closed out a slot as electric guitarist with Jay Farrar's Son Volt while touring behind American Central Dust in 2009), then Whitmore, tacking "(and Duchesses) featuring Allison Moorer" onto the Dukes.
"He saw me play with Allison and then decided he had to have me, too," said Whitmore, who has been on three Earle records with Masterson, including So You Wannabe an Outlaw, to be released June 16 on Warner Bros. Records.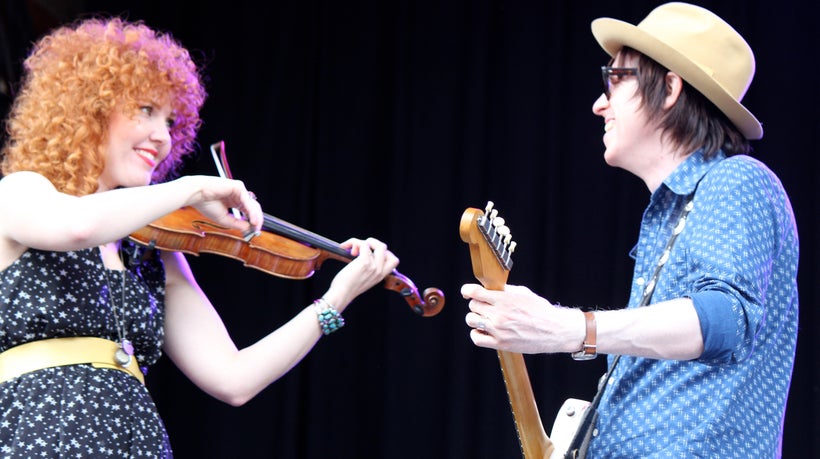 The Mastersons followed up 2012's Birds Fly South with 2014's Good Luck Charm for New West Records before recording Transient Lullaby at Austin's Arlyn Studios on their own dime, then found a home for it at Red House Records, seeing eye to eye with label publicist Angie Carlson when she watched them perform in Minneapolis.
"Steve Earle gets a lot of the credit for lighting a fire under our ass," said Masterson, who remembers his friendship with the Hardcore Troubadour developing after they met at the 2002 Byron Bay Bluesfest in Australia. Eight years later, "He's just like, 'You guys are both coming on the tour if you want and you better have a record ready because I'm gonna feature you in the show.' So those were pretty good marching orders, I'd say."
Though he jokes that he and Whitmore don't have "our company watches yet," Masterson calls Earle "a great boss." They are preparing for double duty as "official as it gets" members of the Dukes this summer while promoting Transient Lullaby as his supporting act.
"For him to step in and have Eleanor play in the band and then champion what we do, that's above and beyond," Masterson said. "A boss doesn't have to do that. I mean, for instance, and I don't want to throw Farrar under the boat, but out with Son Volt, you would never see one of the sideman's solo projects at the merch table. That was his choice and, you know what, he's the boss, and that's his prerogative. And there's absolutely nothing wrong with it. If you take a wage from someone, you're subject to their whims. …
"So for Steve to do everything he's done for us, it speaks measures to his character. People like that (Masterson also mentioned Jackson Browne) who have always championed the underdog or the little guy. … It's a lesson to always be supportive of people. You don't always have to be hard on people. Hopefully, the cream will rise to the top."
Though Moorer, who married Earle in 2005, celebrated the birth of their son John Henry in 2010, then decided to separate in 2014, no longer is in his band, Whitmore still feels like their sisterly bond goes beyond the looks of striking redheads with songwriting chops and the voices of angels who also play multiple instruments.
"I have a lot to thank Allison for," Whitmore said. "She's a wonderful friend and a really beautiful person."
Yet not all the experiences as members of Earle's band have been pleasant for Whitmore, although she managed to make it work in her creative favor on Transient Lullaby's "Don't Tell Me to Smile," a tongue-in-cheek admonition to judgmental jesters.
Told by her real-life sister Bonnie that Whitmore's sense of humor has improved since her marriage to Masterson, she wasn't laughing after an Earle show at the Deadwood Casino in South Dakota when approached by a woman who wanted to see more smiles from the stage. The spectator's gesture — sticking both fingers in the corners of her mouth — didn't brighten Whitmore's mood any more than when she performs some of Earle's darkest material.
"I'm not just gonna sit there and be stomping my feet (a la Riverdance)," she said. "But I did feel like I was making an effort that night and I was pretty smiley but the violin is not the easiest instrument to begin with and it's under your chin."
After repeated gestures, Whitmore refused to grin and bear it. "I finally said, 'Fuck off.' And she looks real surprised, like, 'Are you talking to me?' "
If the message didn't get across then, maybe it will now.
"I wish some of those people who do that would just say something funny or maybe ask you if you're doing all right," Whitmore added. "Instead of telling you how they think you should be emoting. And there's nothing wrong with other feelings besides happiness. And I think that's really part of the problem in our society is that we don't … when the waiter comes to the table and says, 'How was your meal?' he doesn't want to hear that it was awful. (laughs) He just wants to hear that it was great and move on. People want to hear the clean, happy version of your life instead of what's really going on."
Which leads to another constant theme running through Transient Lullaby. Told that some of the other song titles — "You Could Be Wrong," "Fight" and my personal favorite, "This Isn't How It Was Supposed to Go" — might suggest the makings of a breakup album, whether real or fictional, Masterson laughed hysterically.
"I think we're just dour," he said acerbically. "You thought we were writing a Linda and Richard Thompson Shoot Out the Lights? … I only wish. (But) not the divorce part."
While sly guy Masterson said, "She has to contend with my smart-ass," there seems to be more of a wry approach to Whitmore's witticisms. But both share the same earnestness.
Addressing their relationship, she said, "It's nice to be able to do this with my best friend. We have a really rich and exciting life and we're really lucky to get to do it together. I suppose marriage is just a level of commitment or a label that some people like to have but it's really nice to be able to do this with somebody I like so much."
Luckily, "This Isn't How It Was Supposed to Go" — a traditional country song they wanted to change up by adding Whitmore's gorgeous string arrangements — isn't about them. With intertwining vocals as binding as an undeniable love connection, it's told through composite characters to send a universal message that should connect with couples happy or sad.
"I think everybody's felt that way," Masterson said. "Life is about acceptance. We've all been in that spot before."
Added Whitmore, who played violin, viola, cello, mandolin, mandocello, electric and baritone tenor guitars and acoustic guitar on the album: "You expect things to go one way and it never does. And I always wanted to write a traditional country song like that but Chris and I have a lot of fun turning stuff on its ear. So we put those minor chords in and we kind of kind of did the production not so country. … I played with Ray Price and listened to all those string arrangements growing up and so even the string arrangements were kind of inspired by some of those older country tunes."
Transient Lullaby's title track has country overtones, too, and will resonate with globetrotters, accidental tourists or anyone else who's packed their belongings while searching for something/anything better at a different address en route to the end of the rainbow. The opening lyrics, sung preciously by Whitmore:
I've gone miles and endless miles / A pilgrim of the interstate / Oh you know I can't stay long / And the map of where I've been / Reads by the lines upon my face
"I'm pretty much at home wherever I am," said Masterson, who was raised in Houston, just south of their destination on this day as performers at the Conroe Americana Music Festival.
"I'm a nomad by nature," said Whitmore, who grew up in Denton, Texas, but has lived in Brooklyn, Austin, Terlingua in southwest Texas and now L.A. with her traveling companions that include the couple's dog Shakti, a German shepherd-heeler mix. "My dad's a pilot and we traveled a lot growing up, so it seems completely normal to be on the road all the time."
When she gets a chance, Whitmore also flies a plane (she got her license spending most of her first 100 hours in a Piper PA-11 Cub) to visit her parents Alex and Marti.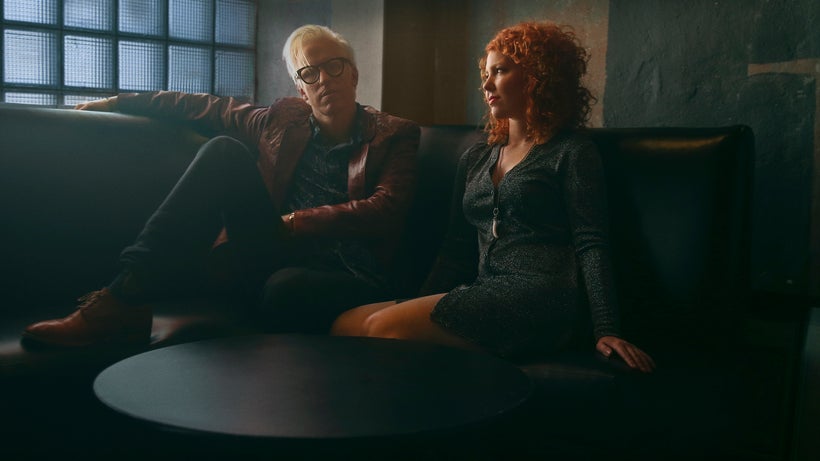 Despite all the frequent flyer miles they've racked up, the Mastersons realize it can't always be full speed ahead. So they have an Americana Horror Story to share that began with the aforementioned speeding/reckless driving ticket Whitmore was issued in Virginia.
With a court date rescheduled on the day before they were scheduled to start their first headlining tour of Europe to promote Birds Fly South, this series of events followed:
Masterson: "So Eleanor flies to Virginia, goes and cries in front of the judge, and says she's changed the way she drives — and she actually has — flies back to JFK (Airport in New York), I meet her curbside and we board our flight to London and almost miss our flight to Newcastle. We get there, the guitars aren't there and we get to the first gig and there's about an hour and a half before we go on stage and I have to rewire the PA and borrow some guitar."
Whitmore: "And I had to drive on the left side of the road for the first time."
Masterson: "A day like that, like when your head hits the pillow at the end of that night, instead of recounting or reliving your day, you just think, 'Man, this is fucked up!' "
Whitmore: "You're not even finished! So we showed up and also our merch didn't show up for the tour. We're over there to promote our first record and the warehouse was out of stock. And they didn't tell us that, and it was a Friday, so that was kind of a nightmare."
So you want to be a rock 'n' roll star, kids? Consider this your fair warning: If you want to see the world, there are sacrifices to make.
"The thing about it is that stuff is gonna happen all the time if you're out doing this," Masterson offered. "People die on the road when they're traveling. We're in harm's way. But a lot of great things happen, too. So I think what time has taught us is you have to take the good with the bad. And what defines us is the grace with which we handle these situations."
Even if it's not the "clean, happy version" of life with the Mastersons, that is a pretty sweet ending to this latest chapter.
And no matter what direction Transient Lullaby takes them, Whitmore and Masterson seem destined to go the distance.
Michael Bialas is a journalist and photographer who enjoys writing about entertainment and sports for a number of online publications, including The Huffington Post. Follow him on Twitter: @mjbialas
Publicity photos by Wayne Millard. Concert photo by Michael Bialas.
This post was published on the now-closed HuffPost Contributor platform. Contributors control their own work and posted freely to our site. If you need to flag this entry as abusive,
send us an email
.