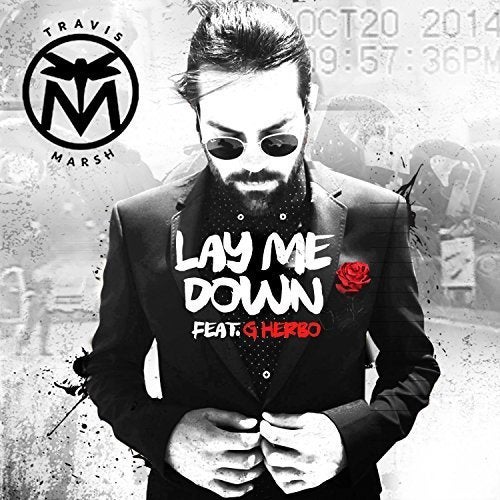 Travis Marsh will drop a new album in the not too distant future. In anticipation, he just released a new single/video, called "Lay Me Down." The music video features the talents of rapper G Herbo, and supermodel Asphyxia Noir.
Marsh is hard to pigeonhole when it comes to genre. The man's music doesn't neatly fit any predetermined category. Thus one is forced to make-up new descriptions for his style of music, which, honestly, is a lot of fun and probably much more accurate than using the pre-fab stuff. My description of Marsh's sound goes like this: So-Cal rock lite (like the Eagles and Poco, etc.) with a sprinkling of pop music.
"Lay Me Down," after a short musical intro, establishes a thumping groove that's kind of a combination of country and industrial rock and hip hop. A tinny sounding synth drives the melody, while providing a sense of strident urgency to the music. There's a remote nuance of uneasiness conveyed by the music that I really like.
The lyrics are simple but catchy, just asking the listener to sing along: "Just lay me down," is fun as heck to belt out in your car. And the redux of "If I die before I wake …," which most people are familiar with, gives the chorus a gospel feel, as does G Herbo's rap solo.
Marsh's vocals remind me just a bit of Jackson Browne, but twangier and not quite as dulcet. There's an edge to Marsh's vocals that grab you by the ears and give you a head-butt. The kind of voice that's tumescent with some unidentifiable emotion that demands your attention.
In short, "Lay Me Down" has it going on. I really enjoyed this song; it's the kind of song you want to play in your car as you cruise around with your friends.
The video relates the story of a man who has been shot and is in a motel room. Noir plays the role of his clandestine nurse, as she arrives to remove the bullets in his back. After she removes the bullets, Noir poses seductively in lingerie and multiple tattoos, fiddling with a pistol. Then G Herbo arrives on the scene, carrying a guitar case that contains an assault rifle. He delivers the rifle to Noir, who takes it out of the case and, well, the implication is she shoots the man she just saved.
It's an alarming video that exposes the reckless violence brought on by the prevalence of guns, poverty and bigotry.
Travis Marsh is an extremely talented singer/songwriter. "Lay Me Down" is a must have. In fact, I predict it will show up in some Hollywood movie soon. It's that good! I can't wait for his next single to be released. And I'm waiting impatiently for the album to drop.
Find out more about Travis Marsh here.
This post was published on the now-closed HuffPost Contributor platform. Contributors control their own work and posted freely to our site. If you need to flag this entry as abusive,
send us an email
.