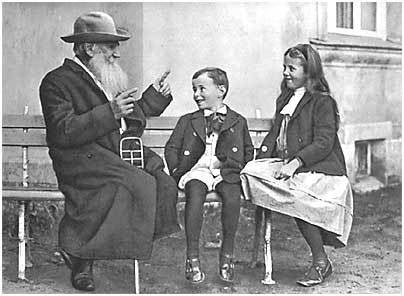 I am proud to team up with the Tony-Nominated Broadway musical, Natasha, Pierre, and & The Great Comet of 1812, which does for War and Peace on stage what I try to do in my book, Give 'War and Peace' a Chance: Tolstoyan Wisdom for Troubled Times, and in my keynotes: bring Tolstoy vividly alive for a wide contemporary audience. In this blog series, I share my experience of the show and the ways it captures Tolstoy's vital relevance for today. The Great Comet, like Tolstoy's epic, offers not only a rousing, unforgettable story, but also an urgent moral compass and a celebration of the deep joy of living. The musical is wise and funny and profound, but it's also jaw-droppingly fun entertainment, proving yet again the wisdom of Tolstoy's words: "Great works of art are only great because they are accessible and comprehensible to everyone."
This is the seventh and final blog in the series. If you missed the last blog, you can read it here.
Pierre rushes in to help patch up the mess created by Natasha after she has nearly eloped with Anatole. Natasha, guilt-ridden and suicidal, asks Pierre to beg Prince Andrey, her former fiancé, for forgiveness on her behalf and not to speak ill of her would-be abductor, Anatole. This is a big, coming-of-age moment for Natasha: She takes responsibility for the pain she has caused others, and realizes for perhaps the very first time in her young life that she—glamorous, beautiful, perfect Natasha—is a flawed human being, just like the rest of us.
Looking into her tear-stained eyes, Pierre is suddenly seized with tenderness and pity, and he makes a life-changing discovery of his own:
But the brightest, handsomest,
I would get down on my knees this minute
And ask you for your hand
So important is Pierre's revelation here that he speaks rather than sings his words—the one and only time words are actually spoken in the entire musical. This is a culmination of everything that has been brewing inside Pierre from the beginning.
Show creator Dave Malloy chose well when he decided to focus the musical on the Natasha-Pierre storyline, for their journey from isolation to connectedness is one that Tolstoy tells over and over again, by means of countless characters and subplots, throughout War and Peace and indeed, all of his novels.
There is a poetic justice in the fact that Natasha's and Pierre's individual journeys from innocence to wisdom through suffering lead them to one another. By the end, Natasha, chastened by hard life experience, is now able to receive the love of Pierre, who after his long, dark night of the soul, is finally able to give it. Once lost, both characters have now been found…by one another.
For much of the show we see Pierre sitting alone, at the front of the stage in the darkened pit—reading, drinking, philosophizing, absentmindedly fingering the piano keys—all the while looking in on the shenanigans of high society with bewilderment and sadness. Over the course of the show he moves, both literally and figuratively, from that dark pit to the brightly illuminated center stage, right alongside Natasha, back into the human family. After confessing his love for her, and seeing the tears of gratitude in her eyes, Pierre walks out into the cold winter night, and gazes up with a full heart at the soaring comet, while the entire audience is looking up at it with him. And he sings his final aria, which literally stops the show. His final words are:
Feels my softened and uplifted soul
And my newly melted heart
There is something deeply touching about twelve hundred theater-goers, each of us from a different walk of life, now looking in the same direction and feeling the same "softened and uplifted soul" that Pierre is feeling. Even the woman who rudely bumped into me in the lobby earlier and the guy who spilled his drink on me at intermission—yes, even they have become like family in this moment. Over the course of the past two and half hours, then, The Great Comet has not just entertained me, but taken me on the very same journey from isolation to connectedness that Tolstoy's characters go on.
What journey could be more important in our troubled times?
Bitterness and divisiveness are the order of the day. Your political party hates my political party. Our egos and agendas get in the way of genuine human connection. We fight to protect our own little turf. We pass one another on the streets like hardened, harried strangers. We are often alone. Tolstoy and The Great Comet bring us together. And that, for Tolstoy, is precisely what art is supposed to do.
"A real work of art," he wrote, "destroys . . . the separation between the receiver and the artist, and not that alone, but also between the receiver and all whose minds receive this work of art. In this freeing of our personality from its separation and isolation, in this uniting with others, lies the chief characteristic and the great attractive force of art."
I have personally witnessed Tolstoy's philosophy in action, as university students in my Books Behind Bars program meet weekly with incarcerated youth at a maximum security juvenile correctional center to read and discuss Tolstoy and other classics of Russian literature. The lives of both groups of students are powerfully connected and changed in the process.
The Great Comet achieves a similar sort of connection and transformation in the audience. The show takes one of the most accessible and universal art forms—music—and combines it with Tolstoy's text, bold directing, brilliant acting, creative lighting and scenic design, and brings Tolstoy's vision alive before our very eyes and ears. At the same time, the show makes us feel more alive as human beings and brings us together.
Of course, we may be forgiven for suspecting at the end that Pierre will continue to struggle with loneliness and depression, or that Natasha will exhibit traces of her latent narcissism from time to time. They are only human, after all. And yet our uncertainty about what will happen with them does not take away from the very real and definite power of the final moment itself.
I, for one, walked out of the Imperial Theatre the night I saw the show a better, more loving and connected human being than I was when I first walked in. It didn't last, of course. Life's realities have a way of intruding on our best intentions. But for a few precious hours anyway The Great Comet, like War and Peace, gave me a glimpse of not only who I am, but who I can become. And for that I will always be grateful.
This post was published on the now-closed HuffPost Contributor platform. Contributors control their own work and posted freely to our site. If you need to flag this entry as abusive,
send us an email
.