There is no question that the US is a meat-eating country. According to a recent study by the Vegetarian Resource Group, around 97% of Americans eat animals and almost 99% consume animal ovulations, secretions or dairy products. Having witnessed first-hand the heart-wrenching and cruel conditions most animals are subject to; much of my activism, philanthropy and advocacy over the past two decades has been dedicated toward alleviating the suffering of farmed animals and to supporting the evolution of a broader based human compassion which includes animals mostly known as "food."
Recently it was brought to my attention that the United States is responsible for just 2.5% of animals raised globally for meat/dairy/eggs. That's right: 97.5% of the fish, chickens, hens, pigs, cows, sheep, goats and other animals, often confined in cages so small they can't stand up or turn around; who live in their own feces; and who are routinely beaten, mutilated and abused by humans until their lives are taken away from them; 97.5% of these sentient beings are raised and killed outside of the United States. According to the UN Food & Agriculture Organization, 49% of the 123 billion animals used in farmed animal operations are in China. India follows with 7%. Even if we successfully encouraged all animal agricultural operations in the USA to cease (or convert into plant-based agriculture), only 2.5% of the total farm animals harmed worldwide would be impacted.
When the Open Philanthropy Project approached our team at the Pollination Project Foundation to create a grassroots grant-making effort aimed at identifying animal activists around the world, we jumped at the opportunity.
In many of the countries where animal agriculture is the most widespread, the animal rights movements are just getting started. The infrastructure is limited, and now is the time to encourage, uplift and support emergent leadership in these fledgling movements. Thanks to the partnership of the Open Philanthropy Project, the Pollination Project has just launched a global grant making effort called "The Global Animal Advocacy Program."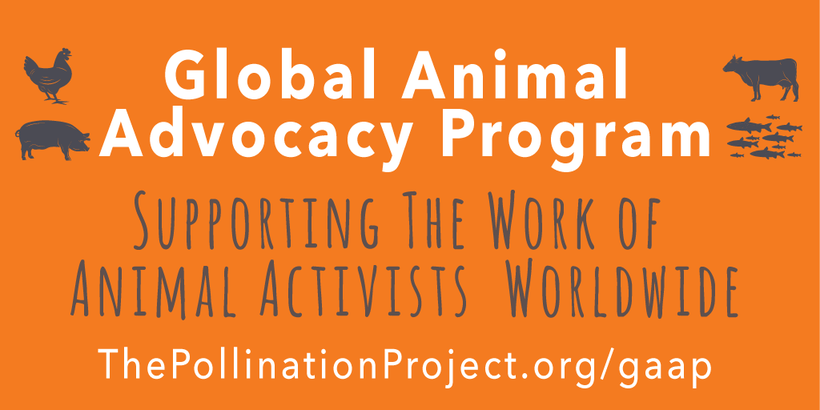 In the next year, we will be making over 100 small grants to activists for whom early-stage funding will go a long way towards boosting their morale and building their momentum. The program will be anchored in four country/regions that were chosen strategically based on the growth of animal agriculture in those areas: The Greater China Region, India, Mexico and Brazil. Local coordinators were identified to spearhead the strategy on the ground, build community partnerships, and identify our first grantees. I want to welcome Rosana Ng (Greater China Region), Darshana Mazumdar (India), Guilherme Carvalho (Brazil), Meghan Lowery (USA), and Xochitl Rivera (Mexico) to the Global Animal Advocacy Program team.
In the coming months, Rosana, Darshana, Guilherme and Xochitl will be working closely with local groups to identify some of the most exciting, ambitious, creative and hard working activists in their countries.
With 123 billion animals confined and suffering each year, the scope of the global problem seems insurmountable. But grassroots efforts like the Global Animal Advocacy Program is where hope can begin to rise up. I can think of nothing more rewarding than investing in the future of this global movement.
If you would like more information on why The Pollination Project cares so much about plant-based eating and compassion for animals, visit us at "WHY VEGAN".
This post was published on the now-closed HuffPost Contributor platform. Contributors control their own work and posted freely to our site. If you need to flag this entry as abusive,
send us an email
.