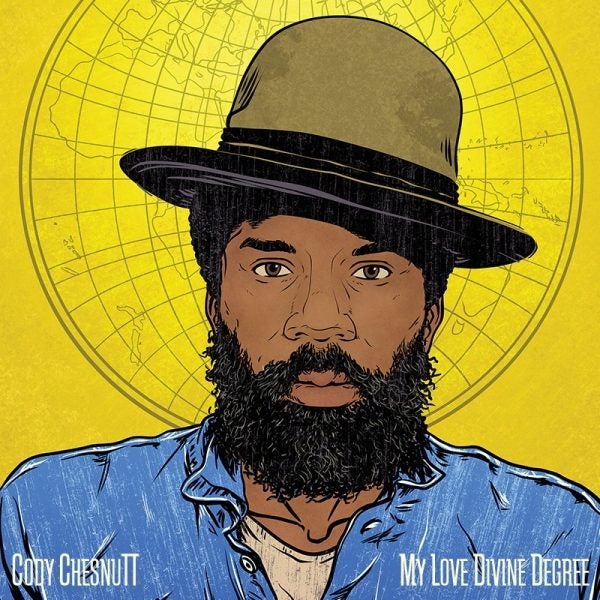 Cody ChesnuTT just dropped his new album (June 2). It's called My Love Divine Degree and it's on Handwritten Records.
Stylistically, Cody is pretty much pure soul. However, other influences do enter his sound now and then; but soul is king. Other influences include R&B, jazz and even a touch of hip hop. The theme of this new album is optimistic. As Cody says, "This Body of work is medicine for me. Once again, this is my soul trusting the powerful gift of music to be a positive vehicle for sharing the continual process of personal transformation."
The first track on the album is a 30-second intro stating that "anything can happen." Next up is "Africa The Future," a soulful tune with a kind of funky beat and a catchy melody driven by the guitar and bass. The high-pitched "la la la la" is very effective and sets up a nice sonic contrast.
If I didn't know better, I'd say the next song, "She Ran Away," was an Al Green tune. Cody's voice is smooth and sultry, complemented by excellent background harmonies and suave horns. "Bullets in the Street and Blood" establishes a charming groove, along with a silky soul melody that works well. And the vocal harmonies are excellent.
"So Sad To See" takes things down a notch or two. It's a slow, dreamy, bluesy soul tune with, in my opinion, a smidge of hip hop running through it. "Always Sebrena" is a short, personal song. Cody shows off his falsetto on this track. "Make A Better Man" starts off a cappella, then segues into a jazzy melody, with Cody grinding down on the vocals.
"I Stay Ready" is an amalgamation of R&B and a jazz grove. The melody has a bit of Isaac Hayes in it, which works well. And Cody's vocals reveal the depth of his voice. The next track, "Image of Love," didn't work for me; probably because it comes across as funky electronica. Whereas "It's In the Love" does work for me. It has a funky beat that works well with the tinny guitar riffs.
"This Green Leaf" starts off funky, and then switches to a gospel-like melody that allows Cody to pull in his vocals, giving them a husky, rough sound. "Peace" revolves around great vocals and harmonies; there's not much of a melody, initially, but when it kicks it, it's sweetly beautiful. "Shine On The Mic" has a reggae influence going on, and, once again, a superb vocal arrangement.
The last track on the album, "Have You Heard Anything From the Lord Today," might be my favorite. It's a kind of soul/gospel number, with a catchy but simple melody that provides a great base for Cody's voice to ride on.
This is one heck of a good album. I really enjoyed it. You need to download this one; or get the CD when it comes out. My Love Divine Degree is that good!
Find out more about Cody ChesnuTT here.
This post was published on the now-closed HuffPost Contributor platform. Contributors control their own work and posted freely to our site. If you need to flag this entry as abusive,
send us an email
.