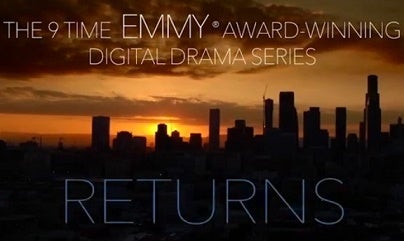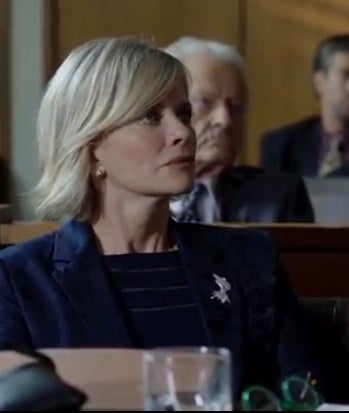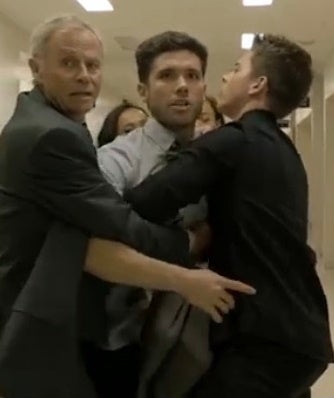 The wait is almost over! Get ready to #BingeTheBay! LANY Entertainment has released THE BAY's Official Season 3 Trailer featuring highlights of the "romance amid chaos" viewers can expect in the anticipated third season of the nine-time Emmy® Award winning digital drama series. Season 3 will be available via Amazon Prime and Amazon Video starting October 24, 2017.
THE BAY, THE SERIES made Emmy® history in May sweeping all five (5) Digital Drama Series Categories and giving Amazon their first ever Emmy® sweep! That same night star and producer Kristos Andrews (Pete Garrett) made history becoming the youngest person in history, at age 26, to win five (5) Emmys® (2015, 2016, 2017)!
As Season 3 begins, Bay City matriarch Sara Garrett (6 time Emmy® Award winner Mary Beth Evans, DAYS OF OUR LIVES) faces murder charges, the trial of the century, and an unsympathetic jury while struggling with the sordid memories she shares with her renowned attorney, Arthur Tobin (special guest star Thomas Calabro, THE LAST SHIP, MELROSE PLACE).
Now married to his high school sweetheart, golden boy Pete Garrett (Andrews) attempts to build a new life with Vivian Johnson (Karrueche Tran, TNT's CLAWS) though a spurned Janice Ramos (Lilly Melgar, GENERAL HOSPITAL) threatens to make things complicated. Struggling to find himself, Daniel Garrett (Eric Nelsen, ALL MY CHILDREN) sets out on a journey that will change his world forever.
Soap hunk Brandon Beemer (DAYS OF OUR LIVES) and actress/model Celeste Fianna (THIS JUST IN) join the all-star cast this season as series regulars, which includes Daytime TV icons Ronn Moss (BOLD AND THE BEAUTIFUL), Matthew Ashford (DAYS OF OUR LIVES), Tristan Rogers and Jackie Zeman (GENERAL HOSPITAL), and the newly minted Emmy® winner for his role on The Bay, Nicolas Coster (SANTA BARBARA), as well as Brittany Underwood (HOLLYWOOD HEIGHTS), and many more, this season.
Some of season 3 special guest stars include Golden Globe® winner and Academy Award® nominee Bruce Davison (X-MEN), multiple Emmy® nominee Victoria Rowell (THE YOUNG AND THE RESTLESS), Christopher Sean (HAWAII 5-0, DAYS OF OUR LIVES), Randy Wayne (THE LYING GAME, HONEY 2, DUKES OF HAZZARD: THE BEGINNING), and Daytime Emmy® winners Chad Duell (GENERAL HOSPITAL), daytime legend A Martinez (SANTA BARBARA, OLTL, DOOL, LONGMIRE) and others. Season 3 also includes a special music performance by Latin Grammy® Nominee Huey Dunbar, IV.
The Bay, The Series is Executive Produced by multiple Emmy® winner Gregori J. Martin with legendary multiple Emmy® winning Executive Producer Wendy Riche (GENERAL HOSPITAL).
hashtag #Bayhem #BingeTheBay
@TheBaytheSeries on Twitter & Instagram
This post was published on the now-closed HuffPost Contributor platform. Contributors control their own work and posted freely to our site. If you need to flag this entry as abusive,
send us an email
.