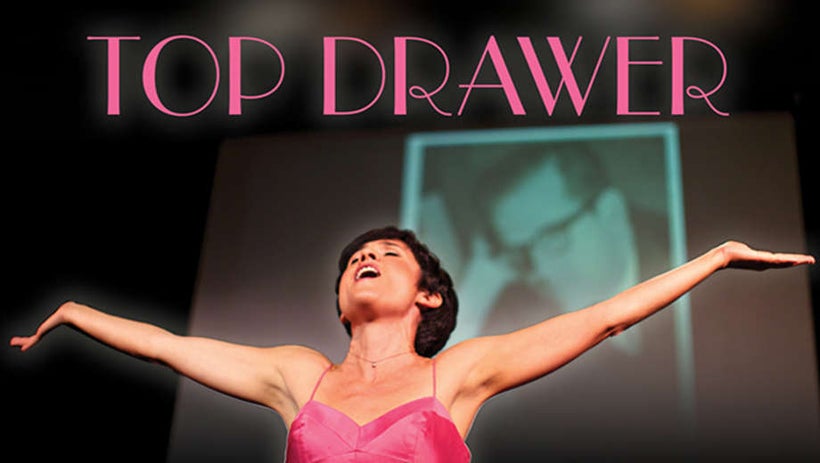 Dad's a gay, manic-depressive Cuban pianist who eventually commits suicide. Mom's an impossible-to-please, thrice-married opera singer whose family is listed on the Social Register. You're a privileged kid growing up on Manhattan's tony Upper East Side who just wants to be loved. And to sing. So what do you do? If you're Adelaide Mestre, you take Nora Ephron's mother's advice that "Everything is copy" and you create a remarkable, at times hilarious, at times heartbreaking, one-woman show based on your life.
The result is Top Drawer, Mestre's award-winning musical memoir, which she most recently performed on June 5 at the Triad Theater in New York to an enthusiastic, sold-out crowd. Billed as "Stories of Dysfunction and Redemption from Park Ave to Havana," the show's title refers to Mestre's great grandmother's insistence on lofty "top drawer" standards and the effect it had across several generations. Mestre explains: "I used Top Drawer as the title because it encapsulated something at the core of my story and my family history: that image and a facade of glamour and perfection were prized above substance. It's something that haunted both my father and my mother and also something I had to work through in order to be able to make my own art."
Accompanied by pianist/musical director Doug Oberhamer, Mestre portrays each character in her story: mother, father, cousin, singing teacher, the proprietor of a Cuban "casa," Cuba's Bulgarian ambassador, and assorted others, plus Mestre herself at various ages (from 5 years old on). The action alternates between Havana (stage right), where Mestre embarks on a reconnaissance mission to locate her father's childhood piano and to rediscover her family's heritage, and New York City (stage left), where she re-enacts the joys, tragedies, and frustrations of her childhood and young adulthood. Barefoot, with a pixie haircut and clad in a vivid tangerine cocktail dress, Mestre leads us on a journey through time and across cultures while images from her life flash on a screen behind her. The result is a uniquely engaging and compelling 90-minute theatrical experience.
Mestre opens the show with a soulful Spanish ballad, "Sin Ti" (Without You). The translation is projected on the screen behind her: "Without you, it is useless to live, like it is useless trying to forget you." It's a love song, but on multiple levels: a plaintive lament for a lost partner or parent, or perhaps, a lost dream. Mestre has a bright, crystalline singing voice and she ably switches between musical styles, from popular to operatic, depending on which character she embodies. She is also a versatile actress, equally convincing as an exuberant 5-year-old talking about her mother's opera coach, a 9-year-old mortified by her father's public re-enactment of a number from A Chorus Line on, and an adult passionately searching for clues about her family's past.
Mestre's tale is one of family dysfunction, personal loss, and a painful, but ultimately redemptive search for identity. She explains: "After my father committed suicide, I stopped singing. Later, I realized that I had become seriously blocked in my life and unable to move forward with my artistic projects. A dear friend and writing coach gave me an assignment to write a piece about my life in music. In that one-page assignment was the seed of my show: My childhood filled with music, but also all the pain that was attached to it. It's the legacy of thwarted ambition, from my great grandparents all the way down. What Top Drawer has done for me most of all is to set me free."
Does Mestre find her father's childhood piano? After a long, frustrating search, she still isn't sure once she returns home from Havana. Later, a resourceful relative sends the serial number of the piano in question to Steinway headquarters. It turns out the company keeps detailed records of each piano it sells. Mestre brings Top Drawer to an emotional close by reading Steinway's response to the query. Miraculously, the piano she found is indeed the one that graced her grandparents' home in Cuba. It is a physical reminder of the connections between her family's generations and cultures.
Top Drawer's director is Coco Cohn. Stefania Diana Schramm is stage manager and lighting designer. The show premiered at the 2011 New York International Fringe Festival, with previous performances at Symphony Space in New York City and in Miami, in cooperation with the Cuban Museum. The show won the Bill Bowers Award of Excellence at the SaraSolo festival in Sarasota earlier this year.
Top Drawer returns to the Triad on June 27.
This post was published on the now-closed HuffPost Contributor platform. Contributors control their own work and posted freely to our site. If you need to flag this entry as abusive,
send us an email
.