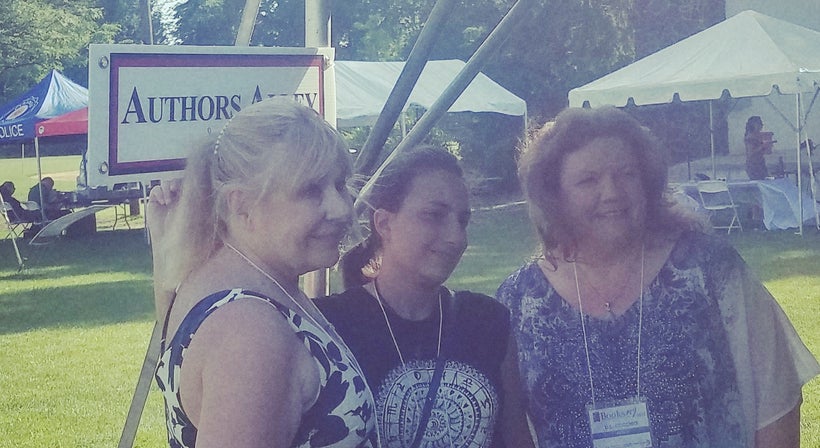 Pictured with Kristen Houghton in "Authors' Alley" are two incredibly talented fantasy authors, Dylann Rhea, (center), Storm Trilogy and D.L. Cocchio, (rt.), The Psychic Circle ~Souls Entwined.
My heroes as a child were magicians in disguise. They were librarians and they fascinated me. Within their hands they held the mystical and delightful tools of magic. What were these mystical tools that so delighted me? They were books, books that transported me to far-away worlds, interacted with characters I would not ordinarily meet in my own world, and taught me the power of words. I laughed, I cried, caught up in those books and their stories. It's no wonder that I became an author and a great part of that decision has to do with the wonderful librarians I knew as a child.
On June 11th I was privileged to be part of BooksNJ, a biennial event that brings authors and readers together. Held in the month of June on the grounds of the Paramus Library, it is a chance for authors to get up close and personal with all who know, and love, the magical world of reading. Greeting fans of their fiction and non-fiction books, and meeting potential new readers of their works, authors and book lovers come together.
This festival of books has the best of everything, featuring panels where authors discuss aspects of their craft and answer questions from readers about their books and characters. My panel, The Question of Sidekicks: Does Every Sherlock Need a Watson? was a delight as I got to answer questions about my character Cate Harlow and her three 'Watsons.' Seems my PI needs a Watson for the different areas of her professional and private lives!
Besides the panels, there is the much anticipated, and beloved, storytelling for both adults and children as well as the appearance of guest speakers.
The special keynote speakers this year were best-selling authors Robin Cook, who has penned thirty-four international bestsellers, and Chris Grabenstein, author of the award-winning ESCAPE FROM MR. LEMONCELLO'S LIBRARY.
Started six years ago by Donna Perkosky, Public Relations and Adult Programming Coordinator at the Paramus Public Library, it has been a huge success each year. Due to the hard work, dedication, and support of two incomparable women, Ms. Perkosky and Arlene Sahraie, Library Services Director of Bergen County Cooperative Library System, (BCCLS), and their staff, BooksNJ is a cultural, fun experience that everyone can enjoy. These wonderful women called all the hard work they do 'a labor of love' and, indeed the love shows.
On a hot day in June, (it hit a high of 93 but no one minded!), BooksNJ 2017 once again proved to be a huge success and a wonderful day for lovers of books, both the readers and the authors. Can't wait for BooksNJ 2019!
©2017 copyright Kristen Houghton all rights reserved
Houghton is the author of nine novels, two non-fiction books, a collection of short stories appearing in anthologies, and a children's novella.
She is the author of the Horror Writers of America award-winning Welcome to Hell and is hard at work on a new series that features a paranormal investigator with distinct, untried powers of her own.
This post was published on the now-closed HuffPost Contributor platform. Contributors control their own work and posted freely to our site. If you need to flag this entry as abusive,
send us an email
.