Far From Alaska has a new single premiering tomorrow (June 23). It's called "Cobra," and is taken from the band's soon-to-drop sophomore album, Unlikely. Far From Alaska hails from Brazil. Their debut album, modeHuman, dropped in 2014, and Rolling Stone magazine included it on their list of Top 10 albums for the year. So what I'm saying is this: Far From Alaska has got it going on!
The band has five members: Lauro Kirsch sits in the pocket; Edu Filgueiram is on bass; Rafael Brasil is on guitar; Cris Botarelli is on guitar, synth and vocals; and Emmily Barreto handles vocals. I like the name of the band – Far From Alaska. I don't know how they came up with the name, but I like to think it's simply because Brazil is far from Alaska. In any event, it's a cool name for a band.
Stylistically, Far From Alaska is either alt rock or rock. Take your pick. But I'll say this: I prefer plain old rock because they know how to turn it loose. Power chords, Thor-like drumming by Kirsch and vocals that will knock your socks off.
In fact, let's get rid of those socks by focusing on Emmily Barreto's vocal chords. Wowza! She can belt it out with the best of them. She sounds like a cross between Hayley Williams of Paramore and Janis Joplin. I mean a vivacious, hellacious instrument of expression. Emmily is definitely what the music biz calls a "strong female voice," and then some. Her grinding and growling, along with her fantastic projection will persuade you as to her Diva status from the first notes. I would say Emmily can crack walnuts with her voice.
"Cobra" starts off with a spiffy thumping bass line and heavy drums, and then the Diva joins in and the song rockets from controlled dynamism to all out atomic hurricane. A great guitar solo resides about two-thirds of the way through the song. Axe heaven! The structure of the song is verse/chorus, like most songs. But it's the way Far From Alaska pulls it off that's impressive. The only way to describe the melody is like this: so buff it hurts.
"Cobra" flat out rocks at a factor five markup. It's a ferociously ramped up tune that rides on powerful guitars and Emmily's radioactive, electrifying vocals. Don't miss this one! If you do, you'll be sorry. As for myself, I can't wait for the album to drop. Far From Alaska plays industrial-strength rock and roll.
Find out more about Far From Alaska here.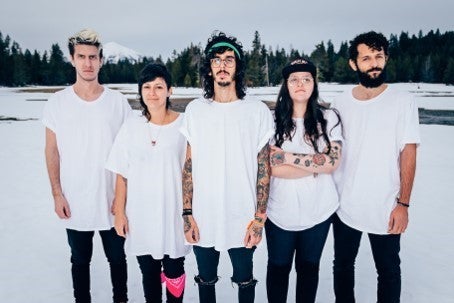 This post was published on the now-closed HuffPost Contributor platform. Contributors control their own work and posted freely to our site. If you need to flag this entry as abusive,
send us an email
.