Room to Grow is a nonprofit organization whose mission is to enrich the lives of babies born into poverty throughout their critical first three years of development. Our innovative three-year program delivers three critical types of support – parenting education, material support, and service referrals – to babies and their families living in poverty in New York City and Boston. We implement a two-generation, preventative, and strengths-based approach to provide comprehensive services for families living in poverty. Room to Grow supports parents as they raise children to ensure they are meeting their developmental and social milestones on time so that they can reach their full potential in education, work, and citizenship.
Darlene* is one of the many remarkable Room to Grow parents building a safe, loving, and enriching home environment for her children. Originally from Miami, Darlene came to New York City to expand her horizons and build a better life for herself. Soon after moving to New York, Darlene discovered that she was pregnant with twins. Faced with single motherhood and limited financial means to provide for her babies, Darlene was referred to Room to Grow by her prenatal care provider.
When asked to reflect on her experience, Darlene described her personal and financial struggles, the power of the support she found at Room to Grow, and her determination to ensure that her beautiful two-year-old daughters, Courtney* and Cynthia*, have a better childhood than she had. Here is Darlene's story in her own words:
I had a difficult childhood growing up in Miami. To help distract myself from the chaos at home, I focused all my energy on school. After setting ambitious educational goals for myself, I graduated a year early from high school and then enrolled at Norfolk State University in Virginia. Unfortunately, I became extremely sick during my junior year, missed a significant amount of classes, and consequently had to withdraw from school. I eventually moved to New York for a chance to restart. There I found two part-time jobs, and after a couple of months, I was able to rent a room with my boyfriend. Things were on the up and up!
However, everything took a drastic turn when I became pregnant with twins. My boyfriend moved out of state and never came back. No longer able to afford rent on my own, I was kicked out. Finding a new place to live felt impossible. Nobody wants a single woman, pregnant with twins, under their roof. I found myself living in and out of homeless shelters and was terrified that I would have nothing to offer my two unborn baby girls. I remember thinking that breast milk might be the only thing that I could give them. I was exhausted and losing hope.
But then a case worker at the hospital connected me to Room to Grow and my outlook began to change. I must admit, I was very skeptical about my first appointment because you rarely find a social service organization that allows you to be yourself. However, when I walked into my social worker's office and sat down in the rocking chair, I knew this program would be different. My social worker simply asked, "How are you doing?" For the first time in a long time, I opened up.
I had no experience being a parent, but my social worker listened to my concerns and problems; she always had advice and helpful parenting resources for me. During our sessions, we discussed parenting topics such as how to encourage routines in the home, how important it is to read to my girls, and how to access quality child care. In raising two toddlers, over 80% of my paycheck was going to childcare! However, quality of child care has always been very important to me because I want my girls to have a better childhood than I did. With guidance from my social worker, I navigated the overwhelming number of options and eventually found one that would be both high-quality and affordable.
Though my life is very different than three years ago, I still look forward to meeting with my social worker every three months at Room to Grow. I have a stable apartment, a full-time job, and an Associate's Degree that I earned this past spring. I am now working towards my goal of becoming a guidance counselor to help young girls living in shelters. I want to be able to tell those I am counseling, "I look like you, I've been through it all, and look—I made it." I know how black women can often be perceived in this world, and I want to drastically flip that. I may have gone through ups and downs, but for myself and the sake of my family, I will never quit.
*Names have been changed for confidentiality.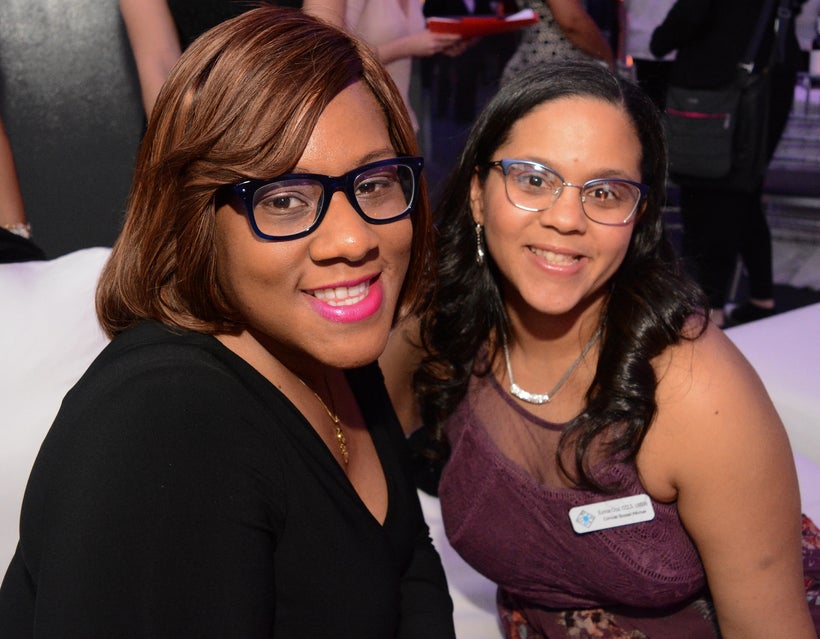 This post was published on the now-closed HuffPost Contributor platform. Contributors control their own work and posted freely to our site. If you need to flag this entry as abusive,
send us an email
.