E Pluribus Unum (From many one) could not be more appropriate to describe the origins, direction and potential of a promising new non-pharmacological, noninvasive device for PTS related and TBI related ailments.
This device did not come from a laboratory, university or healthcare provider, it was created in the fields of Afghanistan by Army combat engineers, the Navy sea ports of Bahrain and Djibouti, Camp Pendleton and 29 Palms, Army National Guard members, Walter Reed National Military Medical Center and veterans of every branch. The one constant variable in a 10 year effort to bring this device to the forefront of medical innovation was an ever present dedication, honor and commitment to two men that gave all and one question Army veteran Joe Meisch had on his mind; if not I than who? The device came to be known and referred to as the Temple Massager. It delivers a temple massage, aromatherapy and acupressure.
He created prototypes of the Temple Massager for his own jaw pain and headaches then realized the device was helping. It was the summer of 1999, and the first thing on his mind was that this device could potentially help many people but it would not be easy, not even close to easy. A patent was filed, the wait began, and thus began the trip through the entrepreneur crucible grinding pile driver. By then the US was engaged in Afghanistan and Iraq, many soldiers were heading to Walter Reed to recover, and it was about that time PTS and TBI started to become a common phrase. Joe had researched Complimentary Alternative Medicine (CAM) therapies, and it became apparent that this is what the Temple Massager was delivering through the initial design.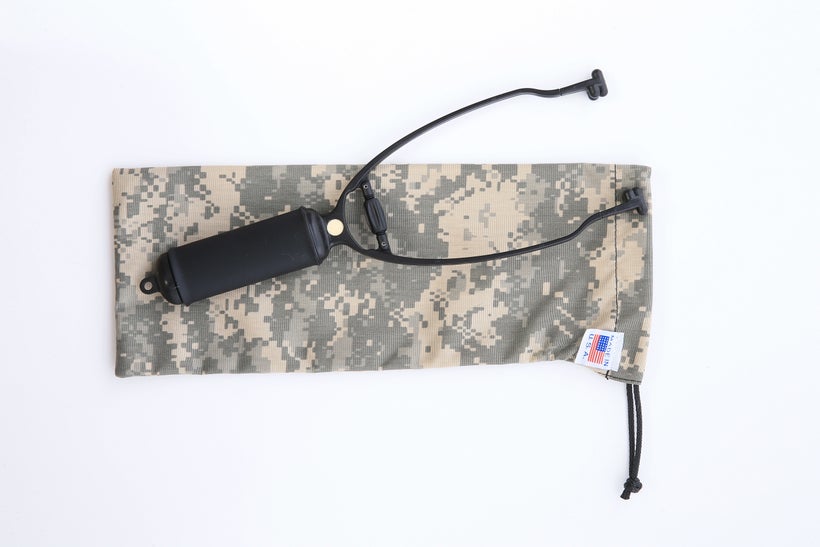 The realization that he had served with two men that gave all would lead to a vow to not give up if his device would help. The donations of Temple Massagers began in earnest to Walter Reed National Military Medical Center to behavioral health in 2007. Year after year of donating Temple Massagers to service members and veterans globally lead to feedback that the device was helping with calming, headache and jaw pain. Feedback from Walter Reed was that, "The Temple Massager is acting as a drug free distractor." Army troops in Afghanistan and Iraq stated "The Temple Massager was acting as a natural combat stress relief tool." Feedback from veterans was that "The Temple Massager helps me to stop thinking." And "The Temple Massager relieves the tension in my face muscles." This feedback became the marching orders to move by, and the guidance by which to improve the device. The innovation would come from service members and veterans that were using the Temple Massager.
After consulting with many doctors they hypothesize that it was acting as a drug free distractor through the aromatherapy and acupressure and that the tactile stimulation could be eliciting the relaxation response. The tactile stimulation was triggering brain chemistry. In common terms, the tactile stimulation is mimicking what it was like to receive a massage.
While continuing to donate Temple Massagers wherever service members were deployed many therapists and heath care practitioners that work with veterans would comment that sometimes veterans hold guns to feel comfort and security because they are trained to do so. The problem is that a person could be one bad day or one bad mood away from loading the gun and making the worst decision they could. It was this information that lead to the latest Temple Massager innovation of creating the device out of ballistic nylon which is what weapon pistol grips and hand guards are made from. This material and design made the handle of the Temple Massager feel like a pistol grip.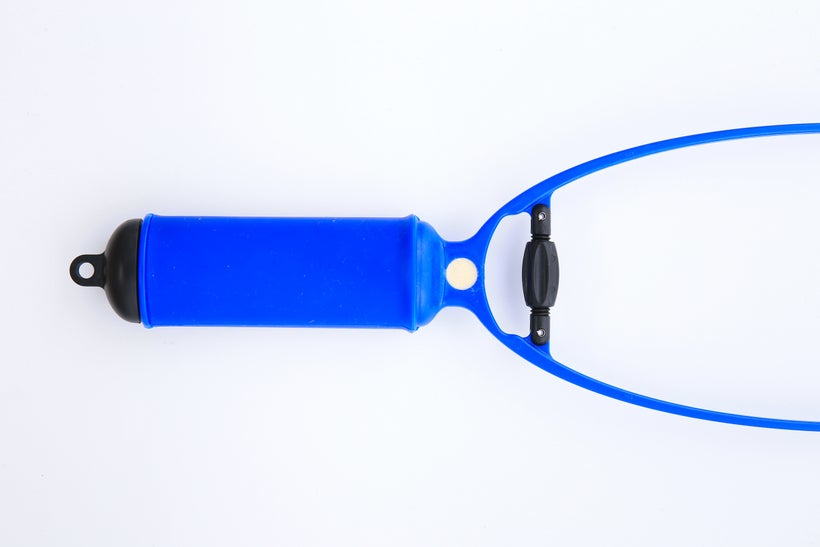 Joe donated to the Fort Bragg California Veterans Service Organization on December 7, 2016 and during a demonstration on how to use the device, he said following to those veterans: "I have told you what the PhD's are saying and what service members and veterans globally have said, now I will tell you what I have to say. We all served and therefore we are a team, and we are supposed to look out for each other just like we did while serving. If you ever feel frustrated, angry or alone I want you to know that I was thinking about you all along and that there are many veterans and good people who think about you all the time. You are not alone. I thought of you and I am here with my device for you. It is free, because it was paid for by Pvt Young and SFC Ottolini for you. I am begging you that if you ever feel so bad that you would pick up a bottle of pills, alcohol or worst ever a gun to hurt yourself, I am begging you please grab the Temple Massager first."
After that meeting, Doctor Goertzen the PhD in charge of the VSO wrote to tell Joe many of her veterans are now using the Temple Massager for the day to day stress they face. She also wrote that many use it as a first line go to for headaches and that some are now using the Temple Massager instead of PRN medications. Those comments motivated the California VFW to fund 50 more Temple Massagers to Northern California VSO.
Statistically, Joe has a 1% chance of bringing a new biomedical device successfully to the market.
Right now the Temple Massager is set to begin a pilot study and is collaborating with Defense and Veterans Brain Injury Center (DVBIC) and Veterans Administration (VA) Polytrauma systems of care to develop a pilot project (n = 10) to test the efficacy of his product in mild and moderate TBI patients who have headaches as a symptom related to their TBI.
The American Amputee Coalition is field testing for phantom pain distraction and the DOD at Fort Detrick, Maryland is interested in looking at the device for PTS anger management. This is all in the manner of drug free and noninvasive therapy.
Joe now has the interest of Kaiser and St Joseph's Health Care and he is in communications with the Innovation research labs of both entities and his latest donation was a case of devices heading to regions to combat engineers currently deployed in Middle East.
Joe's product is made in the USA. To order yours now and support an amazing product please follow the link below:
http://www.templemassager.com/shop
_____________________________
Landmark Life Coaching's (www.landmarklifecoaching.com) Mission is to honorably and respectfully serve courageous groundbreakers and transitioning veterans to persevere in defining and executing their future by providing an atmosphere of comradery and trust that honors their dedication and commitment. This will empower our clients to feel whole, honored, respected and fulfilled in defining and living their life purpose.
Charlie Mike Podcast (www.charliemikepodcast.com) is where our Nations Combat Veteranpreneur's talk about how they transformed their combat experience into a groundbreaking entrepreneurial success. We will discuss their experience in relation to what I have defined as their VisualReality; their personal vision of building a successful business leveraging their combat experience to bring the core strengths of a combat veteran into the entrepreneurial realm.
Dwayne Paro - Veterans Coach/Podcaster/Blogger/Speaker
This post was published on the now-closed HuffPost Contributor platform. Contributors control their own work and posted freely to our site. If you need to flag this entry as abusive,
send us an email
.