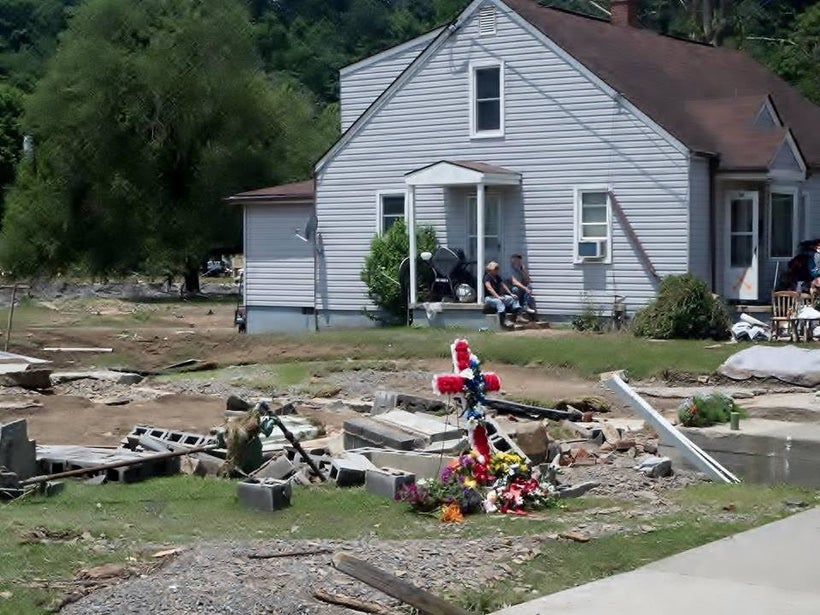 On June 24, 2016, a huge storm swamped the town of White Sulphur Springs, West Virginia. The flood claimed more than 20 lives, left thousands without homes, and shuttered the main employer in town – the historic Greenbrier Resort – for several weeks.
Tyler Hagemo, a caddy and skating instructor at the resort, was at the Greenbrier's golf course the day of the flood. He managed to park his car on high ground, and tried to get to his house on foot. He couldn't – the flood would keep him from his house for three days.
"I was in shellshock," Hagemo said. "I thought, I have to do something but I don't know what."
He decided to start with something simple – a Facebook video. He walked through the wreckage the day after the storm, filming the destroyed buildings and describing the casualties.
The video went viral, amassing thousands of views, and residents started reaching out to Hagemo – they wanted to know how they could help.
He and a friend created a Facebook group, White Sulphur Springs Flood 411, added everyone they knew who lived nearby, and started sharing what information they could – like which parts of town needed the most relief and the best traffic routes to take to get there.
"People were waiting eight hours [in traffic] to just go down to the south end of town for supplies," Hagemo said. "There wasn't really a coordinated, consistent message of where to go, who to talk to, what's available. It's not like you go through a 1,000-year flood often and have a procedure for it, you know."
Structured support did find its way to West Virginia, including from the American Red Cross, FEMA and United Way, and the Greenbrier opened its doors to victims. But the town still needed help from volunteers like Hagemo.
He started picking up truckloads of water from a distribution center United Way had set up and distributed them to stranded and elderly neighbors. He eventually started to help run the donations center, and when a new truck came in with supplies, he spread the word on the Facebook group.
Hagemo also used the group to start a sign-out system for high-demand donations (items like generators and space heaters that he wanted to circulate among as many people as possible), and to help distribute difficult-to-process donations.
"We had a ton of furniture coming in, but we had people who had no homes at the time, no room at their relatives' houses, or no form of long-term housing yet secured," Hagemo said. "Most of these people are barely getting by week to week."
So he worked with a local restaurant to host a fundraiser, advertised it through the Facebook group, and raised enough money to buy a storage container. The flood victims were then able to take the furniture donations and store it all for free.
All told, Hagemo estimated he's helped distribute nearly 40 trucks' worth of supplies since that 2016 flood, including 200,000 pounds of food and 8,000 pounds of batteries.
"It feels really good, but it's more humbling than anything," Hagemo said. "It became, 'what more can you do,' not 'look what you've done.' We still haven't done enough."
White Sulphur Springs Flood 411 is part of the rapidly expanding network of flood groups connected by Flood Forum USA, a national nonprofit initiative. Learn more at FloodForum.org.
This post was published on the now-closed HuffPost Contributor platform. Contributors control their own work and posted freely to our site. If you need to flag this entry as abusive,
send us an email
.