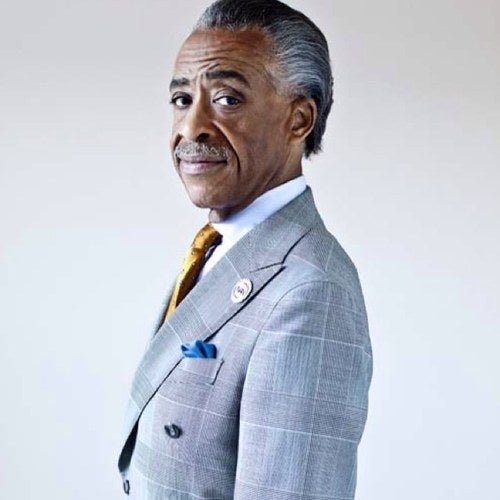 I met with Rev. Sharpton in his NYC office to ask a range of questions from his involvement in his fraternity Phi Beta Sigma Fraternity, Inc. to his opinion on Kodak Black and the reactions to his own selfies.
R: So something big to start with for me is a case that I've researched a bit. One that any journalist starting in the career field of African American news would know: The Tawana Brawley case. I've watched and read several interviews that you've done and even on some speculation surrounding her and her family since she hasn't done any interviews. Now as a young Black woman of today and as the father of black women, what can we learn from that case?
AS: Well, my thinking is that when the lawyers for her, Alton Maddox and Bernie Mason, we had just finished a whole movement around Howard Beach, you know the racial killing in Howard Beach so they wanted me to come help them with her. And as I got involved and started believing what they told me and I fought for her to have the right to bring the case into court as people started raising doubts that they didn't believe her. I would rather us err on the side of believing someone and giving them a day in court rather than err on the side of not standing up for people. Suppose I didn't stand up for the Central Park Five who were going through this around the same time or any other cases? So I think that you've got to have enough moral strength and courage to take risks. Sometimes they will backfire, sometimes they won't. But you could sleep with yourself at night if you do what's right. The lesson we've learned is that everything is not going to go your way. We had won Howard Beach and after that we won Bensonhurst. I learned that everything is not going to go your way and the system will come at you hard but if you could withstand it then in the end you could keep going forward. Many felt that discrediting her would be the end of our movement and me but that didn't happen.
R: Especially now that there's this active conversation (thanks primarily to social media and the looks of the Kardashians) about black women being coveted but not truly loved and protected, what would you change about that case to bring attention to that racial discrepancy?
AS: I would challenge everybody to say whether or not this young woman, a 15 year old black woman who could identify people to say they were together, deserved a day in court. And I think that looking back on it now a lot more people should have said "Yeah, why wouldn't you bring it into the court?" You've got to remember one of the persons she accused refused to even go to the grand jury for 3 or 4 months so my thing is whether you believe her or not, how do we have other people accuse people and automatically there's court hearings but a young black woman accuses someone and you try the black woman! And again, I took a lot of heat for that. But I think now a lot of people are saying what I'm saying: Why do you automatically dismiss her? And it's the same thing like today. I'm fighting the Eric Garner case, which is more your generation. They want to talk more about him selling lucies than the man choking him to death! Or the same with Trayvon Martin! So when do we have equal protection under the law? That's the same issue.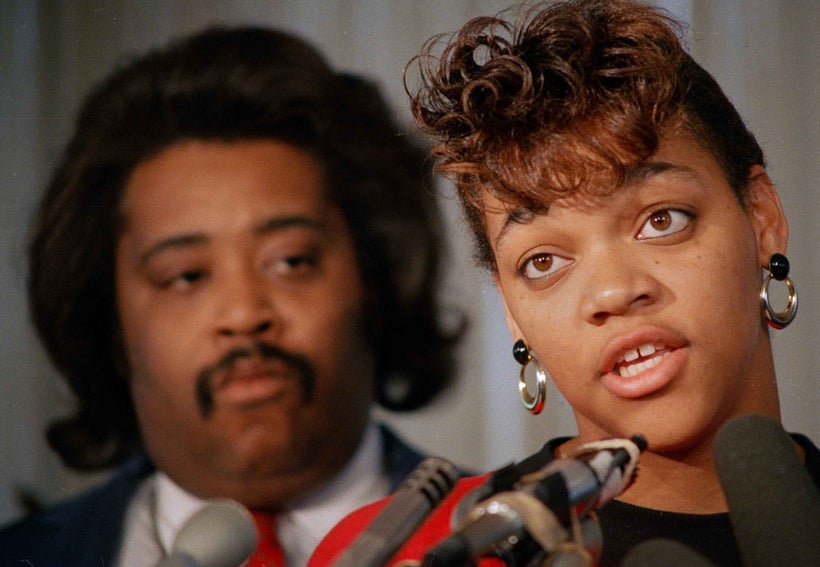 R: Staying on the topic of Black women: what do you think about Kodak Black's comments about not liking to date black women or at least dark skinned women because "I just don't like my skin complexion. We too gutter, light-skinned women more sensitive"?
AS: I think that racial stereotypes of any kind is wrong and immature. First of all you have graceful and well refined women of any of you- of any complexion. And you can have some "gutter" women that are white, "high yellow", and all of that. I don't know if he's trying to sell a brand of music or reputation or he really believes that. But I don't think anyone could really believe that people's ghetto or "gutter" status or a more polished, refined status could have anything to do with their skin color.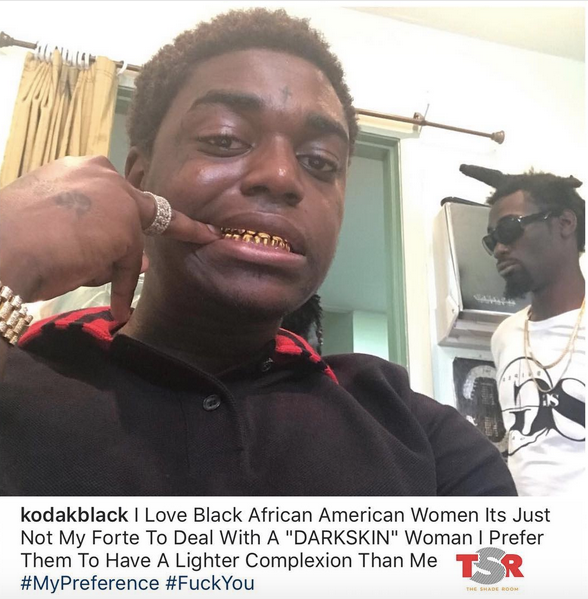 R: Moving into today's rap, obviously the rap game has changed a lot but what do you think of it now? More specifically, what do you think of the line on Jay Z's song "Family Feud" on 4:44? He referenced your name with 'Pill Cosby'.
AS: I think today's rap has turned more toward a serious commentary as to what's going on. At the ESSENCE Music Festival, I keynoted and spent some time talking to Chance The Rapper. And Chance and Kendrick Lamar and some of these guys, who are much younger than JAY-Z and them, are talking some serious stuff. I expected that's where the trend is going. Now about JAY-Z referring to me, he's referred to me before- it's no big thing. We've all had some debate about the n-word and a lot of rappers take shots at me because I'm against the n-word and we're friends. JAY-Z came out to the Trayvon Martin rallies- I ain't got no beef with JAY-Z. And Puffy calls me pops! The guys I'm really watching are Chance and Kendrick Lamar., they really have the young people's ear today. I had watched Chance's show and spoke to Chance a long time after and his father- I've known Chance's father for years. His father worked for Barack Obama before he was President, when he was a Senator. Here's a guy that has donated to many schools in Illinois. I believe he and many like him are going to take rap out of the ghetto fabulous era with some concrete stuff. The other guys, some of my friends, are getting too old.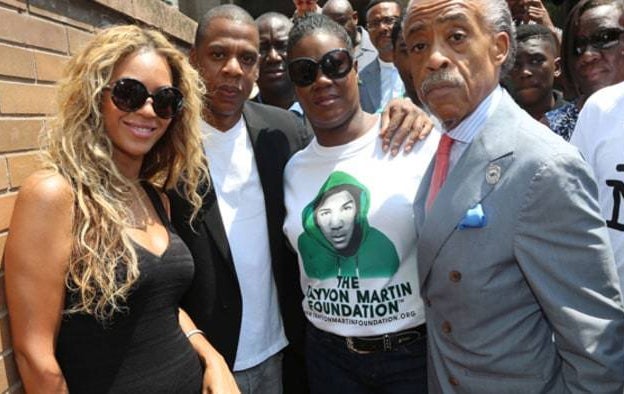 R: Now a tougher question, in the past few years what have you done in the public eye that you would like to change?
AS: When I first started my TV Show, I wasn't good at the teleprompter. And the reason why is because growing up as a boy preacher I could preach before I could read! I never ever spoke with a manuscript so I would have to change that I studied harder not to mess up the manuscripts. That's the main thing I could think of.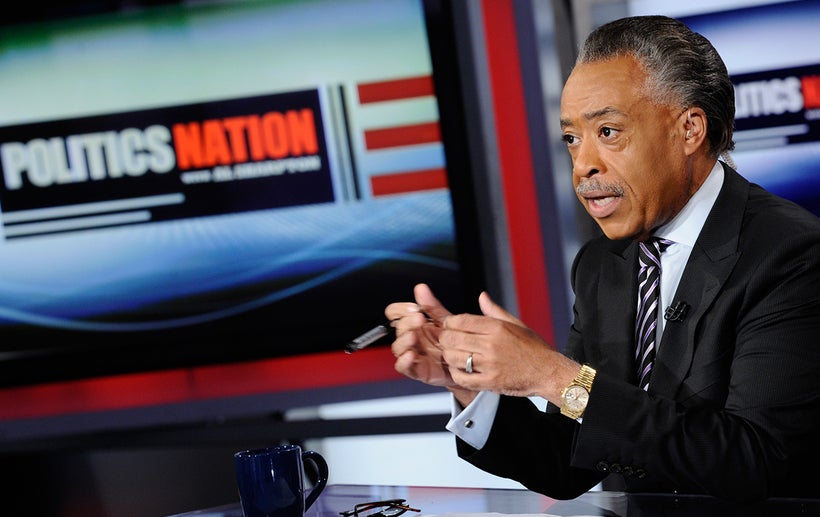 R: Now this question I'd like to call Rewind, Pause, and Delete. What moments in your life would fall under those categories?
AS: I would Rewind all of the old obese pictures of Reverend Al and then they'd go over to Delete. Because when I represented "Big Al" that wasn't really a healthy representation that was a part of my life when I didn't care and just wanted to do me. No, actually I'll just put that under Delete! Let's just delete Fat Al. Where I would Rewind? I would go back to that teenage boy living in Brownsville with his single mother and sister in jail , mother on welfare and foodstamps. And him sitting there with a dream that he could one day lead the civil rights movement and be a big apart of it. I'd go back there. I would warn that boy that it wasn't going to be easy but if you're committed you could get there. But, yeah, I'd like to go to Brownsville and talk to that boy that became Al Sharpton. As for Pause, I'd like to pause on the second inaugaration of President Barack Obama. We were sitting there in very cold weather and I'd by then preached the funerals for Michael Jackson and James Brown and spoke at Rosa Parks' funeral and knew Mrs. King well. And as I watched his black hand go on Martin Luther King's Bible to be sworn in the second time. I was about four of five rows back. I'd Pause there. Because it would tell me with all the struggles, with all the people killed, all the suffering, all the nights in jail I've spent that you can't give up hope because look at that. That black hand on that Bible means we could win. And every time I get discouraged now, I think about not what we can do but that we've already done things. Martin Luther King and all the others before me had to fight based on what they believe could happen. I could fight because I've seen it. And I would Pause on that and say "Don't tell me what I can't do because we've done it! We'll just have to do it again."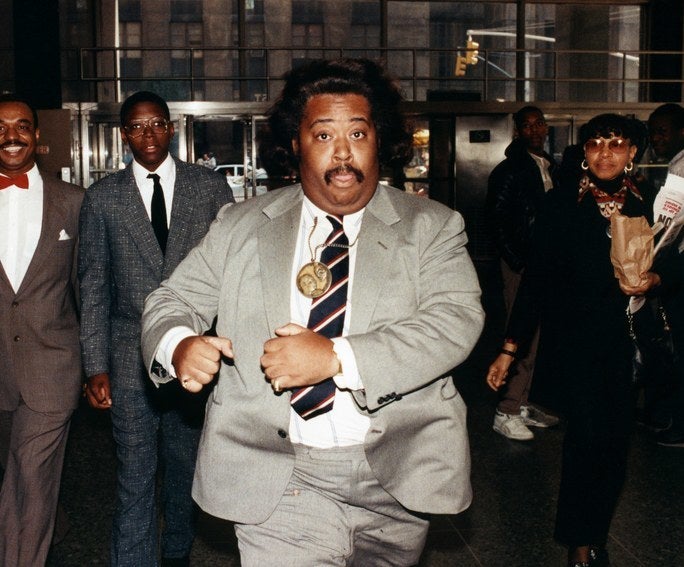 AS: What I've said is that in 23 states, they've legalized medical marijuana. I do not smoke marijuana, I grew up a boy preacher and was never into medical marijuana. I don't advocate it. But if it is legal and we, in the black community, have had a disproportionate people that have been arrested and incarcerated. One of the things that President Obama did, as I worked close with the Obama Administration, they commuted more sentences for long term drug offenders, minor drug offenders, and non-violent crimes than under the last 11 Presidents. There's a disproportionate number of blacks impacted by marijuana sales, I know because I was one of the people who was saying to the President that we've gotta do something. So now that it's legal less than 1% of the people owning these depositories are black? I'm saying you can't have us as those that got the brunt of marijuana arrests but we don't even have a way into owning while its legal. I'm not into marijuana. I'm into equality and civil rights. You must open the door to entrepreneurs in our community since we've been disproportionately impacted.
R: Many people do not know that you are a member of Phi Beta Sigma Fraternity, what has been your recent involvement in the fraternity?
AS: I do whatever they ask me in terms of speaking, I do a lot of reading of the stuff they send. I was drafted in and I take it seriously and I'm honored to be apart of the fraternity that also includes some like A. Phillip Randolph. And one of the things you learn as you mature in life is that the things you are apart of define who you are. And if you're not apart of something- which is a part of the seduction of the Reality TV World to have "your own brand"- if you're not apart of something bigger than you then you won't matter much in the span of history .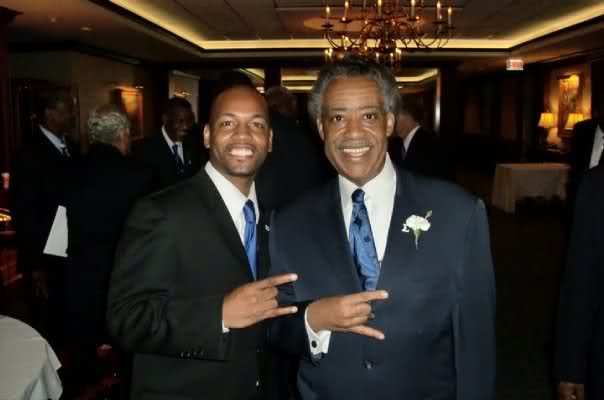 R: Now I know you use social media, do you ever have the time to see what people say about your selfies and significant weight loss? Your selfies have garnered a lot of attention!
AS: I rarely read the "trollers" and I rarely read the reactions. I'm on the radio 3 hours a day, I do my TV show every Sunday, I preach 2 or 3 times every Sunday and I run National Action Network. We've got 8 offices around the country that I supervise, we have 103 chapters, I don't have time to be reading all that stuff. They just drive my numbers up! You get your haters and you get your lovers. I have over half a million [followers] on Twitter and Facebook independent of each other. I don't know any other civil rights leader with that social media presence . I tweet stuff myself and post on Instagram myself, but in terms of reading the reactions the staff does that. They'll say, "Oh, you got a big reaction on this and another on this!" If it's good, it's good and if it's bad [shrugs], but it's all in a day's work. When you're on air everyday and TV on a weekly basis you get ups and you get downs. I really thought it was funny when I did the selfie that kind of went viral. I wake up at 5 in the morning to go work out. So I got up, and it was Father's Day, and I knew I had to do my TV show that's live at 8 o'clock and my radio show an hour after that then preach twice at Metropolitan Baptist Church in Newark so I said I'm going to take my selfie and show them that I'm working out at 5 in the morning. So at 5:15 I get up and go to the gym in my building. I was trying to say that everyday at 62 years old I workout and take care of my health. You know, what could be a more positive message than that? Then it went viral! I've taken other pictures of me in the gym! You never know what's going to go viral but that's the nature of social media so when you try to get something to go viral they won't do it . I did a selfie of me and Oprah Winfrey and it didn't go viral. Who'd guess? But if a picture of me showing that I work out every morning had to go viral? I like that. That's good.
R: What are the newest things on your plate that you want people to know now?
AS: The newest thing would be: I'm writing a book on how Dog Whistle Racism produced Donald Trump and I'm hoping to get that out early next year. I'm leading A Thousand Ministers March on August 28th in Washington [D.C] on the anniversary of Dr. King doing his I Have A Dream Speech. We're calling a thousand ministers to march from the King Memorial to the Justice Department saying "Don't Be Dream Busters" and all other things King stood for. And my oldest daughter is getting married October 15th and I'm proud of that!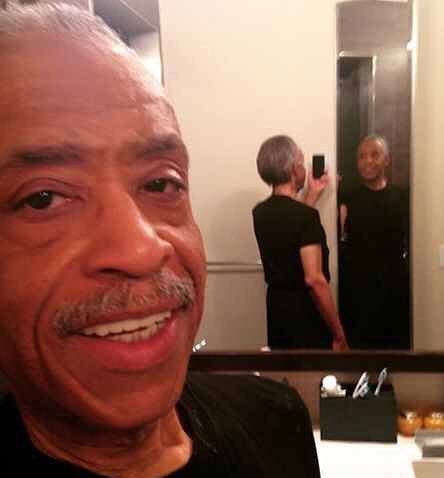 R: Lastly, what are some things that you want young people to engage in? Maybe as a passing of the baton to this generation?
AS: Work. First thing they need to do is have a definite frame in their head of where they want to go in life. What is it you want to do? You cannot arrive without a destination. That's something young people don't understand. That you can determine young that "This is where I want to go and this is who I want to be". When I was kid I started preaching, when I was very young, I was 4 years old when I preached my first sermon in church I was proposed by my bishop and others to be a big pastor "We're going to send you to seminary!" And if I stayed in that lane I would have been like Joel Olsteen or T.D Jakes, that was the track I was on. But I felt inside that I wanted to do civil rights. I wanted to be like Dr. King. I wanted to be like Jesse Jackson. I was able to live out my plan. Have a plan but you can't plan without having a destination. And then be willing to pay the price and know you're going to have naysayers, you're going to be tested and you're going to have bad days and all that comes with it . Every bad day is a test. So I think young people don't understand that you can't go anywhere in life until you determine where you want to go and you know you can fight. And you got to work. I was mentored by Rev. Jackson and James Brown was like a father to me - I've never been around anybody that made it and didn't work hard. Michael [Jackson] —everybody I knew had a work ethic. I've worked 16-18 hour days I'm talking about WORK, if you don't really work then you aren't going anywhere.
This post was published on the now-closed HuffPost Contributor platform. Contributors control their own work and posted freely to our site. If you need to flag this entry as abusive,
send us an email
.