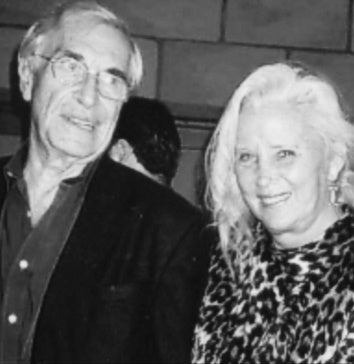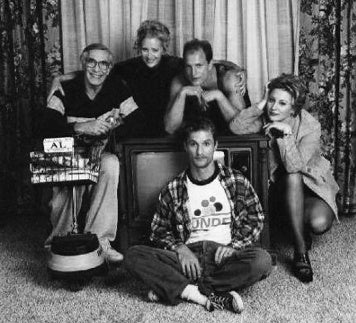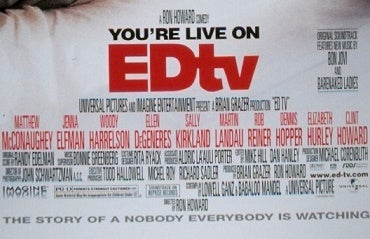 Best Actress Oscar® Nominee and Golden Globe® Winner Sally Kirkland co-stared with Oscar® Winner and Golden Globe® Winner Martin Landau in four different films "Paint It Black", "Eye Of The Stranger", "Remembering Nigel", and most notably in the classic "EDTV". Friends for over 40 years and both Lifelong Members of The Actors Studio, Sally Kirkland shared with us the moving tribute she delivered at his celebration this past Friday at the legendary Actors Studio in Los Angeles. Martin Landau passed away earlier this month at age 89.
I can't believe you're gone, thank god your Spirit/ is still here feeling your support for my acting and for my soul some 40 odd years/ "Hey Baby" would melt my heart , whenever you were close by/ I'd long for a hug, or when you'd clasp my hand, and how you'd never let me lie/ how you'd cheer me up, no matter how depressed I got, when out of work, and sad/ You were my brother, my teacher, my glorious co-star and my Stanislavski dad/ When you played Al to my Jeanette in Ron Howard's EDTV/our marriage was made in cinematic heaven , for always in eternity/ How proud I was when you'd say Sally played my wife and lovingly look my way/ no matter what was going on, it totally made my day/ (3) three other films together, my favorite co-star forever more/ every time we went to bat I felt my spirit soar/ all the phone calls over the years, when you'd calm me down from fear/ I never saw such a generous spirit, no matter how far or how near/ the roles you played, brilliant each one/ always living on the edge teaching me courage to live or die for my craft, to be comfortable on the ledge you taught me to demonstrate truth as an actor or settle for nothing at all/ you were the definitive artist sharing your stories, hearing the multitudes call/ thank you dear Marty, for the grace that you gave us, for the humanitarian life that you showed/ you demonstrated brilliantly the life of an angel and a saint, the fearless teacher we've come to know/ you've built us the Actors Studio within and without a place for the artist's say/ you've taught us your innocence, your sweetness, your peace, your willingness to love all each day/ the angels are singing in heaven where they are celebrating your evermore extraordinary soul/ Dear Father Mother God, take care of Marty, in his brand new role/ and prayers for Barbara, Juliet and Susan in the forthcoming months and years/ they shared with us our beloved Marty, inspiring our laughter and tears."
This post was published on the now-closed HuffPost Contributor platform. Contributors control their own work and posted freely to our site. If you need to flag this entry as abusive,
send us an email
.