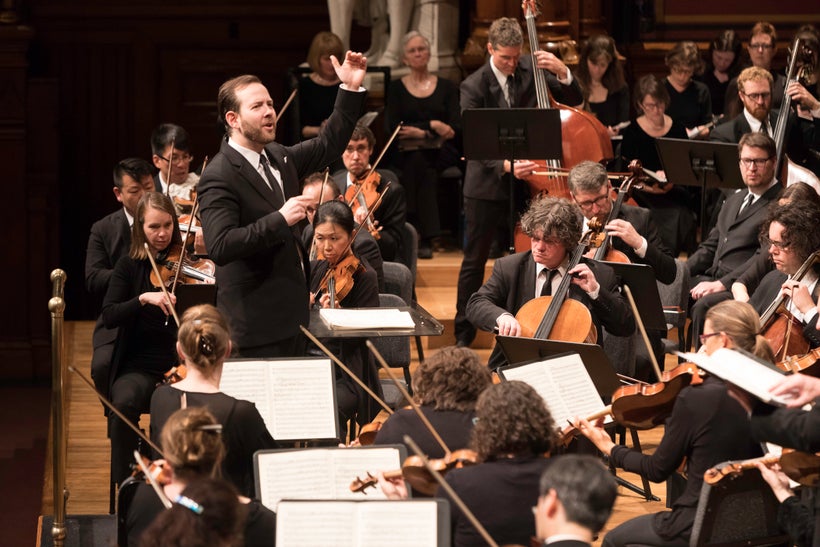 This coming Wednesday, August 2nd at 7pm, 10,000 Bostonians will pack the Esplanade for a free performance of Beethoven's 9th.
The singers will be… their friends and neighbors.
Boston, uniquely among cities in North America, offers its singers—professional, amateur, and only-in-the-shower—the chance to perform before their fellow citizens in one of the most hallowed spaces in all of music.
Millions of Americans remember watching Evening at Pops with Arthur Fiedler, who for half a century led the Boston Pops in performances both at Symphony Hall and on the Esplanade at the Hatch Shell, between Boston's Back Bay and the Charles River.
Christopher Wilkins, maestro of Boston's Landmarks Orchestra, has created the One City Choir to perform in the same place where Fiedler led the Pops, with one major difference.
If you want to sing Beethoven's 9th, you need not have attended conservatory, taken a lifetime of vocal lessons, or even auditioned.
All you have to do is show up for the rehearsals, get up there and sing.
Wilkins' vision for the extraordinarily inclusive One City Choir is "generous and beautiful," says Scott Allen Jarrett, Music Director of the Back Bay Chorale, whose members form the backbone of the group that will perform Beethoven's 9th.
"It was Chris's idea that the Landmarks Orchestra can bring music to every part of Boston," Jarrett says.
"And it's his unique idea to allow anyone to participate in the music and share the stage with the magnificent Landmarks Orchestra."
This is the sixth year in which Wilkins and the Landmarks Orchestra have partnered with the One City Choir.
Starting in January and February, the Landmarks Orchestras' outreach team gets the word out to singers all over the city, whether they are members of the many high level vocal ensembles in Greater Boston, or whether they are members of church or temple choirs.
Some One City members return year after year, and some bring their friends who might never have had the opportunity otherwise to perform great music in so esteemed a location before such a large audience.
"Ultimately," Jarrett says, "it's a very brave person who will show up and sing in German, but I think people get really excited to do that. This experience is one of the things that makes our city an exceptional place to live.
"There's opportunity for everyone in the city to come and sing, and we are all made stronger by the aggregate and lifted up by their musical peers."
The One City Choir makes do with a minimum of rehearsals, which makes the experience of singing in the group possible for larger numbers of people.
This year, Jarrett, who is preparing One City Choir, led a rehearsal in June to familiarize first-timers with the daunting score. Prior to the concert, there are four rehearsals, including two with Maestro Wilkins.
"We make available the Maestro's markings," Wilkins says, "enabling the singers to come prepared to the rehearsals. We don't have a huge amount of rehearsal time, but somehow the whole thing comes together.
"Beethoven is the great equalizer," Jarrett adds. "The music is of such enduring value that anyone can be successful and find a home in the piece.
"Beethoven was not concerned with the individual performer, as anyone who has ever sung his music can attest. Instead, Beethoven was more interested in what can be done as an ensemble, what's accomplished by the aggregate.
"You have no idea that it's actually possible to pull off a performance like this until everybody's there and it all comes together."
As many as half of the performers in this year's Beethoven's 9th have never sung the piece before now, but that doesn't stop everyone from taking their best shot at the work.
Not all of the singers are Bostonians. Jarrett's father actually flew up from Florida one year to be present for the rehearsals and to take part in the performance.
"It was a lifetime highlight experience for my father," Jarrett recalls. "He was thrilled beyond belief to be up on the stage. I know that for the first-timers in our group, as well as for the more experienced singers, it will be a magical experience."
The forecast for the evening of the performance is sunny and warm, so you may want to get there early to spread out your picnic blanket and get ready to be entertained by a few hundred of your neighbors as they offer the city their own Ode to Joy.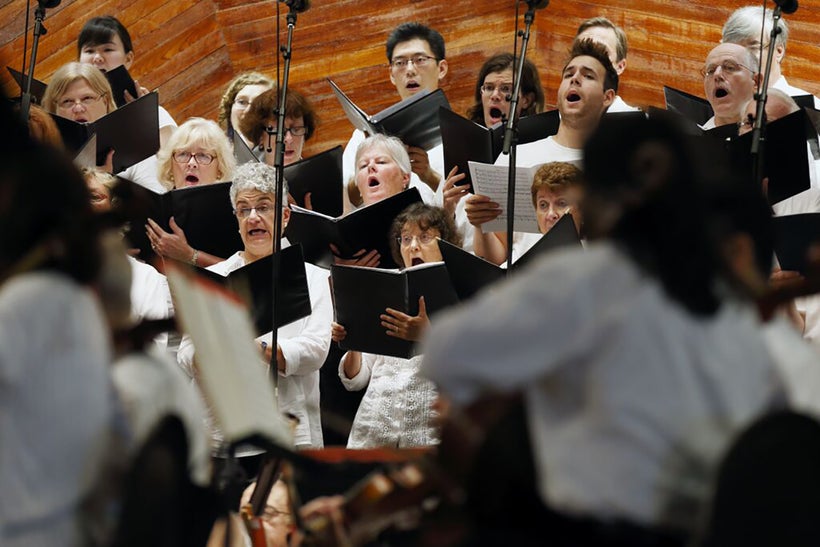 This post was published on the now-closed HuffPost Contributor platform. Contributors control their own work and posted freely to our site. If you need to flag this entry as abusive,
send us an email
.