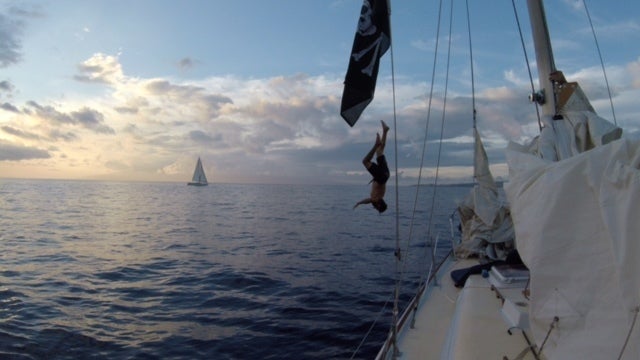 Traveling always gives me the opportunity to learn something new about a place, get a different perspective on its' history and gain some fresh insight. The best and most memorable experiences offer you the opportunity to share in someone else's passion and purpose. Whether it is their personal cultural pride, their deep attachment to a cause or business or even just their profound love of their work, home or project.
I recently went on an eight-day trip to Maui, Hawaii and ventured out on a daily excursion. While they were all a good time, I want to share three standouts:
Private Sail on Three Sheets with Kona Makani
One of the richest, most powerful experiences I've encountered recently was sailing into the sunset with the Kona Makani crew. We met at the Lahaina marina and hopped on to the lovely sailboat filled with drinks and hearty appetizers and a boat full of love and excitement for life at sea. It is hard to imagine ever going out on a sailboat again without Captains Simeon and Tony.
From the first moment we stepped onto the boat we felt like family. We lightheartedly raised a special pirate flag in honor of my son's 30th birthday that evening and toasted the special evening together as we relished the incredible views and ocean breeze. We openly shared our personal stories of former lives and where we find ourselves at this particular moment in time and simply related on a deep and meaningful level. The authentic connection resonated with the physical experience touching all of our senses. We stopped to take a magical plunge in the deep blue sea and later as we as we headed home a group of dolphins joined in the fun, swimming around and under the boat!
One evening was just a tease on the Three Sheets. I wish I had known how incredibly fun and relaxing it would be to step onto a sailboat and just go. I definitely plan on chartering this sailing gem for a day or two next time I am in Hawaii. I recommend you do the same. It is an experience of a lifetime.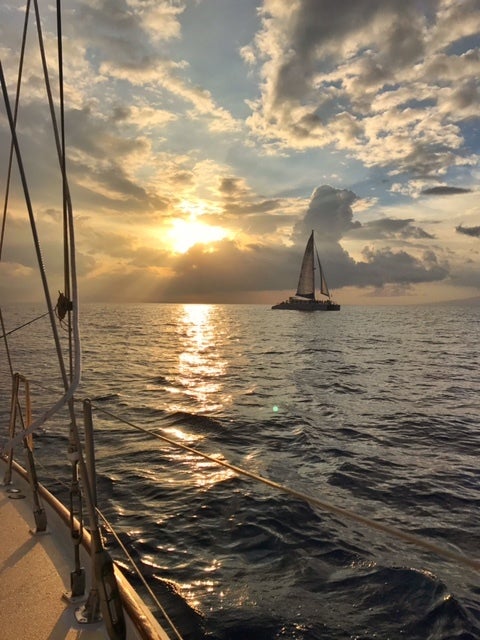 Tour and Fitting at Maui Jim sunglasses Lahaina office
I looked up to the sound of a booming enthusiastic voice and saw one of the biggest smiles and tallest men I have ever seen in Maui. It was Bill Haywood, the head of operations at Maui Jim. He came over to show me their very cool mural above the sunglass display that's a piece of artwork that totally transforms the colors and images once you look at it with Maui Jim lenses. It was mind blowing! He also insisted on taking me outside to experience their sunglasses ability to cut even the worst glare from the midday sun. But even more impressive than the tour through the office, the fancy mural and the awesome sunglass selection was the heartfelt way Bill spoke about his team of colleagues, and his personal pride in the company ethos. A great product is not enough to achieve the level of commitment and caring I witnessed on my visit. Needless to say, I walked out with a new favorite pair of chic shades, perfect for my new beach life.
Outrigger Canoe Ride and Visit with the Turtles

With great gentleness and simplicity, Kevin Hoke, president of Hawaiian Outrigger Experiences, drew diagrams in the sand, shared just a few minutes of fascinating history about Hawaii, it's people and his personal relationship to his homeland of Maui before we set out for an hour paddle in one of the outrigger canoes. He blew the conch shell and sang a traditional Hawaiian prayer before we head out to sea.
The great truths spoken about the sacred land and its' people and the commitment of keeping and sharing the Hawaiian history with visitors reached something inside me. It re-awakened that part of me that pays attention to the world and honors those that claim and protect their ancestral roots.
The actual canoe ride was fabulous. We paddled right off of the beach in Wailea known for its sea turtles and we saw many that day. These prehistoric beauties were a perfect mix with the rich stories of the region and its' people.
The canoe ride was such a meaningful and rich excursion. For any history buffs or anyone wanting to better understand the place they are visiting- this experience is an encounter with the real Hawaii not to be missed.
Connecting openly with the people you encounter, makes any travel spot a more deeply enriching experience!
This post was published on the now-closed HuffPost Contributor platform. Contributors control their own work and posted freely to our site. If you need to flag this entry as abusive,
send us an email
.