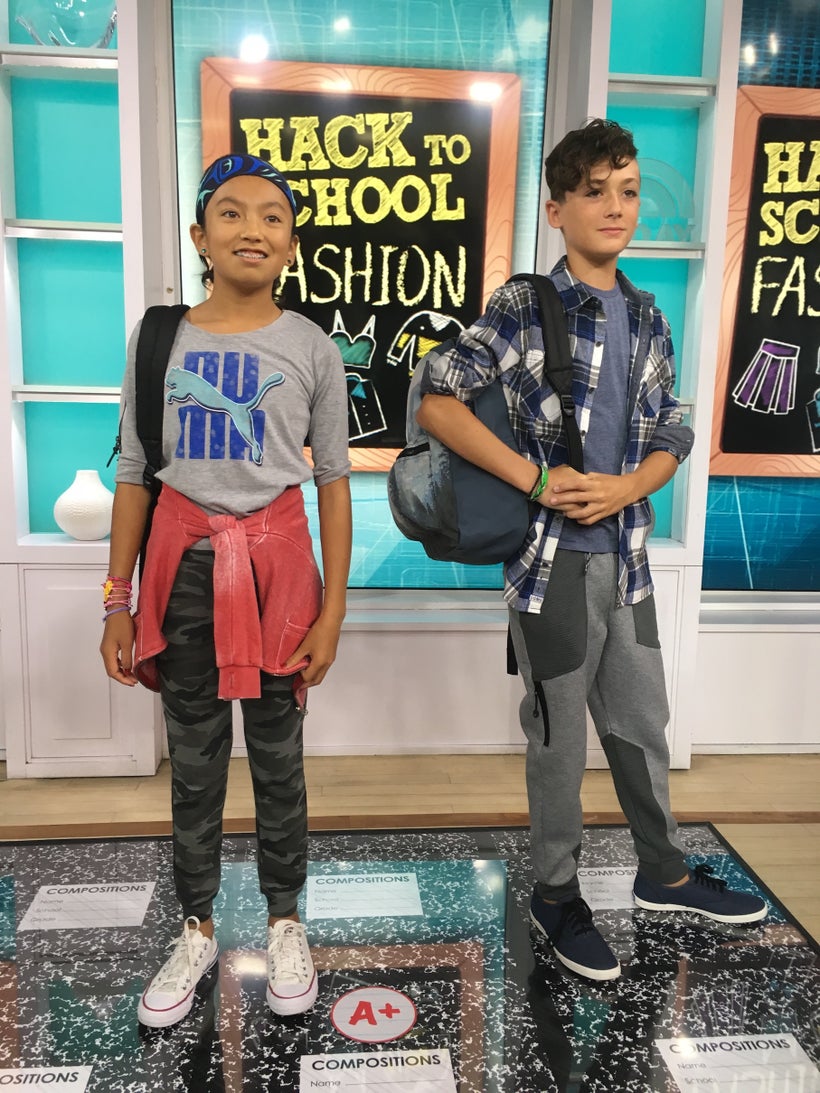 One thing I've learned as a parent: you can buy the coolest, most outrageously on-trend clothes for your kids, but if there's a tag that cuts into the small of their back or an itchy fabric that grates against their skin...
THEY ARE NEVER GOING TO WEAR IT.
Thus that adorable ensemble that was meant to make the best impression on the first day of school and ever-after, shall languish on the bottom of the closet floor, where it has fallen off the hanger from its barely-worn status.
So this school season, when tasked with a #hacktoschool fashion segment for NBC's Today show, I took to heart this parental dilemma and filtered the trends through what I call a "cozy" requirement; my kid models reported back what was not only their personal style favorites but also what simply felt the best.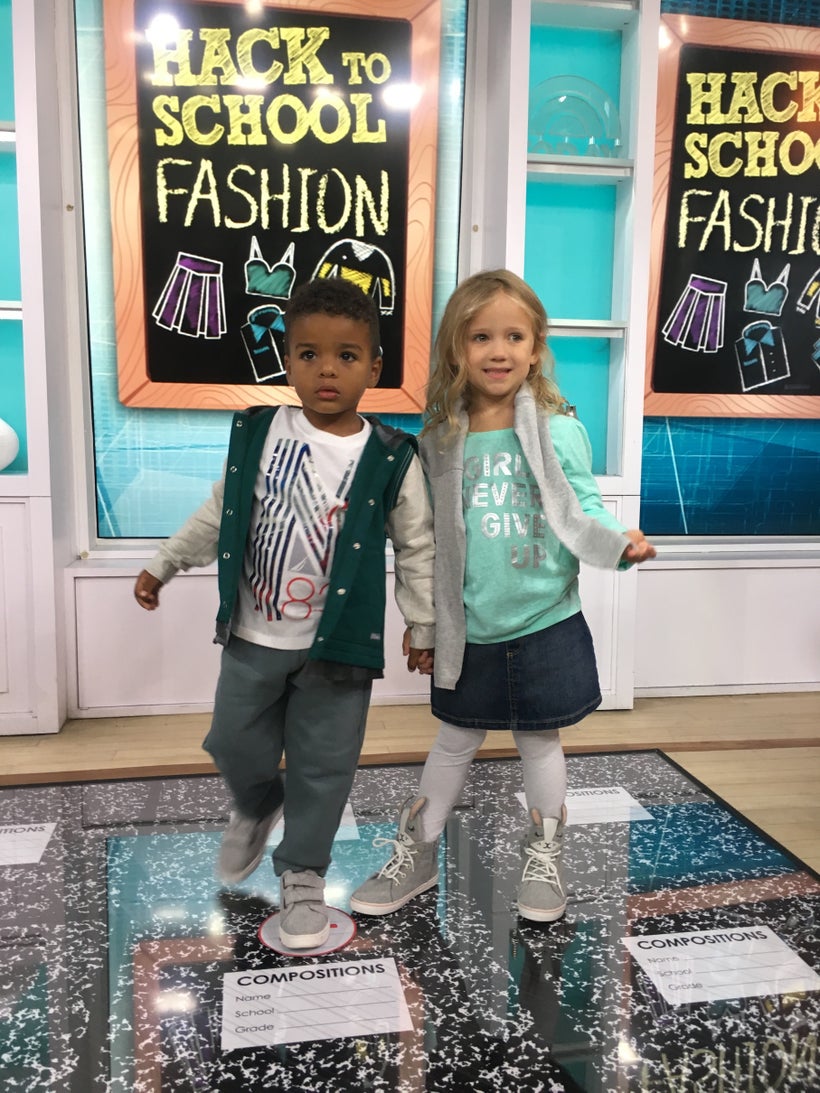 The Little Letterman: model left
A+ style needn't be left to only high schoolers when it comes to the letterman jacket, especially when it comes as an easy pant set for painless dressing. The 80's-style sports shirt is nearly too cool for school and beautifully ties in all the hues. And Velcro slip-ons? A parent's dream for any preschooler outfit.
Letterman Layered Hoodie and Pants, $21.59, pullabulla.com
Nautica Big N 83 Tee, $19.50, boomdash.com
Drizzle Grey Slub Lenny Sneakers, $39, toms.com
Graphic Tee Sweetie: model right
You'll be hard pressed to shop and not see a graphic T-shirt, allowing kids to make fun and powerful statements of their own. What's nice about the denim skort? It's a durable separate you can repurpose from warmer weather with a pair of textured tights. The forest animals are also beckoning across shirts and sweaters and accessories, like these sweet bunny boots.
Graphic Tee, $4.75, childrensplace.com
Denim Skort, $8.48, childrensplace.com
Bunny Booties, $24.99, oldnavy.com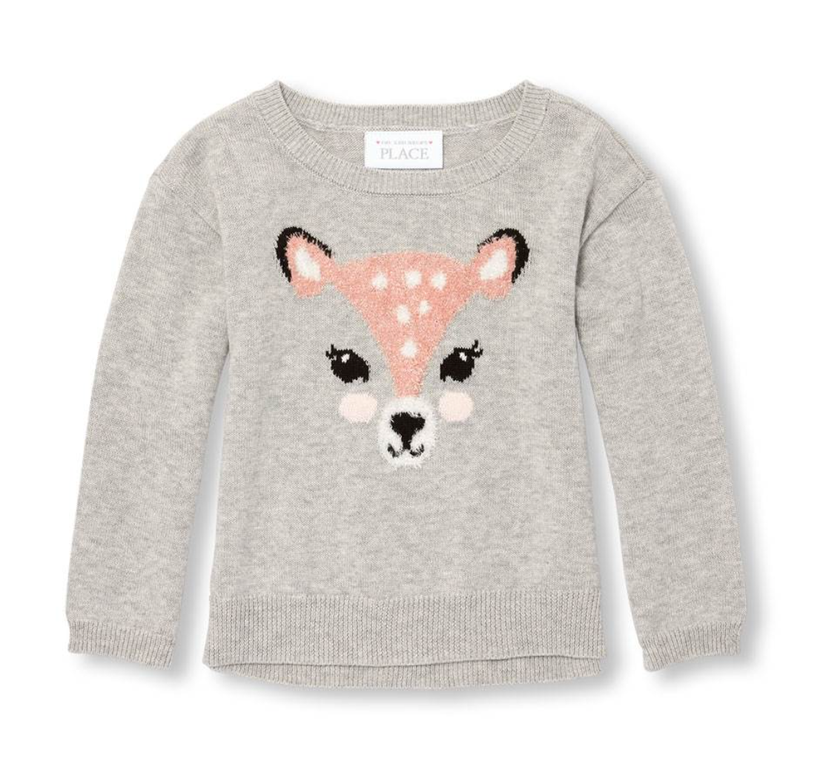 Fuzzy Animal Graphic Sweater, $9.98, childrensplace.com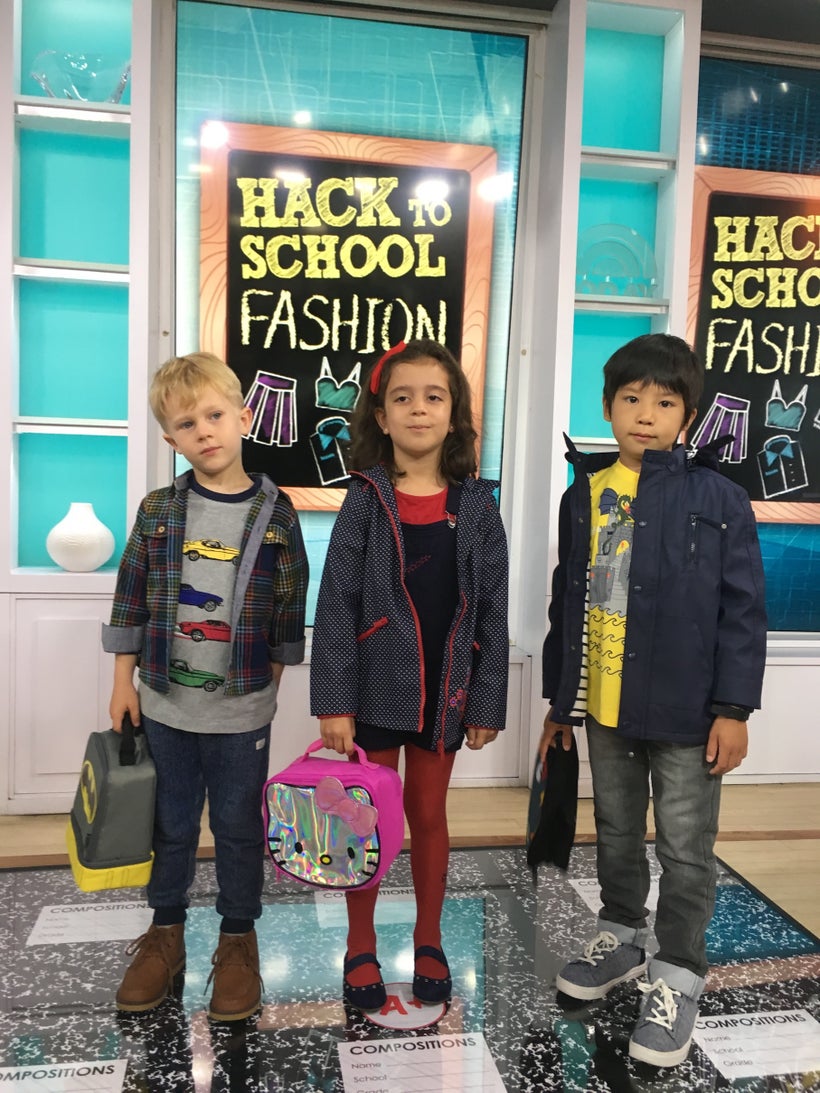 The key to dodging fall's mercurial weather is mastering the art of layers. Start with a super cozy jersey T-shirt that's so soft you could literally sleep in it, topped with a light, plaid button down that's perfect for any chilly fall evening. My model describes the blue pants as, "comfortable as pajamas!" and the faux leather chukka boots give a workman's finish to the look, and are a runway favorite.
Parker Button-down, $50, pinkchicken.com
Art Tee in Super Soft Jersey, $24, hannaandersson.com
Beckett Pant, $44, pinkchicken.com
Brown Faux Leather Chukka Boots, $59, toms.com
The French Connection: model middle
Having personally been on a romper quest to wear as many as possible this summer, I was naturally drawn to this darling navy romper by a new French company and paired it up with red separates and a polka dot jacket to warm it up for crisp days. (Note the trendy floral embellishment on the pocket.) Ballet flats get an update with a grommet outline.
Waterproof windbreaker, $29.95, us.shop-orchestra.com
Short Denim Overalls, $25.95, us.shop-orchestra.com
Long Red Tee with Embroidered Flowers, $10.95, us.shop-orchestra.com
Grommet Ballet Flats, $16, oldnavy.com
Punch O' Color: model right
I love bright colors on both genders and this buttercup yellow shirt in super soft jersey is no different. It's not too early to think about practical outerwear for kids, and this rubber parka has a striped lining and hood that had me sold. Kids who live in sweats will still like these worn jeans for the fleeced denim texture: soft on the inside and out.
Hooded Rubber Parka, $37.95, us.shop-orchestra.com
Art Tee in Super Soft Jersey, $24, hannaandersson.com
Worn Denim Fleece Pants, $19.95, us.shop-orchestra.com
Navy Slub Chambray Lenny Sneakers, $45, toms.com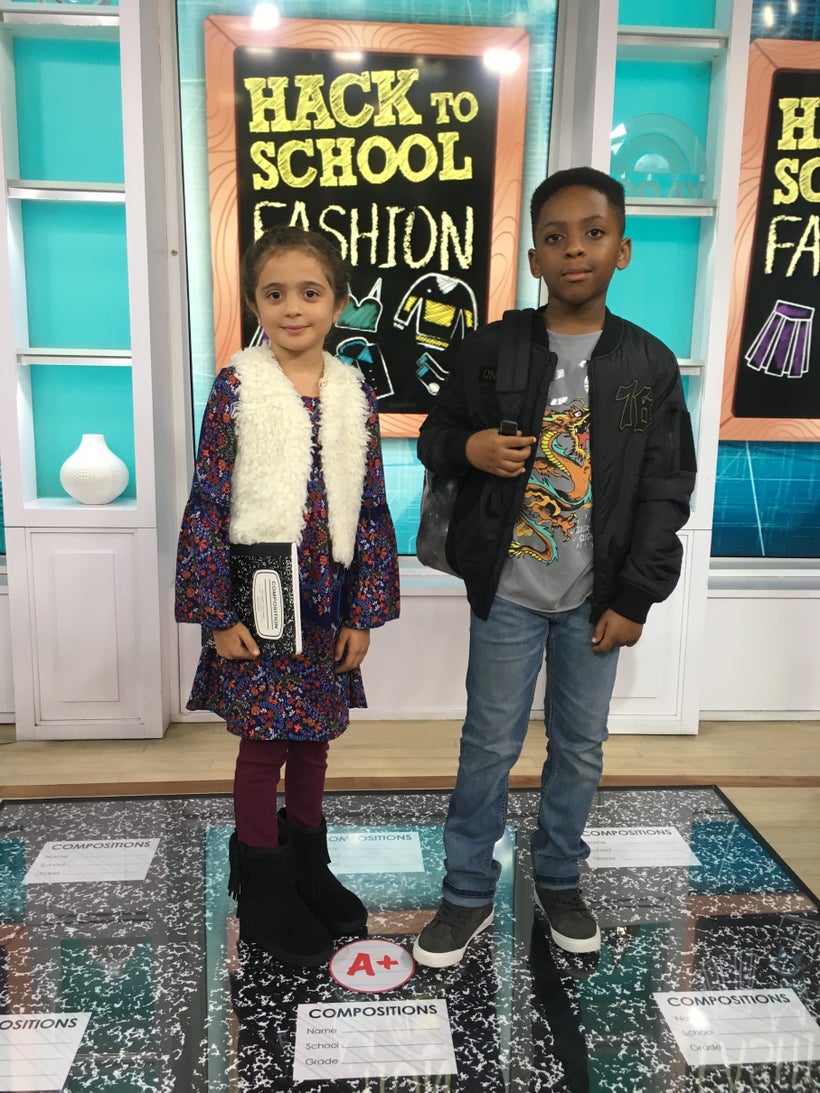 You needn't sacrifice style when it comes to comfort! Here a 60's floral dress with super flowy sleeves gets a faux shearling topper and a necklace for $42. Koola Cable fringed booties by Koolaburra complete her look and are an exciting preview—to be released in September—an affordable design division of the Ugg brand.
Rare Editions Chiffon Dress, Vest and Necklace SEt, $42, Macy's
TCP Ponte Knit Jeggings, $12.48, boomdash.com
Koola Cable by Ugg, $69.99, koolaburra.com
Asian Influence: model right
Asian art images and characters are making a play in fashion on T-shirts (like this dragon tee), sweaters, accessories and more. Bombers are a cool option, especially when decked out with patches and embellishments. Denim is ultimately an evergreen each fall season, and these knitted jeans from Levi's offer extra stretch and can conform to the body. This newly launched backpack by Society6 is designed by an independent artist and is a true work of art.
Patch Bomber, $45.90, zara.com
Dragon T-shirt with Foil Logo, $15.90, zara.com
Boys 511 Slim Fit Performance Jean, $30, Levi.com
Artsy Backpack, $69, society6.com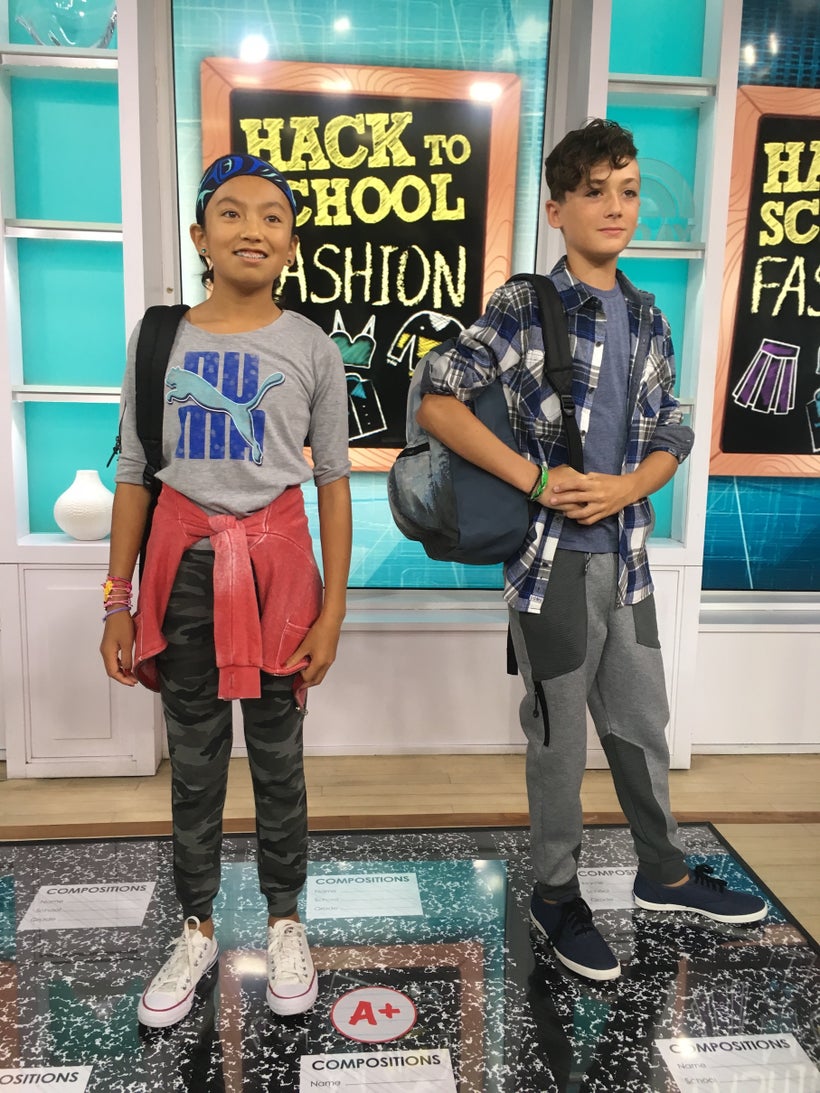 Both models are wearing separates from Kidbox, which is a fashion box that contains 6-8 pieces of clothing curated to your kid's style personality and can cost up to $98 if you buy the whole box. This is just a sample of what it might contain.
The retro logo sports top is a re-emerging trend and so sharp when paired with printed joggers of any design. Go camo! Don't forget an ultra soft hoodie that's a must-have for tweens. It's actually by a brand called Butter Super Soft! which, true to description, feels like budda.
Butter Super Soft Red Hoodie, from ~$15, kidbox.com
Puma Sports Shirt, from $14, kidbox.com
Splendid Camo Pants, from $18, kidbox.com
Best Friends Emoji Bracelets, $14 for set of 2, zomigems.com
Converse Chuck Taylor All Star Shoreline Slip-on, $50, nike.com
If there's one thing your teen's closet needs this fall, it will be a plaid button down, here rounded out by a two-tone shirt and some killer patchwork joggers. By the way, my model says he's not a sweats kinda guy, but he couldn't get over how incredibly comfortable these pants are. I love that he was willing to try something out of his comfort zone on national television and be utterly comfortable in doing so.
Paper Denim and Cloth Plaid Button-down, from $16, kidbox.com
7 for All Mankind Blue Shirt, from $14, kidbox.com
Free People Patchwork Joggers, from $18, kidbox.com
Champion Denim, $44.95, keds.com
Artsy Backpack, $69, society6.com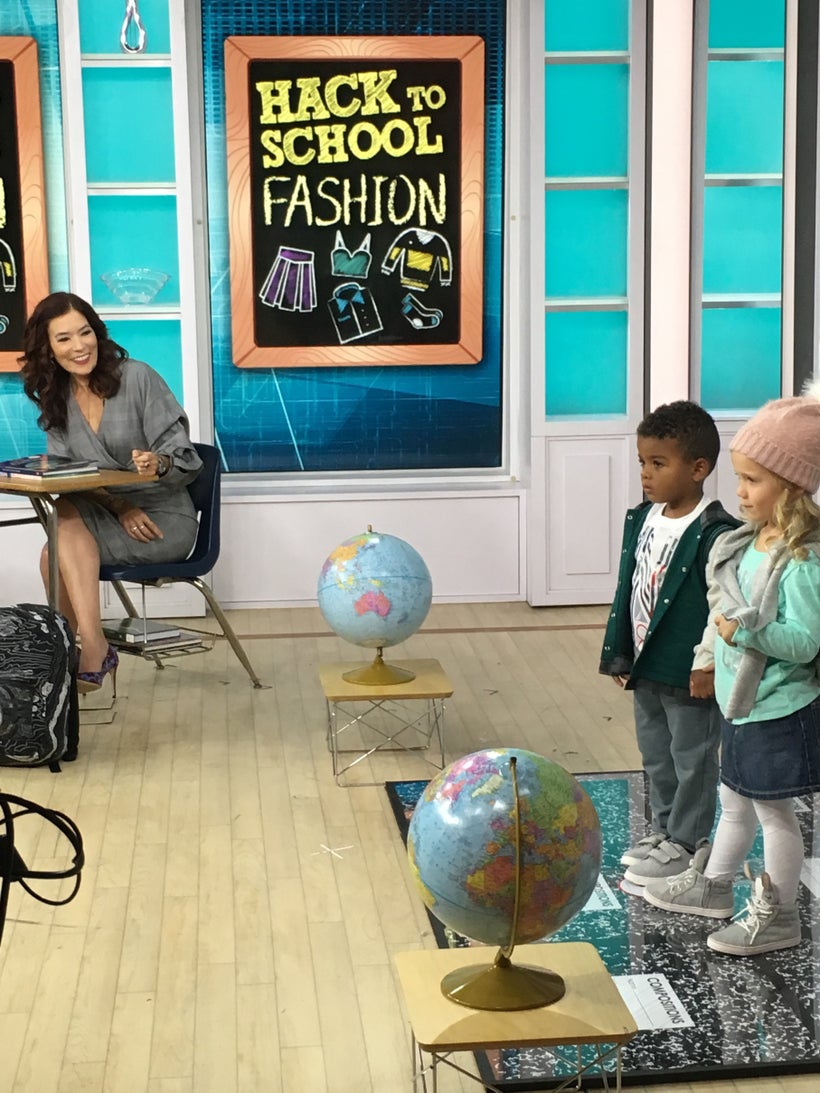 There we have it: back-to-school fashion you cannot resist and they cannot take off! To see these styles in action, check out my Today show segment with cute kiddos.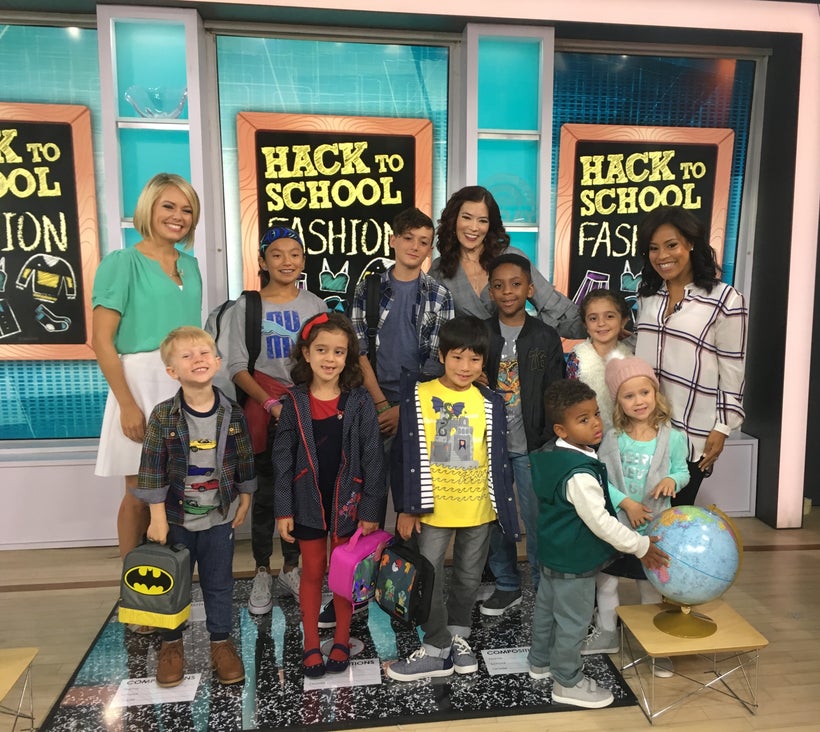 This post was published on the now-closed HuffPost Contributor platform. Contributors control their own work and posted freely to our site. If you need to flag this entry as abusive,
send us an email
.