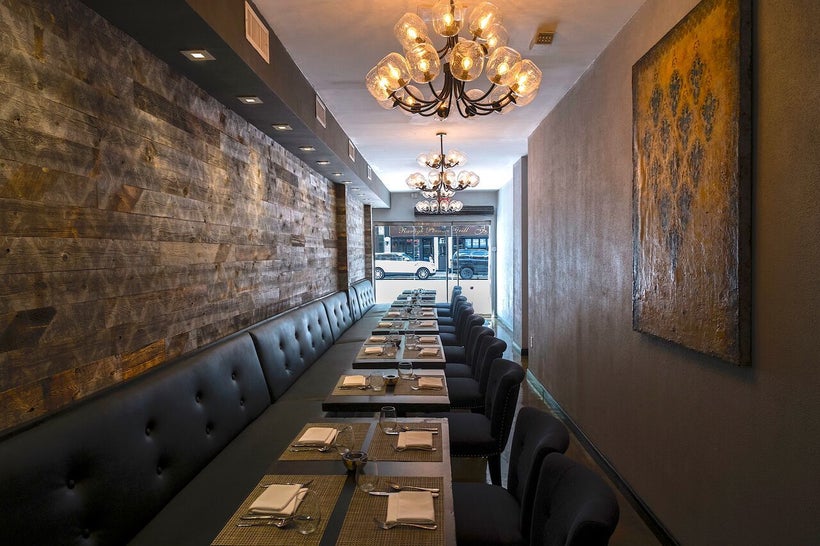 Just two months old, Imli is focusing on the small plates traditions of regional India and the results are exciting. Owners Mervyn Winston, Ram Reddy and Albin Vincent, along with Chef Manuel Butler, are channeling the all-day cafés of Mumbai, but doing so in one of the most stylish interiors on this restaurant-rich stretch of First Avenue. There are two doorways, one to the bar area, beyond which is a patio for summer dining, an open kitchen and a long dining room with one wall stenciled panels of sanded old barn wood and the opposite wall a shimmering coating of gray. Open-bulb chandeliers cast a pretty light, the floor is a rust-colored lacquer and the tables are made of black concrete. No bronze figurines or posters of the Taj Mahal adorn the place. The only odd intrusion is a Spotify mix of disco and other techno music.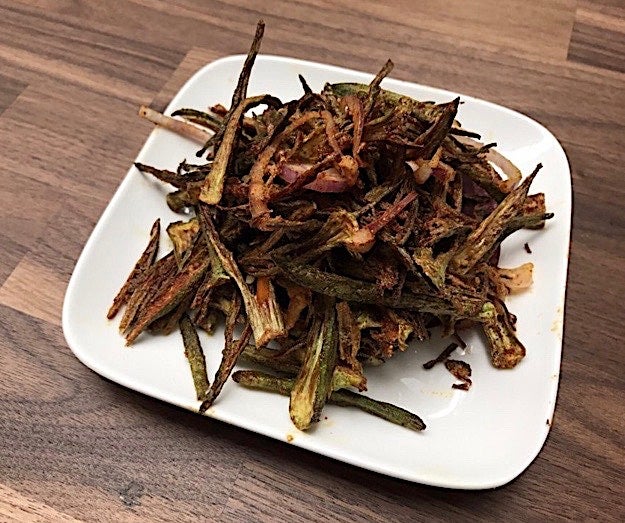 Chef Butler has consulted or worked for a number of notable NYC Indian restaurants, including Sahib, Dhaba, Awadh, and Chote Nawab. At Imli (which means tamarind) the most enticing items are what he calls "Indian tapas"; main courses not so much. (Brunch is inspired by the cuisine of the Parsi population, who fled from Persia in the 8th and 10th centuries to established successful communities in India.) Once you are seated, the waiter brings you a selection of six different condiments for use throughout the meal—coriander, yogurt, pear-apple, tamarind, mustard, and more—some mild, some hot. Then you're handed a multi-page menu that can boggle the receptive mind. I just asked Reddy to ask the chef to send out anything he wished until we screamed "uncle!" The array was really amazing in that most dishes differed from any I've had in Indian restaurants around town. All are prettily presented on various plates and you won't need any Indian breads until later in the meal. When I mark up the menus obtained from a restaurant, I put little asterisks next to the dishes I liked most, and my Imli menu is full of stars for tapas items ($5-$12) like achari mushrooms seasoned with garam masala and a Southern Indian spice blend; crispy okra shredded like zucchini and deep-fried (above), a welcome alternative to the slimy texture of many okra dishes; Kerala beef marinated in yogurt with onions, pepper and cardamom; chicken chaat, a classic Mumbai street food; and shrimp Koliwada (left), battered with spices and fried, with chili and peppers. Also delicious was cauliflower tikki, and from the tandoor oven, basil-scented chicken morsels ($15) and saffron-dusted chicken tikka ($15).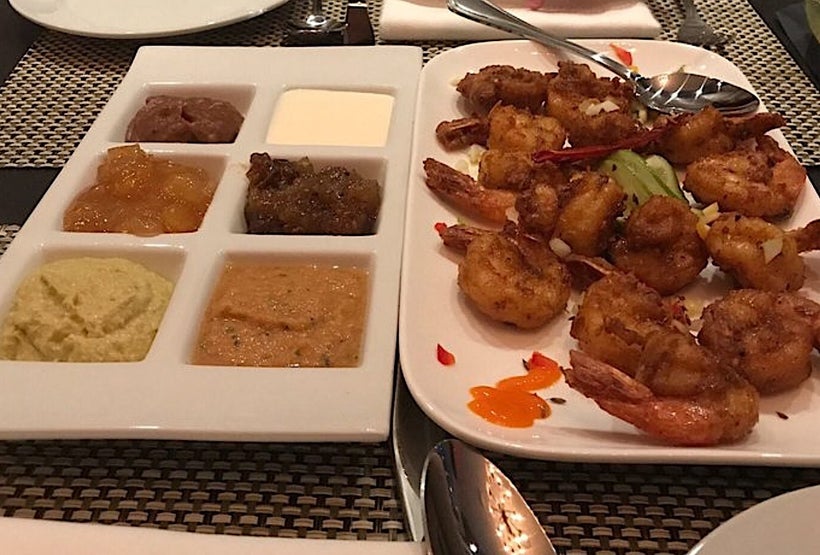 There are dozens more of these small plates and I highly recommend you and your party make an entire meal of them, because the main courses ($16-$23), while good, do not much differ from similar ones you'll have around town. Chicken curry with ginger, fennel and coriander seeds was good, but lamb rogan josh's meat was overcooked, as was a beef curry. Duck is an unusual dish and it's actually cooked closer to a French style—very, very rare breast—than you'd otherwise find in India. As for the Indian breads, they are some of lightest and flakiest I've had in NYC, the texture perfect, one with garlic that was nicely subtle.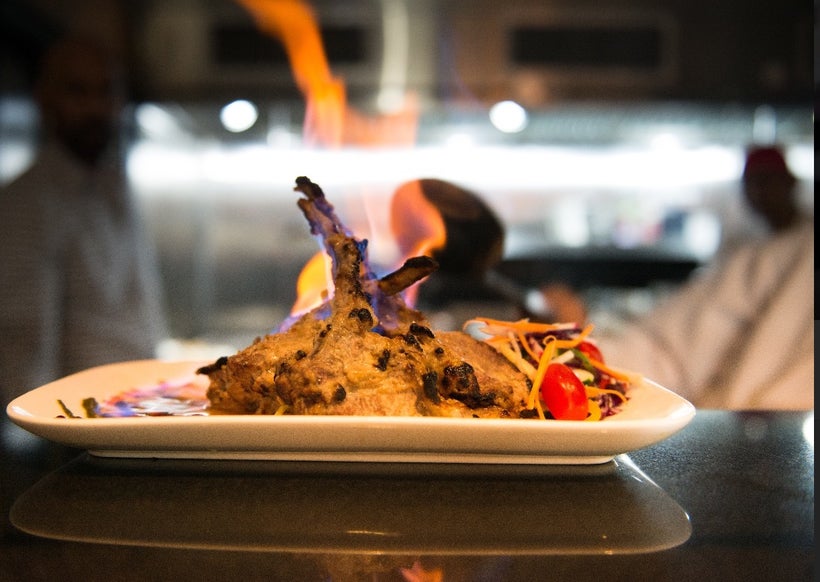 The wait staff will ask you what your desire is for the level of heat and spice in your food, and, out of one to five (the hottest), ours measured about a three, which brings out more levels of flavor. I might request in the future some of the dishes be made hotter. Except for an odd crème brûlée with kulab jamun dumpling plopped on top, the desserts like ras malai and rice pudding are fairly standard at Imli. Indian beer goes well with this food, but the management has put a lot of effort into choosing wines that marry with the spices, none marked up very high. There is also the requisite cocktail list containing some Far Eastern spices and herbs. So, if you think that so often the first courses in a restaurant, be it Indian or French, Italian or Japanese, are the most interesting, you'll be very happy at Imli, where it would take several visits to cover just the tapas alone. No need to hurry. Prices are very fair and portions good. If I lived in the area, I'd be there once a week.
Imli is open for lunch Mon.-Fri.; brunch Sat. & Sun.; dinner nightly.
IMLI 1136 First Avenue (near 63rd Street) 212-256-0073
This post was published on the now-closed HuffPost Contributor platform. Contributors control their own work and posted freely to our site. If you need to flag this entry as abusive,
send us an email
.