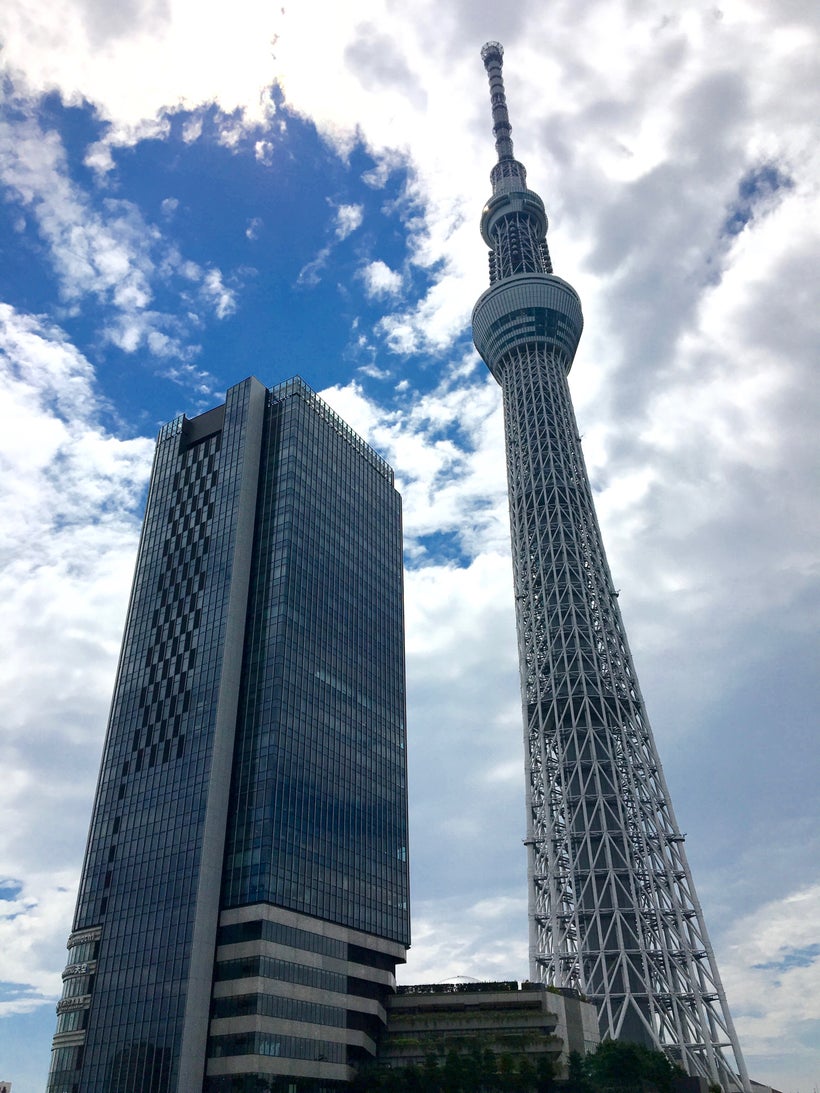 No place in Tokyo has a view of the city skyline, the mountains beyond and, if you're lucky, even Mt. Fuji, like Sky Tree. But the Tenbo Deck Promenade at 350 meters comes with a few extras to make your visit more fun.
First, make your way to the fourth-floor ticket counter and line up. You can't buy a same-day ticket all the way to the 440-meter level at this counter. Just the Tenbo Deck. I'll explain how to reach those dizzying heights in a minute. (For detailed ticket info on the new Fast Ticket system, scroll to the bottom of this article. )
The staff will direct you to one of four elevators. Each is decorated to reflect the seasons so pay attention. After the whoosh, exit the elevator. Skytree is 634 meters tall and you are now 350 meters in the air. Take a minute – and a deep breath –for a look around the panoramic promenade.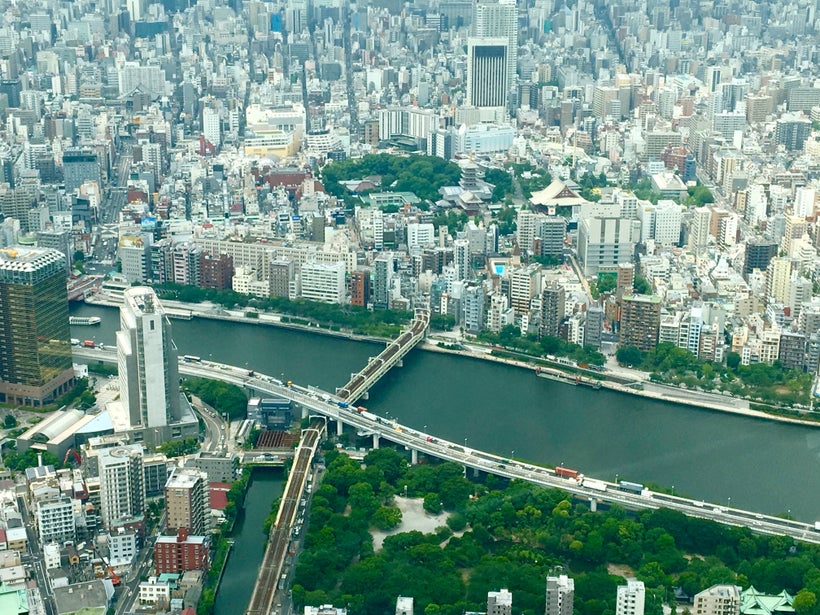 Once you're ready, here's what else to do.
1. If you want more, more, more, get your ticket to visit the 450-meter viewing deck here.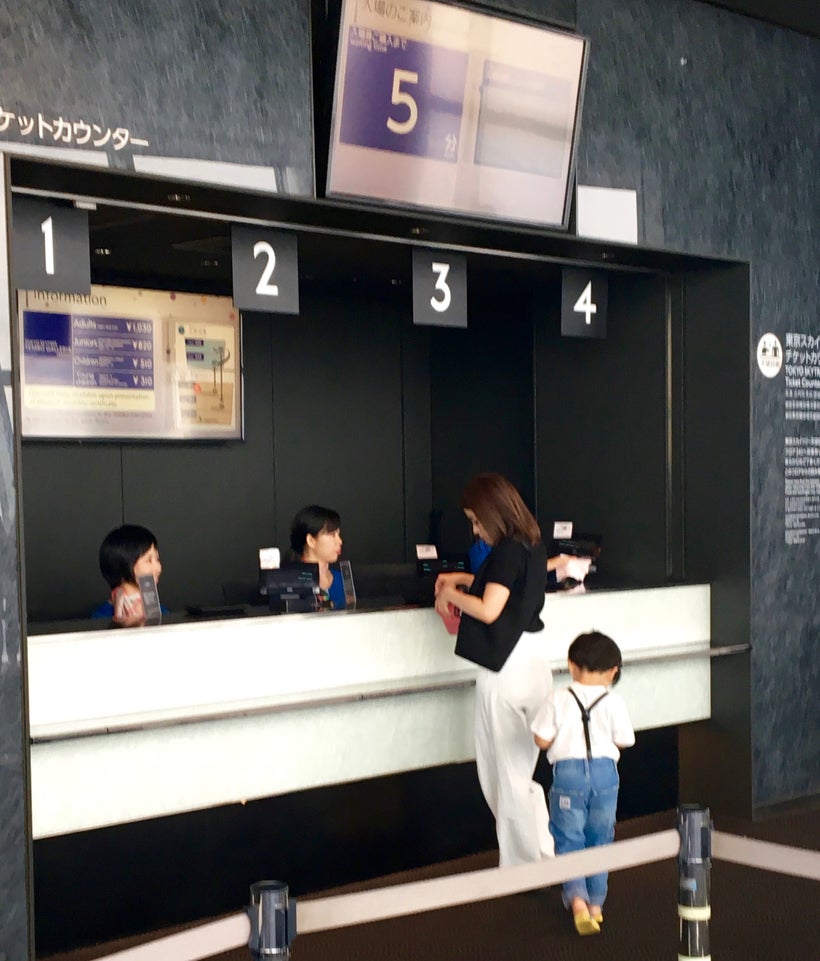 Go to the ticket counter (to the right as you exit the elevators) and plonk down 1,040 yen for adults; 820 for 12-17 teens; 610 for 6-11 year olds; and 310 for 4-5 year olds.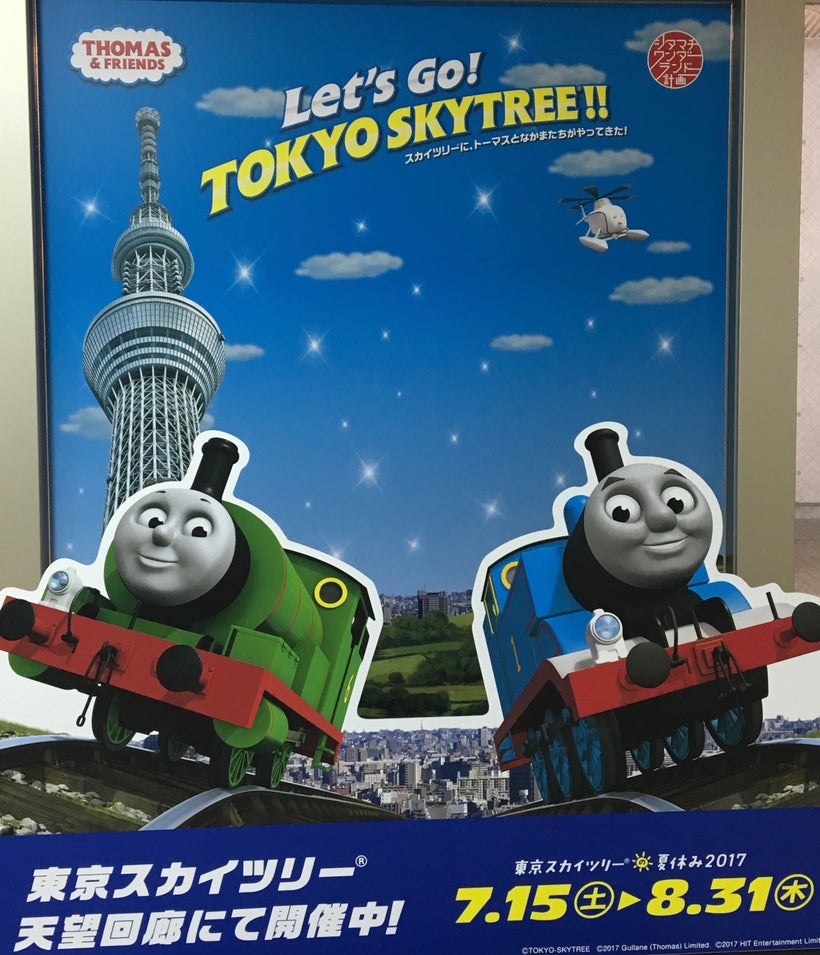 During the summer holidays, there is usually a special event at the 450-level for the kids. Recent ones have included Ultraman and Thomas the Tank Engine.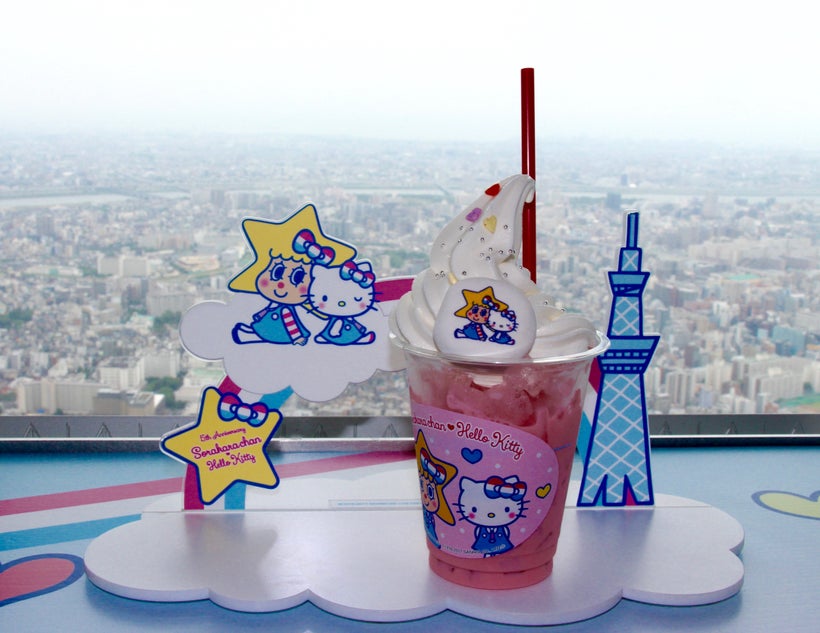 2. Indulge in a sweet treat at the Sky Tree Café. The café always has fun, themed soft serve ice cream parfaits and indulgent desserts plus coffee and soft drinks. Purchasing a treat gives you access to the café's counter where you can snap pictures of your dessert (and you) with Tokyo city views in the background.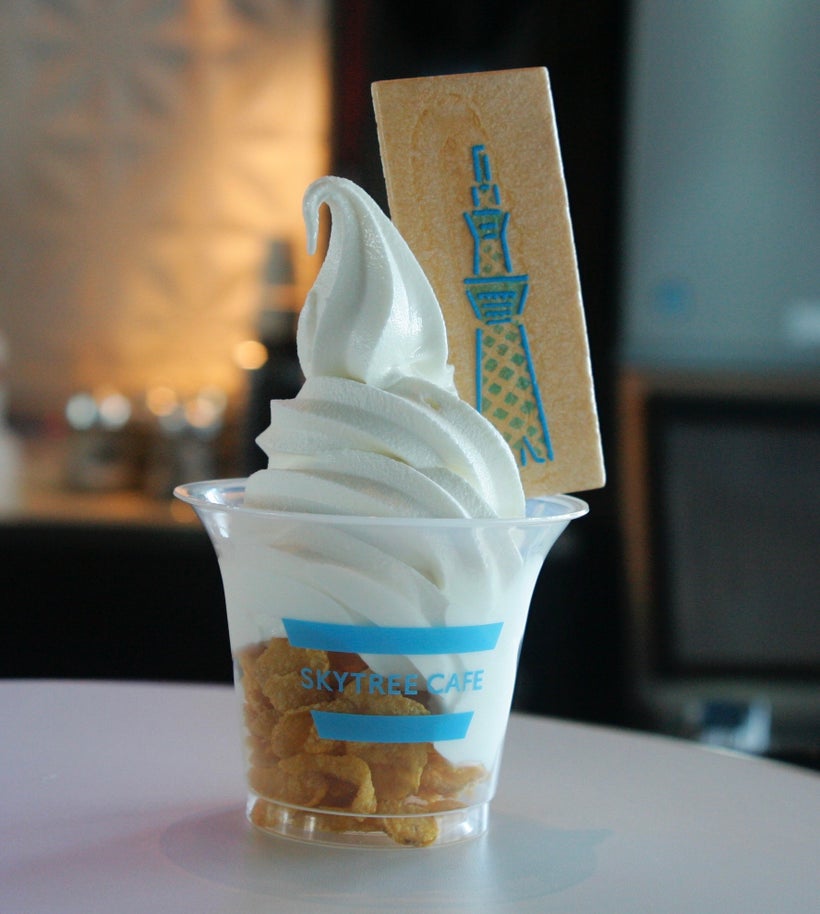 Currently there's a promotional tie-up with Hello Kitty and the Sky Tree mascot, Solakara-chan. (There's another casual Skytree café at the next level down with more substantial food but not the same sweets.)
3. Pose for a picture with the Skytree characters and the Tokyo skyline. It's free and the photographers and staff will also take a photo with your cell phone or camera if you like. There are several stations for pictures set up on this floor.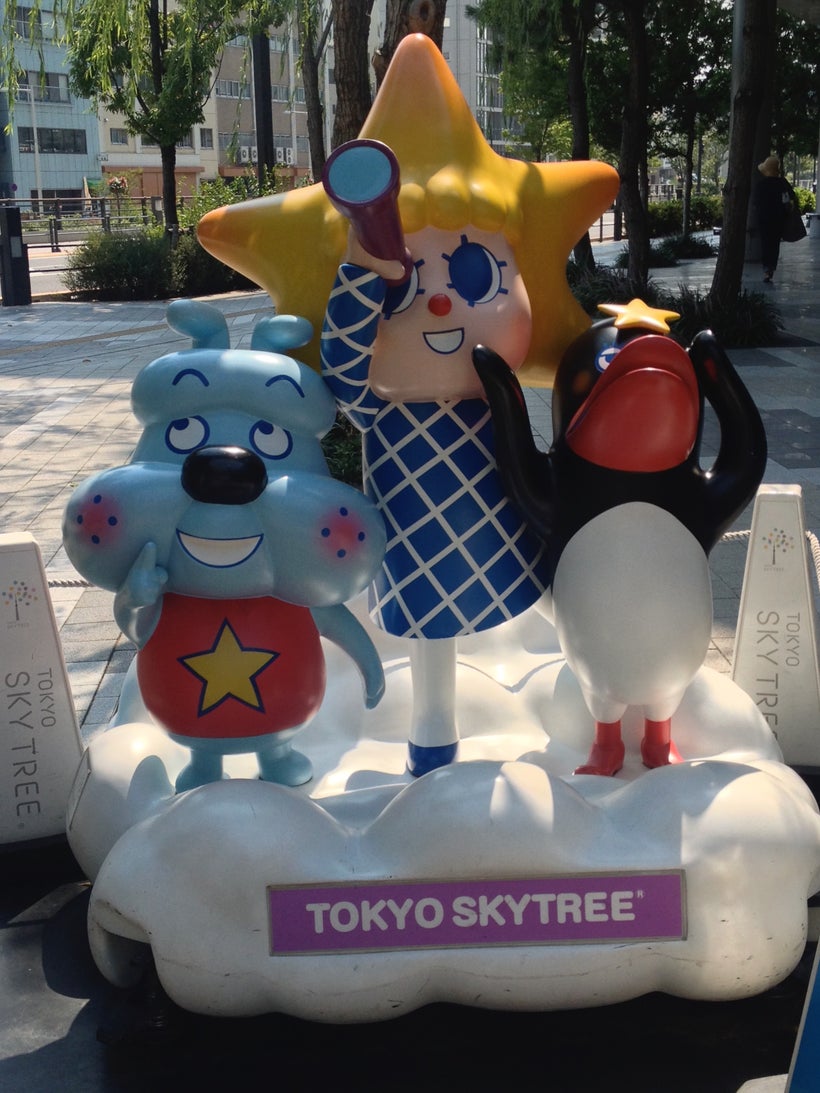 Skytree actually has three mascots: Solakara-chan, a little star girl who fell from the sky. Tenpen, the Penguin. Skobul (sp?), the Bulldog. Of course, since this is Japan, they've all got their own back stories. Skobul is a local who acts as Solakara-chan's elderly Uncle and likes the tea ceremony and bonsai. Tenpen the penguin loves high heels – I am not kidding, it's in her official bio – fashion, and seems to be just a hanger on. (Japanese-only mascot page.)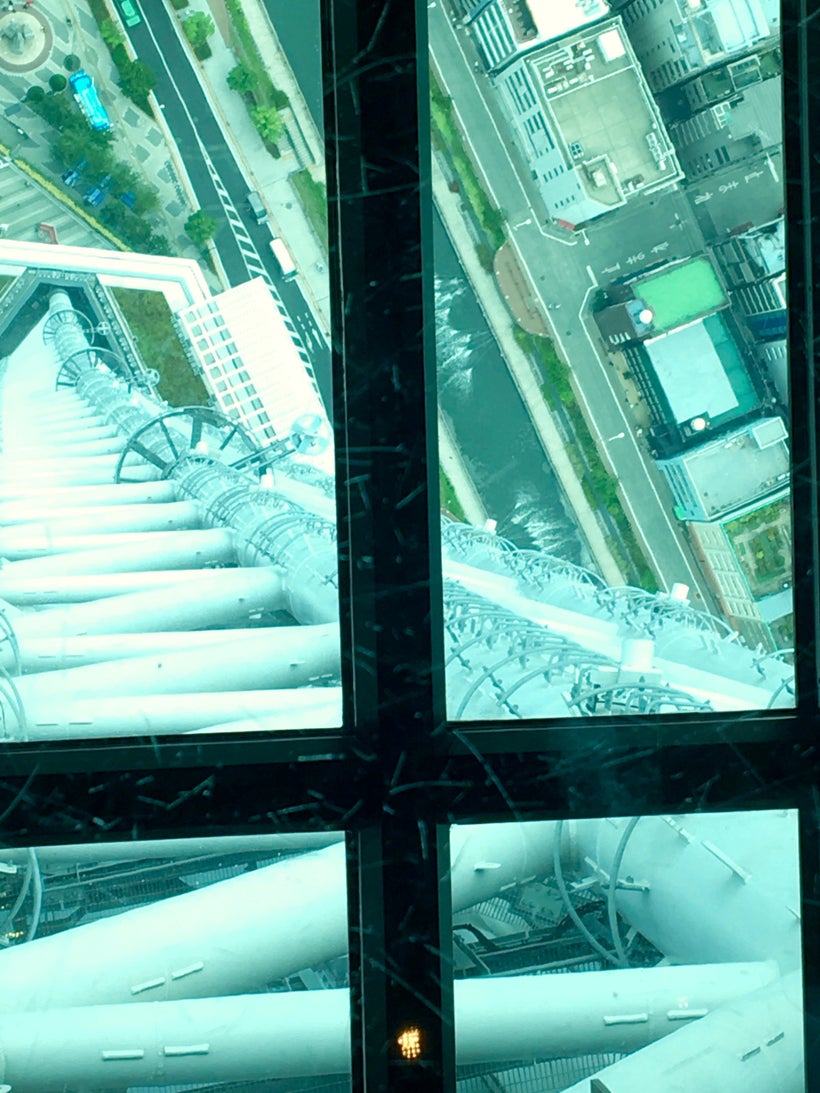 4. Get a dizzying view of the ground straight down at the new see-thru floor on the Tenbo Deck. This vertigo-inducing thrill is not on the floor you exited on from the elevators. To return to the ground you have to make you way via escalator further down.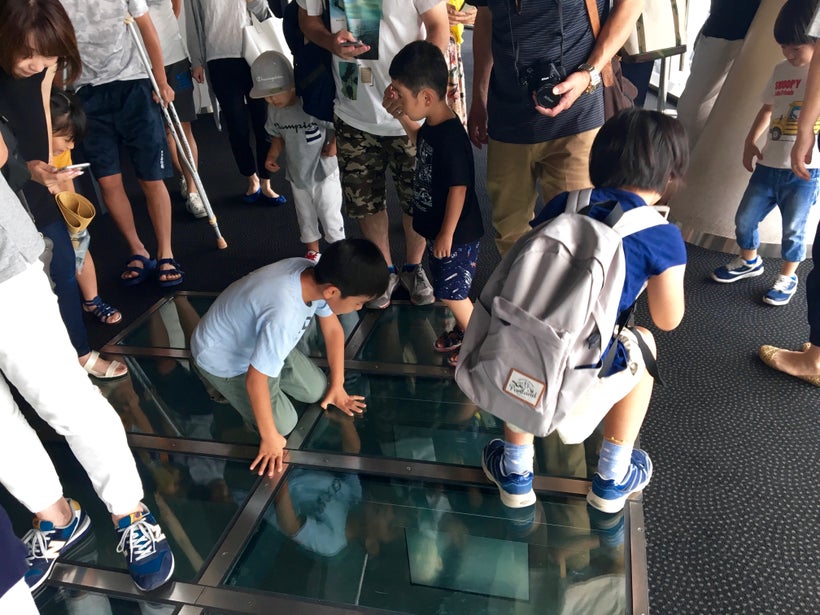 On the way to the return elevators you will pass the large skylights set into the floor. There is another photo station here if you want a little help from the staff photographers.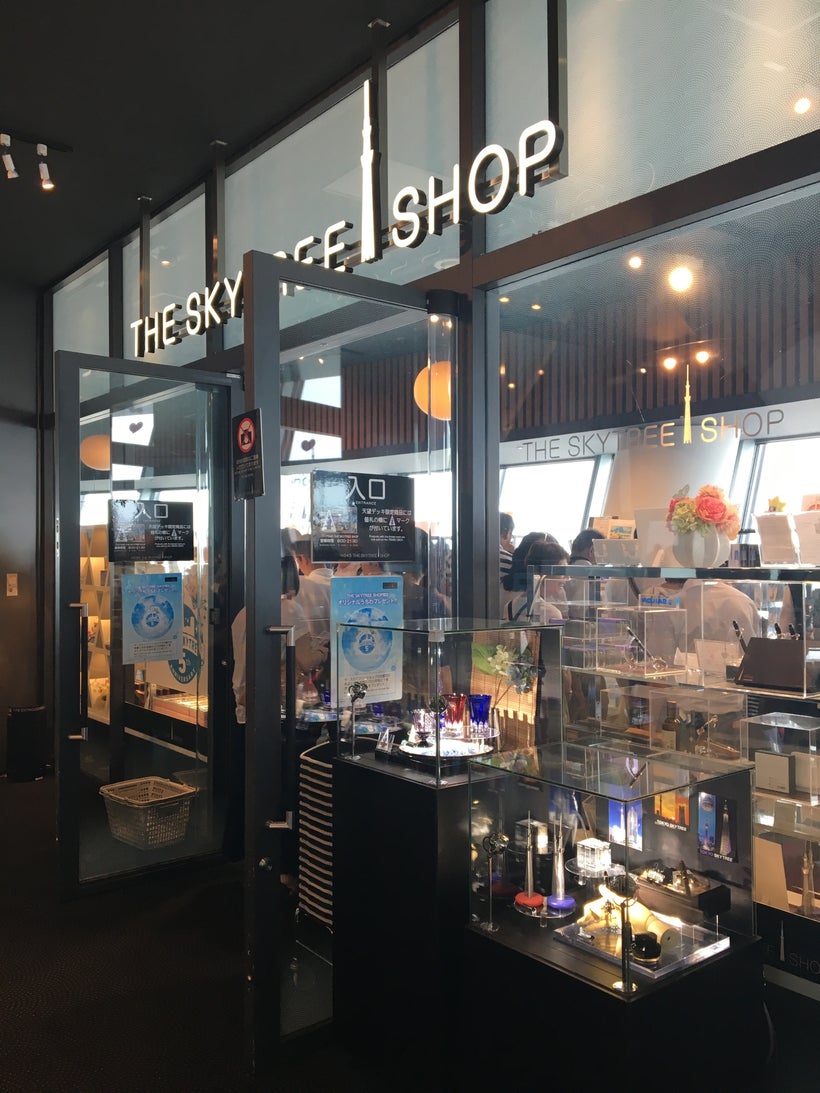 5. Pick up Tenbo Deck only Skytree souvenirs. The Skytree shop on the Tenbo Deck has exclusive goods from coffee mugs and key chains to cookies and cakes that can only be purchased at this store in the wild blue yonder. Exclusive goods are clearly marked.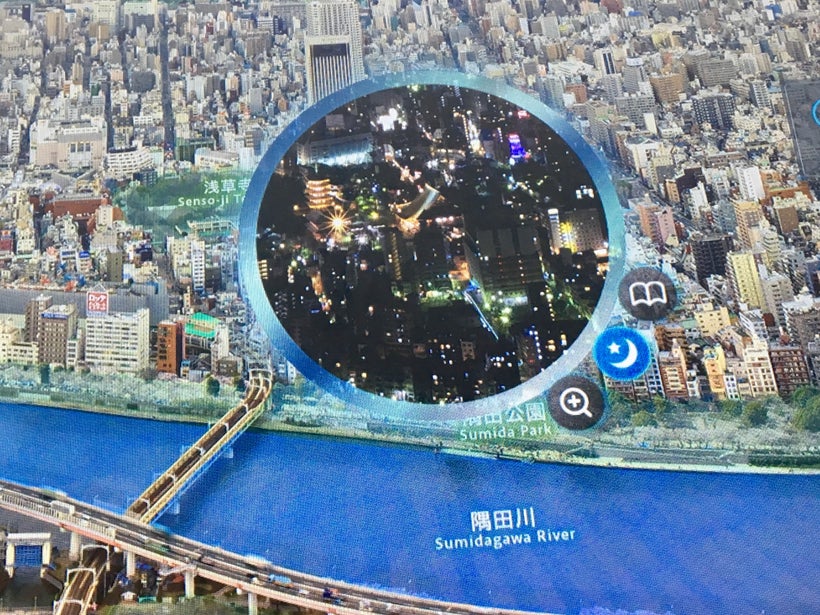 Also fun are the Tokyo Sora Navi (sky navigation) touch screen graphic display stands. There are four around the promenade. Each one lets you zoom in on the views below with information in English and Japanese. You can switch from daytime to nighttime views with a touch.
Sky Tree is open daily 8 a.m. to 10 p.m., however the last ascension is 9 pm. Be warned, if you go on a stormy day and there is a low cloud ceiling, the Tenbo Deck may be covered by clouds, you're that high. So look up before you buy!
Same- Day Tickets are 2,060 yen for adults 18 and over; 1,540 yen for 12-17 years old; 6-11 kids are 930 yen; and 4-5 year olds just 620 yen; 3 and under are free. There are special low rates for visitors with disabilities, check the prices here.
Sky Tree has introduced fastpass style ticketing for international visitors that covers both decks called "Fast Tickets'. There is a separate booth at the 4th floor ticket counter to buy them. There is no discount for disabilities with these tickets. You'll need your passport or international ID card. If a Japanese friend is accompanying you, they are also allowed to purchase these special tickets with you. Read more.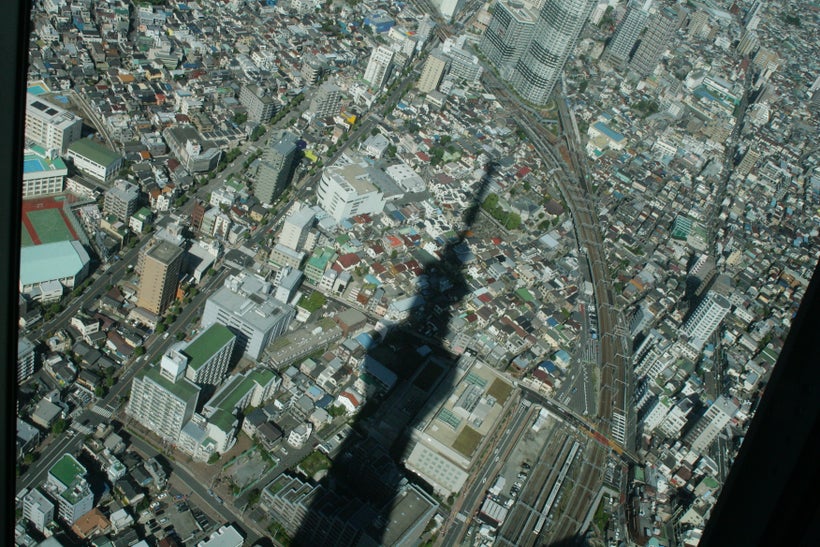 Enjoy your time in the sky!
This post was published on the now-closed HuffPost Contributor platform. Contributors control their own work and posted freely to our site. If you need to flag this entry as abusive,
send us an email
.