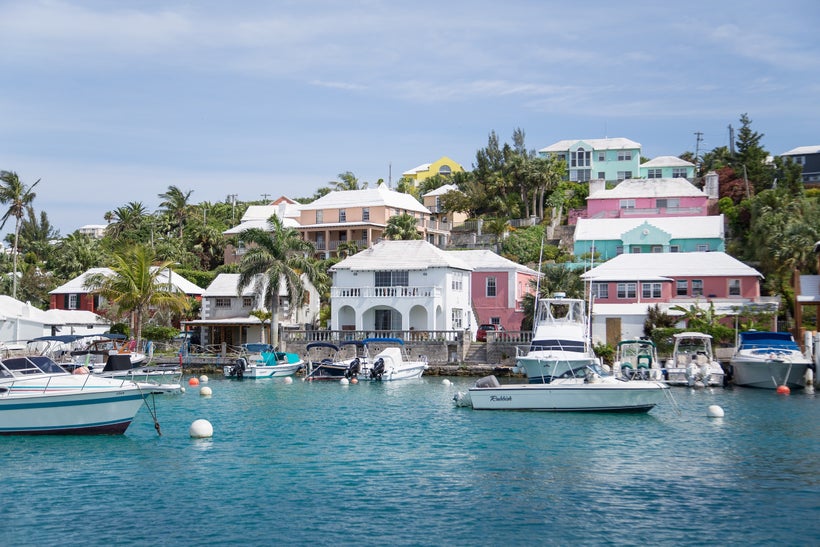 Bermuda has played muse to many an artist and creative, largely because its beauty is the kind that isn't easily gotten over.
From the icing-capped colored homes, to the beaches boasting a shade of blue that exists there alone, to sunsets that color the sky in hues so striking you'd question whether they were real—once Bermuda beckons, you may spend the rest of your days answering its call.
Though it's always been a playground for the well off, the petite paradise off the East Coast of North America has an appeal for every budget.
Whether you decide to treat yourself, opt for a trip that's a little less spendy or splurge on some things and save on others, here's how to do Bermuda two ways.
Splurge. There's no shortage of dreamy seaside stays in Bermuda, but one with the tagline "Time to Leave Your Life Behind," knows the meaning of vacation mode. Newstead Belmont Hills Golf Resort & Spa, sits overlooking the island's Hamilton Harbour, views of which are best taken in from the property's expansive infinity pool. The boutique resort has 45 rooms and suites with up to three bedrooms, all with a breezy tropical feel and appropriately fitting décor. With its wood floors, French doors, spa tubs and private terraces, Newstead feels like your own private vacation home but with the added touch of turndown service. The hotel also has a stylish restaurant and bar open late, where guests and locals alike dine while the sun sets over the waterfront. Run by award-winning owner and chef Jean Claude Garzia, Beau Rivage serves up locale fare prepared with French technique, like fresh seafood risotto with basil over shrimp and mussels, or crushed black peppercorn strip loin served in a brandy sauce. The bonus? Newstead has a private water taxi to tote guests to the town of Hamilton's famed Front Street and a shuttle to partner property Coco Reef for some time on a postcard-perfect private beach. Costs per room start at $225 a night for off-peak travel between September and April, and begin at $375 a night for peak season stays.
Save. Bermuda and Airbnb signed a deal earlier this year, opening up accommodation options for the more budget abiding. At places like Natalia Guest Room & Pool, visitors can have a one-bedroom place to themselves plus access to a pool with a hammock swinging over it, starting at $105 a night. There are two other guesthouses available for rent, so the whole property could very comfortably accommodate three couples. Natalia is a 15-minute walk from the popular pink sand Warwick Long Bay or a five-minute drive to Horseshoe Bay beach, which consistently ranks as Bermuda's best. The bonus? Since visitors can't rent cars in Bermuda (the island wants to limit the number of cars on the road and the very non vacation-like noise/bustle/traffic that come with them) guests can now rent a twizy at Natalia, it's a two-seater, tiny battery-powered car that's fun to zip around in and works as an ideal substitute for those less keen to hop on a scooter.
Splurge. It's not hard to find a restaurant overlooking the water on the 21-square-mile isle that is Bermuda, but one that's directly on the beach—as in toes in the sand beneath the table—is a little more rare. That's why dining at Mickey's shouldn't be missed. Right on Elbow Beach, another of Bermuda's prettiest, Mickey's Beach Bistro is what vacation dreams are made of. Time it right and the sun will fall just as the appetizers arrive and you'll be dining on crab cakes in a spiced Remoulade sauce and local catch of the day under the moonlight, listening to the waves lap at the shore. Entrees range from $20-$44.
Save. If you like to know where the locals go, you'll find more than a few of them at Art Mel's Spicy Dicy. Bermuda is known for its fish sandwiches, and many a debate has blossomed over where on the island to find the best one. But fans of Art Mel's, who are actually better referred to as disciples, will tell you there's really no competition. The fish at this take-out-only spot is fried and flavored with secret seasonings and can come with tarter sauce, pepper sauce and coleslaw, all served between two slices of toasted homemade raisin bread. Note: this sandwich is a behemoth but sharing may still be ill-advised if you want to avoid regrets at having sacrificed a single bite. The cost for one sandwich is $11.50.
Splurge. Some moments call for casual drinks at a beachside bar with friends, others call for a private catamaran cruise around the island with the wind whipping your hair while you sip a Dark N' Stormy, Bermuda's classic cocktail made with Gosling's Black Seal rum (the dark) and Barritt's Bermuda Stone Ginger Beer (the stormy). Should you opt for hair whipping in the wind, charter the Happy Cat sailing catamaran with Seasplash Bermuda. It's like having your own manned, private yacht for three hours or more. Snorkel gear will be on deck for a swim stop to scope out the underwater life. Drinks on the sail can be cash bar, or request catering with your booking. Prices start from $450 for a two-hour sunset special for up to five people.
Save. Take a trip past Bermuda's beginnings in its first settled town of St. George's, where limestone buildings constructed in the 1700s still stand and cobblestone streets and alleyways bear the names of trades that were once done there, like Needle & Thread Alley, until you come to Tobacco Bay. Known for having some of the best snorkeling on the island, daylight hours will see visitors at Tobacco Bay scoping for fish and coral, standup paddleboarding or lounging under canopy chairs. But it's by night that the party vibe picks up at the beach bar. In the summertime, Fridays mean beach bonfires, Saturdays are for lounge parties and on Sundays sounds of soca music fills the sea air and people dance on the open-air deck from late afternoon into the night. There's generally no fee for entry, except for occasional engagements that call for a $20 cover.
Splurge. Turns out there is a way to bottle a bit of Bermuda to take home. At Lili Bermuda, one of the world's few real perfumeries, visitors can either take home a ready-to-wear scent named in the spirit of the island, with fragrances like SunKiss and Bermudiana, the national flower of Bermuda, or they can take a master class with perfumer Isabelle Ramsay-Brackstone and mix up a made-for-them scent. All fragrances are made on the island at the historic 18th century Stuart Hall and only available on the island or from Lili Bermuda's website. If there's time, stay for afternoon tea in the perfumery's garden. Bottles of perfume range from $130-$190.
Save. If there's ever a moment you could tire of traditional turquoise beaches, find yourself at Admiralty House Park. The park on Bermuda's north shore, so named as it was once a home for admirals in the British Royal Navy, now serves as a place to jump from not-too-high cliffs into the warm waters of the cove, or do some underwater cave swimming. The best part? Admiralty isn't at all overrun by tourists, so all that natural beauty can just wash over you without selfie-snappers getting in the way. The other best part? Everything is free.
This post was published on the now-closed HuffPost Contributor platform. Contributors control their own work and posted freely to our site. If you need to flag this entry as abusive,
send us an email
.