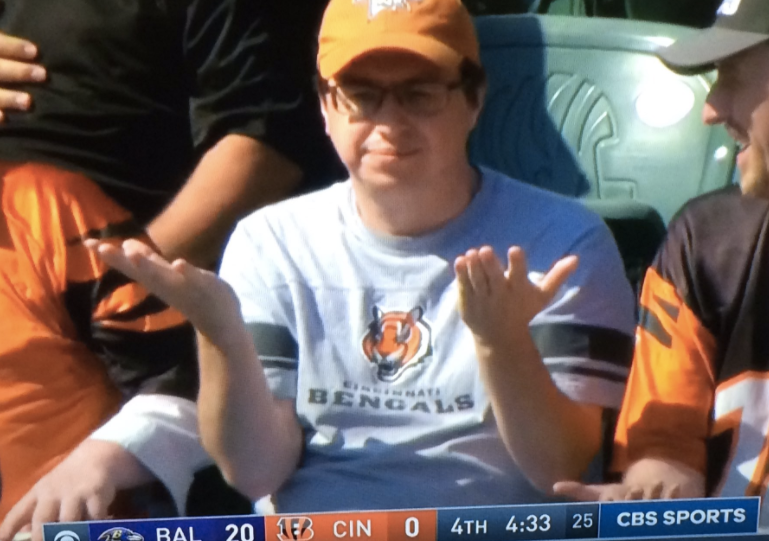 Paul Brown Stadium played host to the Bengals and the Ravens in the 2017 season opener but only one team showed up. The Ravens won 20 -0.
Following a five play, four yard drive ending with a punt to open the game, the next two drives ended in Andy Dalton interceptions for Cincinnati. The second interception capped an 11 play, 82 yard drive which contained most of the Bengals offensive highlights for the day. AJ Green caught two 14-yard passes and Giovani Bernard broke off a 23 yard run. Dalton would throw a third before halftime. In the second half, he threw a fourth interception and lost a fumble bringing his turnover total to five.
Much of the Bengals' struggles could be attributed to Ravens veteran Terrell Suggs. He finished the game with six tackles, two sacks and a pass deflection that resulted in Dalton's third interception of the first half.
The Bengals defense played pretty well. They forced five three-and-outs throughout the game. In the second half, they only allowed one drive longer than 9 yards and it ended with a field goal. One of the touchdowns they surrendered was a one play drive that started on the 2 yard line. LB Vincent Rey led the Bengals in tackles with 11 and LB Nick Vigil recorded the team's only interception in route to holding Baltimore to 111 yards passing on the day.
Baltimore's 157 rush yards may have been the most pivotal factor in their victory. RBs Javorius Allen and Terrence West shared 40 carries, 151 yards and a touchdown between them following Danny Woodhead's first quarter apparent hamstring injury. The Ravens' ground attack kept the clock running which put Bengals head coach Marvin Lewis in some compromising time management situations, including a critical 4th quarter decision to punt on fourth down.
The only good news for the Bengals is that they can redeem themselves in a few days when they play the Houston Texans on Thursday Night Football. Both teams will be looking to avoid an 0-2 start as the Texans lost 29-7 to the Jaguars in their season opener.
This post was published on the now-closed HuffPost Contributor platform. Contributors control their own work and posted freely to our site. If you need to flag this entry as abusive,
send us an email
.