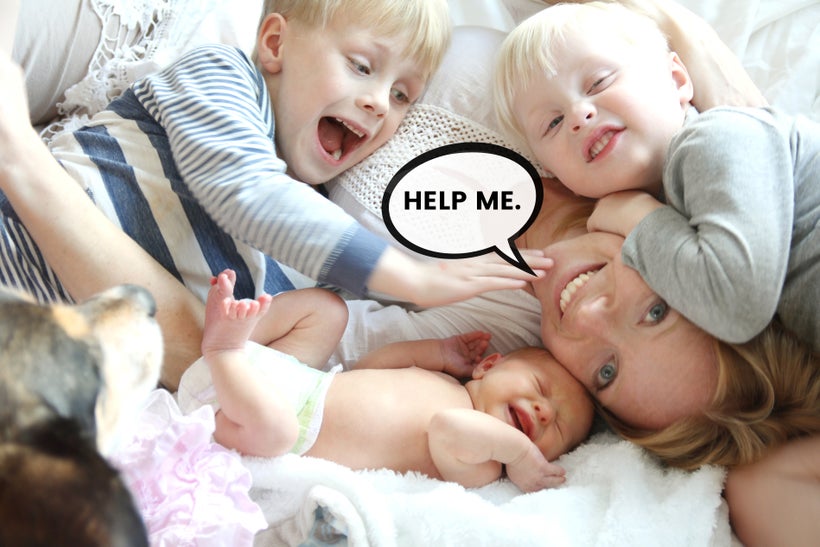 Parenting is one of the most challenging jobs ever, but at the same time, it can also be the most rewarding. From choosing the name of the baby, buying the first set of clothes, preparing the meals, and finally emptying the nest to pay for a college tuition bill that's higher than your 401K. So much to do and only so much boxed wine. Well luckily, there are folks that can help with that.
I've scoured the web for some of the best parenting products and tried them out for myself. Although, I rarely advocate limiting wine consumption with all the health benefits and such, here are my top 5 products for relieving stress so you can drink less; hello, skinny jeans!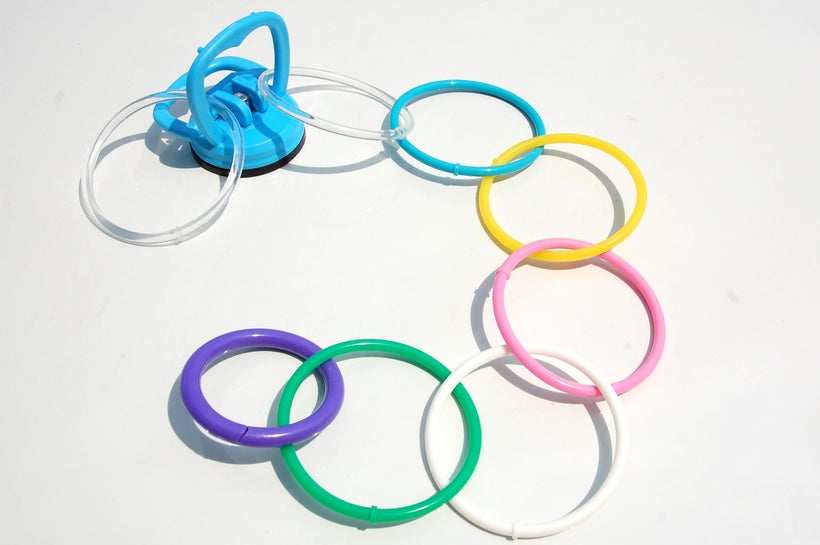 Where has this been all my life? Now, I'm quite familiar with the velcro version type, but not all restaurants beyond McDonald's have chairs that allow for easy looping. Enter the Drop Stoppers. With it, your children will no longer test your willpower by allowing bottles, pacifiers, and toys to touch grimy floors. Because we all want to be good parents with our first child right? That's no typo – my second son has had the honor of building up his immune system the old-fashioned way after mommy realized life was way too short to strive for a 100% sterile environment.
A Drop Stopper quickly attaches to flat, smooth surfaces like restaurant tables and high chairs, preventing babies and kids from testing mommy's patience. And did we mention you have the option to customize the teether toy? Score!
Don't worry. The rings are made of squishy food-grade materials that are FDA-approved and BPA-free. That means, they're completely safe for your progeny. They're also dishwasher friendly, so mom can simply pile them in for easy cleaning. The "gem" on this thing is the uber strong suction cup... IT STICKS ON WALLS! Since my kids are past the cup dropping stage, I use the Drop Stopper for their iPads which helps prevent tablet damage. Have you stopped a drop today?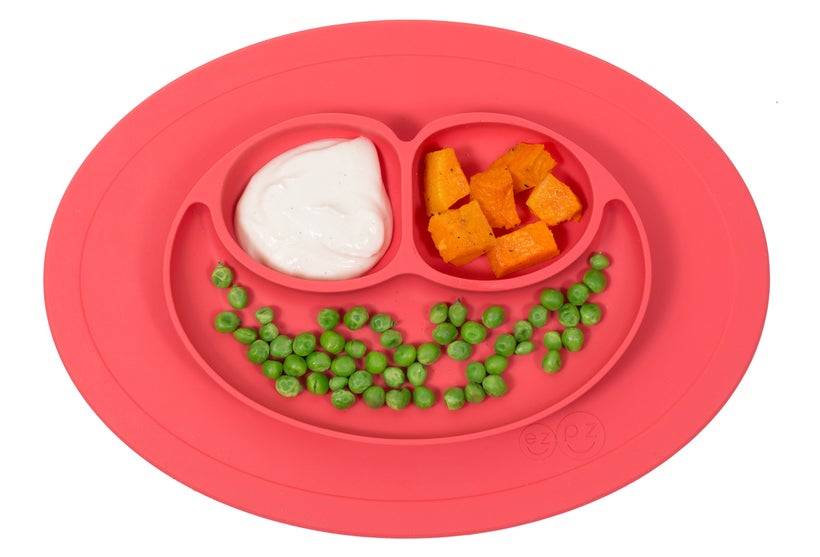 Every mother needs anything "easy peasy" in her life. The actual product is a mat that suction cups itself to flat surfaces, sans suction cups, preventing rebel toddlers from getting a lesson in gravity by throwing their plates on the floor. Not only do they come in unique, playful designs, they also have interesting colors like "Blush," from their Nordic collection. These mats definitely guarantee parents no mess and less stress.
I'm going to be honest here. My kid figured how to lift the mat up in 3 minutes flat. However, it's so dang heavy that after he lifted up a corner and felt the sheer weight of the mat, his laziness kicked in, and he abandoned operation. #myworstnightmare
Kudos to ezpz for such quality construction… and lazy kids. I got 99 problems but thrown plates ain't one.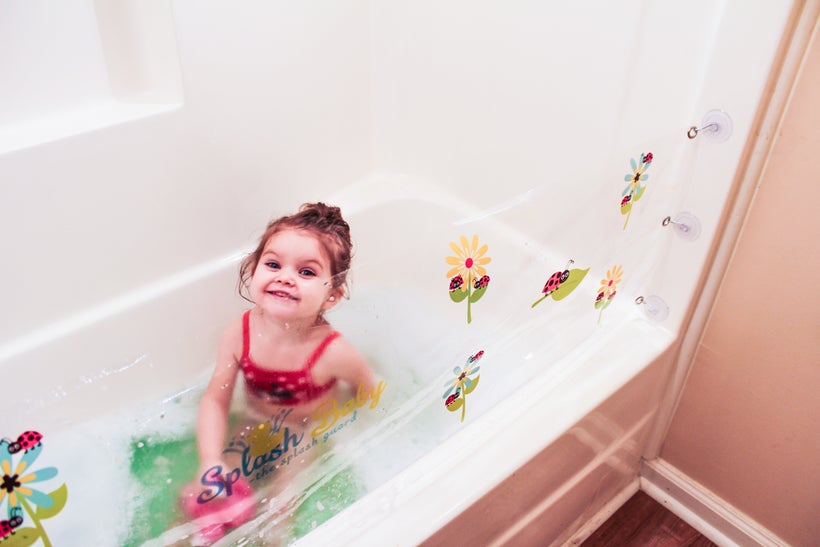 Are you having a hard time bathing your tater tots? Make it a time they'll look forward to with The Splash Baby. It's very easy to use, and it can be set up in an instant. The water guard can be hung inside the tub to prevent water from pooling on the rim and splashing onto the floor. Its 14-inch height still makes it easy for moms to wash and play with her adorable hells angels.
By installing this wonder in the tub, you hit a whole nest of birds with one stone. Sorry PETA. You also reduce accidents by keeping the floor free of water puddles. Because of the Splash Baby's clear design, there's no need to worry about junior dunking baby girl's head in the water unnoticed.
How ironic is it that this product shields water since it was created by a fireman's wife! The owner was kind enough to make me a custom Splash Baby because I had an odd-shaped tub. This bad boy is such a game changer that I'm still struggling to stop my habit of putting an old, dirty towel on the floor to soak up my children's Aqua Man impersonations! Let's just say that the after-bath time cursing has ceased with the Splash Baby.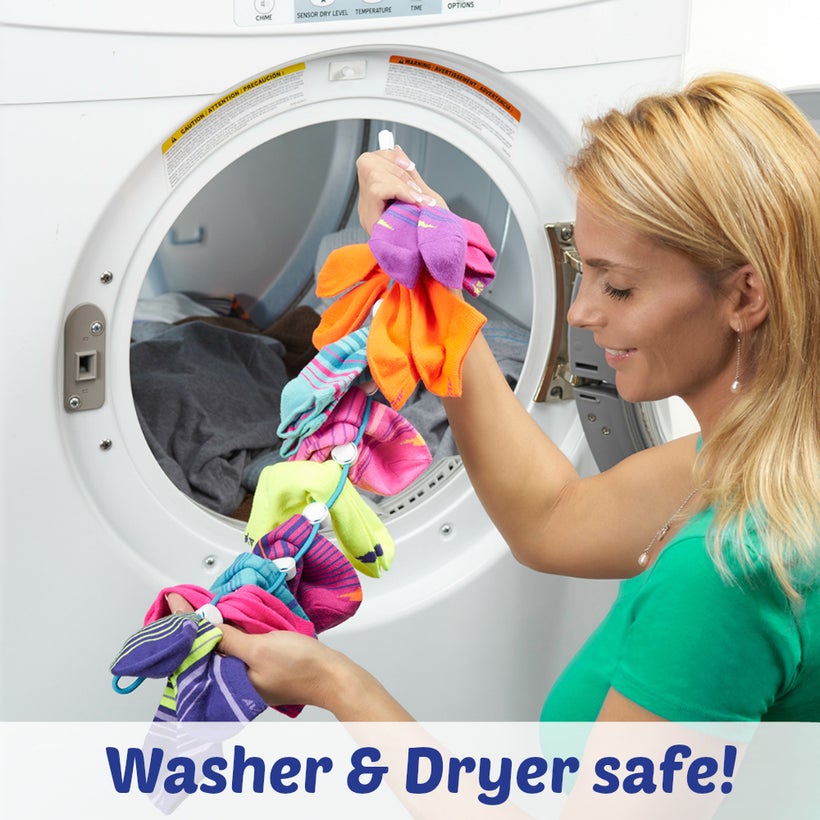 If there's anything comparable to losing a sippy cup, it's losing a matching sock. The Sock Dock slides in as my sober favorite because it's helpful way beyond the toddler years. Before, there were single socks strewn about my house waiting to be reunited with loved ones, and now I never have to worry about those ridiculously tiny toddler socks falling into the Bermuda Triangle of my dryer again.
If you've had a harder time finding socks more than finding real talent in any Kardashian, then the Sock Dock has your back. Whether your socks are clean or dirty, the Sock Dock is a genius sock organizing system that is designed for easy washing, drying, and storing of socks! Just "dock" your socks into each bungee cord slot when dirty, then toss the entire unit into the washer and then the dryer. Put the clean socks right back on the Sock Dock's handy hanger to eliminate the "sock drawer" all together! You can use the extra space to build up your granny panty collection or have more room for those "personal massagers" 😉
You should definitely give Sock Dock a try if you want to alleviate the burden of finding the family's missing pair of socks, and you want to lower your liquor bill.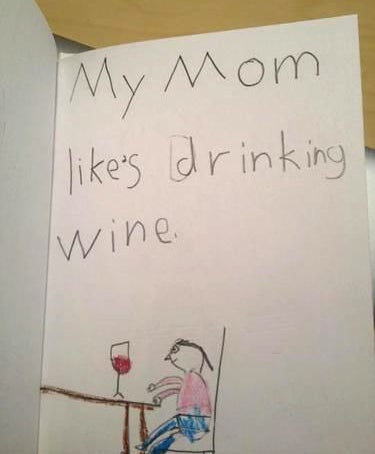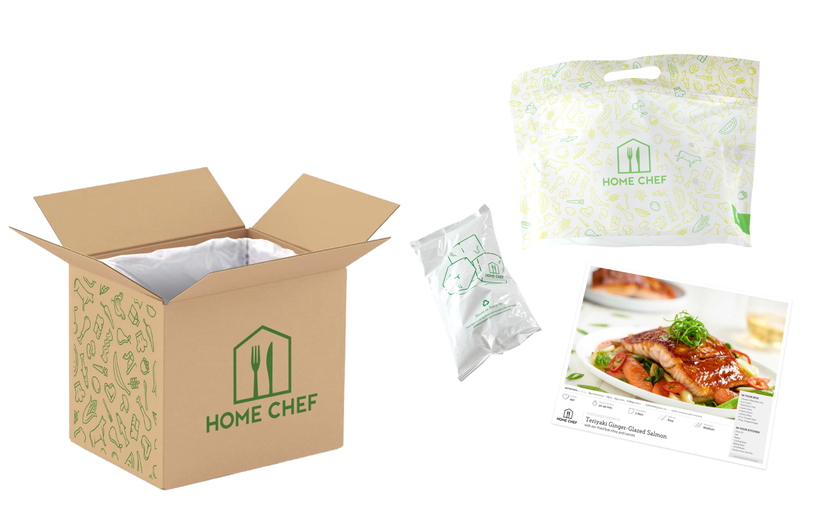 Prepping meals is probably one of the most time-consuming tasks of a parent. My kids are ultra picky, so I have to make two meals: chicken nuggets and real food. Fortunately, Home Chef saves the day. Now, there are tons of dinner box brands you can order based on your lifestyle. I like Home Chef because the meals are approachable. With my "meat and potatoes" husband, the selections are down to earth with just a splash of fancy. A sample dinner might be steak and fingerling potatoes with homemade herbed butter that even my palate-deficient husband won't turn away. I'm willing to bet you've had this exact conversation with your partner: "What do you want for dinner? I dunno; what do you want?" Raise your hand if you've pulled your hair out when this happens every. single. time.
So, whether you have picky eaters or have finally sent your grown-ass kids off to college, Home Chef gives you the lifestyle that makes your friends go, "Oh, you fancy now?!"
Here's how you use it: Make a choice out of the fresh recipes that range from chicken, fish, pork, steak, or vegetarian. Since the recipes change on a weekly basis, you will never run out of options. Once you have made a choice, wait for the insulated box to be delivered straight to your doorstep. It will contain an easy-to-follow recipe with fresh, pre-portioned ingredients. In only 30 minutes, dinner is served! Home Chef is the perfect product that pairs well with a glass of wine... did you really think I was giving up my wine?
Get $30 off your first Home Chef box by clicking here.
There are just so many practical solutions for parents to make life easier. Many people might squawk and say, "When I was a kid, we didn't need that." Great. It's your God-given right to keep wasting time. As for me and my house, we will avoid the ward.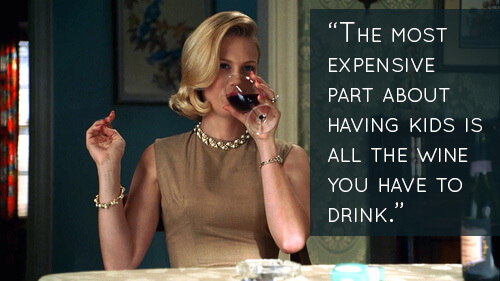 This post was published on the now-closed HuffPost Contributor platform. Contributors control their own work and posted freely to our site. If you need to flag this entry as abusive,
send us an email
.