New studies show that veganism is on the rise worldwide- in the US alone, we've seen a 600% increase in the number of people practicing a vegan lifestyle in just the past three years; with similar upward trends across Europe. If you are standing on the outskirts of this unwavering global movement, you would certainly see the progress, but you might not see the reasons for the momentum.
Like other global movements that seem to just pop up out of nowhere, under the surface lies decades of sacrifice and service by people who work day in and day out, without pay, recognition, praise or acknowledgement, for the benefit of the animals. There are tens of thousands of these people worldwide who have formed the foundation of the animal advocacy movement. They started long before veganism was on trend, and they won't give up until all animals can live free from human harm.
Each October 1st, World Vegetarian Day, the Pollination Project recognizes a handful of the behind-the-scenes superheroes through the Lisa Shapiro Awards; a $2500 cash prize offered by a global community of animal rights peers.
Over 80 people had a hand in selecting this years' winners. May they serve as an example of the many thousands of selfless activists on whose shoulders we stand, as our global movement continues to grow.
In Latvia, Aivars Andersons & Katrïna Krïgere are the powerhouse couple behind Dzīvnieku brīvība, a nonprofit focused on ending animal suffering in industrial agriculture, fur farming and the entertainment industry. Dzīvnieku brīvība conducts undercover investigations, coordinates outreach and public education campaigns, lobbies governmental bodies to secure stronger laws for animals, participates in corporate outreach campaigns to secure meaningful animal welfare policies, and engages with media to raise the profile of animal issues in Latvia. Just last June, after extensive campaigning and country-wide organizing, Dzīvnieku brīvība succeeded in convincing the Latvian Parliament to ban the use of wild animals in circuses!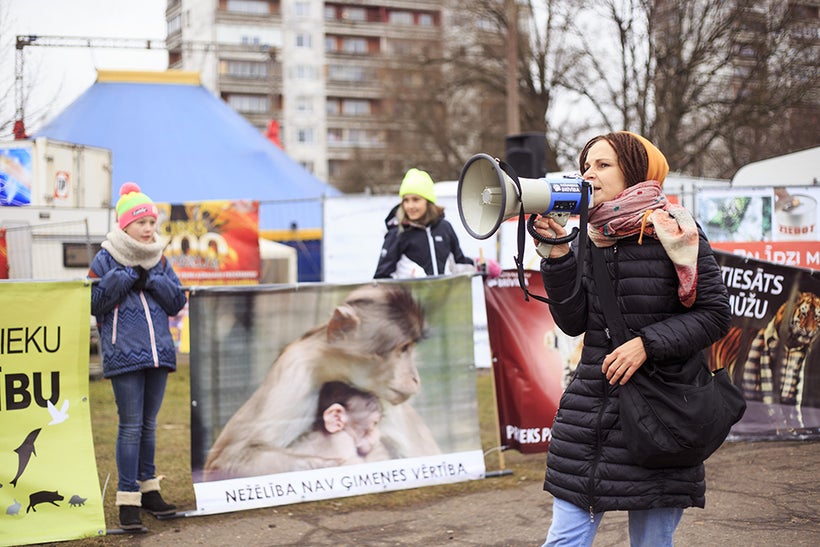 In Taipei, Taiwan, Chia-Pei (Jessi) Chang and Yu-Sheng Tai are ambitious young activists who have been called the "go-to" animal activists in their region. They actively collaborate with a wide range of local, national and global groups, serving as event organizers, spokespeople, emcees, campaigners, educators and street team leaders. They have their fingers on the pulse of everything that impacts animals in their region and they nurture and inspire new leaders to join forces with them. Among the hundreds of events they have spoken at or organized, they recently helped produce "Vegan Fever" with the International Vegan Volunteer Union, which inspired a wave of vegan and animal rights activities across the country.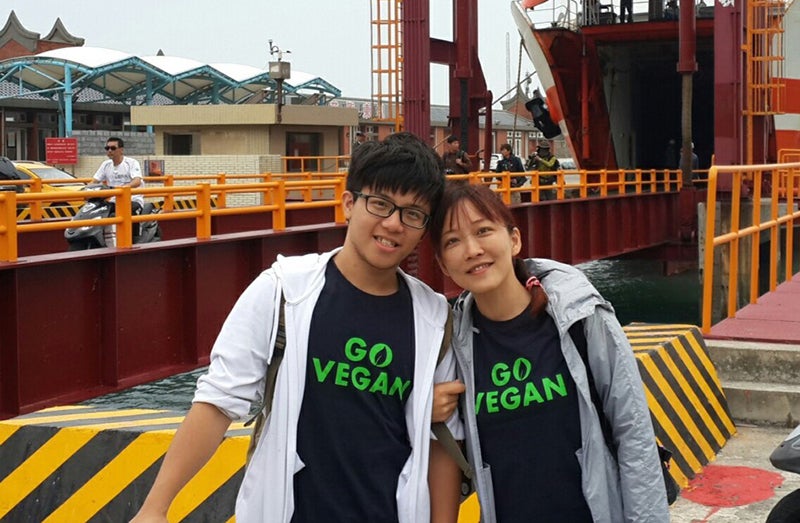 In the United States, Unparalleled Suffering Photography is run by an anonymous activist who works undercover documenting the emotional terror and physical suffering of animal exploitation in captive entertainment venues (such as aquariums and rodeos); and in the rapidly proliferating trend of backyard "humane" slaughter. The powerful images this activist shares have been used by groups like Fish Feel, United Poultry Concerns, the Save Movement, Free from Harm, Mothers Against Dairy, and Milk Hurts to debunk the myths of "humane" slaughter and happy animals held in captivity.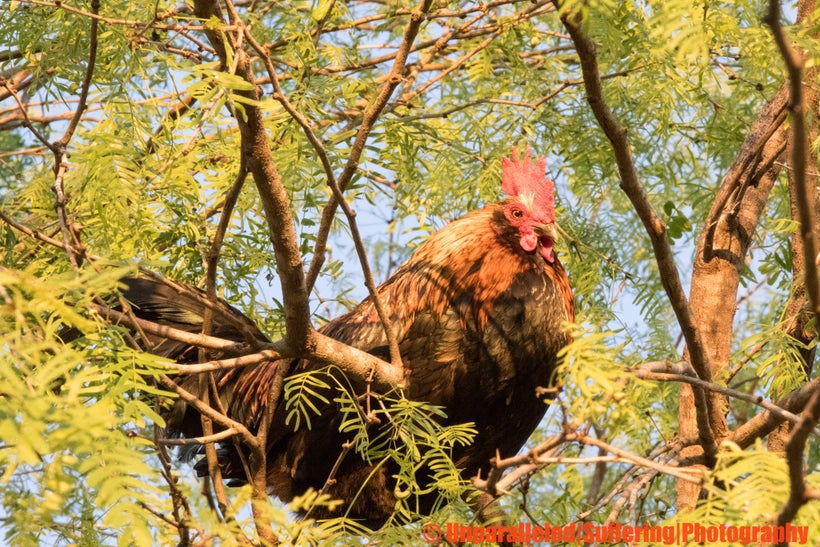 In El Paso, Texas, Ms. Socorro "Sukie" Muller Sargent is a living testament that it is never too late to become an animal activist. In the early 90's, at the age of 55, this Mexican-born, wife of a hunter, living in the far reaches of Texas made a life-changing choice to go vegan. She then went on to start the first animal rights group in El Paso and then The Vegetarian Society of El Paso (VSEP). VSEP is now one of the largest and most active vegetarian associations in the country. Sukie has created an oasis for animal rights and animal activists, where three decades ago, there was none. From organizing protests, educational events, vigils, animal rescues and Vegan Thanksgivings, Sukie keeps going strong for animals, even at the age of 84.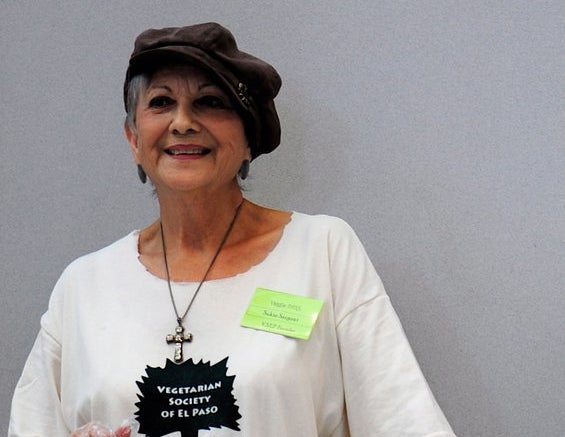 In India, it is not every day that you find a Tibetan dentist, campaigning for animal rights with every spare moment she has. Dawa Dolker Liebe is a huge inspiration to her community of Dharamsala. Founder of the Dharamsala Vegan Movement, Dawa has been a persistent local animal rights leader. She is the village go-to "animal rescuer" who leads seminars, public documentary screenings, distributes flyers, speaks at local schools, visits local monasteries and nunneries to talk about compassion and the environment, and produces large community wide educational events. One of the many outreach strategies she uses is making vegan chai tea and venturing out into the night to show people footage of tortured animals in slaughterhouses.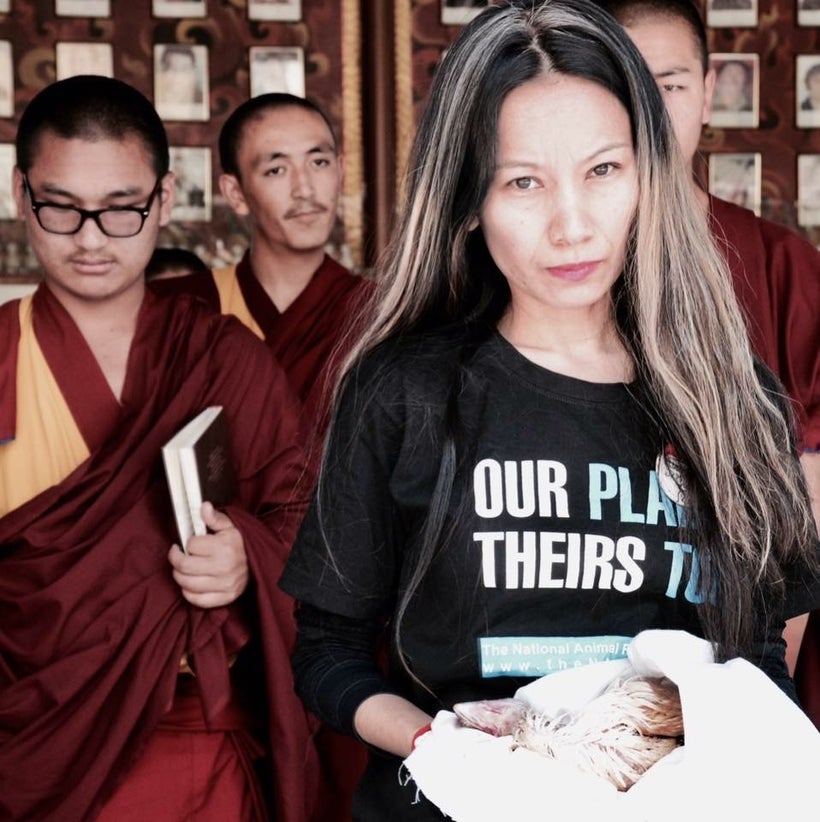 On behalf of a diverse global network of 80+ judges, we are honored to be able to recognize these animal rights superheroes.
May their stories remind us that you don't have to be the head of a huge organization, or a bestselling author, or a famous celebrity to make a difference for animals. It is people like Dawa, Sukie, Unparalleled Suffering, Chia-Pei & Yu-Sheng, Aivars & Katrïna who are creating the conditions for the global animal advocacy movement to grow!
This post was published on the now-closed HuffPost Contributor platform. Contributors control their own work and posted freely to our site. If you need to flag this entry as abusive,
send us an email
.