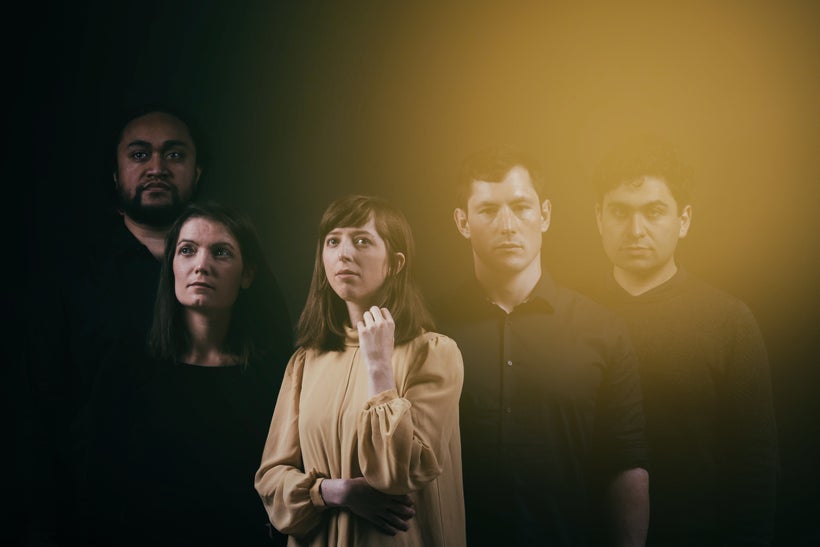 French For Rabbits just released a new single, called "It Will Be Okay." And it's yazum! The single provides a taste from the band's album The Weight of Melted Snow. Hailing from New Zealand, French For Rabbits is made up of Brooke Singer on vocals, piano and guitar; John Fitzgerald on guitar; Ben Lemi on vocals, guitar and bass; Penelope Esplin on vocals, bass, keys and percussion; and Hikurangi Schaverien-Kaa sits in the pocket.
Stylistically, French For Rabbits' sound fits into the dream pop genre, merging sonic textures of scintillating guitars and husky vocals into undulating immersive milieus.
"It Will Be Okay" begins with an elegant piano, tapping percussion and a subdued but radiant guitar. Singer's deliciously dulcet voice enters, providing a rich esthetic ethereal ambiance flowing with translucence. The potent bassline, although minimal, thrums with Jovian potency and, in combination with the percussive elements, including a devout sidestick and light tom-toms, gives the dream pop melody luminous rhythm, as if listening to passing sonic vistas of great fascination. Gorgeous diaphanous background vocal harmonies exude a soft lambent effect that sends tingles up and down listeners' spines. The delicate piano provides a sense of wavering imminence juxtaposed against the deeper rhythmic elements.
Singer's voice is unparalleled in evocative beauty, flowing like silky gossamer filaments of logarithmic spirals unraveling in fragile, almost desiccated quinces of sonic iridescence. Its ubiquitous elegance, pale as snow, is soft and wraithlike, yet simultaneously rich and coruscating. Put simply, it's a spectacular spectral vocal instrument, graceful, shimmering with beauty.
The video is surreal and pensive, evoking a variety of complex moods: emotional anguish, flippant disdain, along with a substratum of doubt and foreboding. A young man stands beneath grey skies, gazing at the ocean. He opens a bottle of wine, takes a sip, and then pours it in the sand as he walks. The video cuts to the young man spread-eagle on the floor. Then, later, cuts to a white room, empty, except for the shirtless young man. He strikes his face with a brittle bouquet of flowers. The petals shatter. The video concludes with red liquid pooling on the floor.
The video projects a vivid image of an indefinable malaise that runs deep. The portrayal is poignant.
French For Rabbits more than has it going on! "It Will Be Okay" is exquisite, emanating a stunning melody rife with rhythm and evanescent harmonies. Singer's voice, of course, is the highlight, with its wistful timbre and exotic flavor. Without hesitation, I strongly suggest you don't miss "It Will Be Okay."
Download "It Will Be Okay" here.
This post was published on the now-closed HuffPost Contributor platform. Contributors control their own work and posted freely to our site. If you need to flag this entry as abusive,
send us an email
.