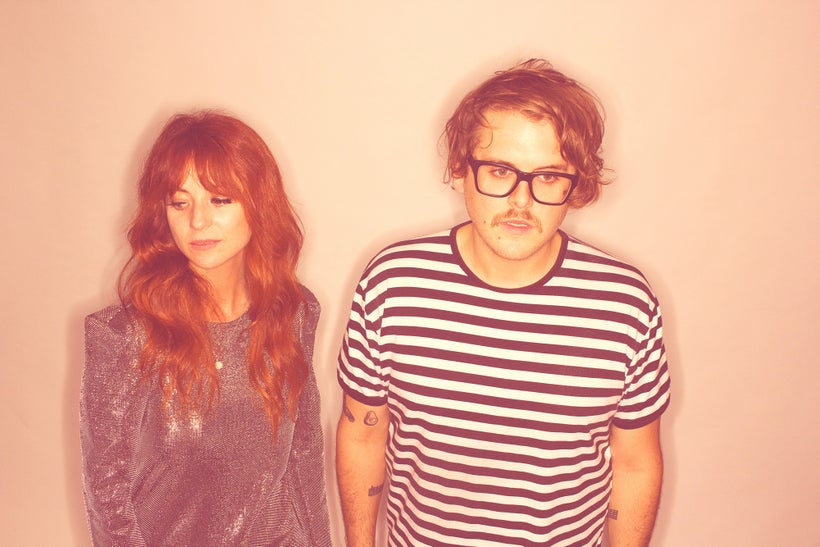 Nashville 'surf rock candy' band *repeat repeat released their new album, Floral Canyon, last month via Dangerbird Records. The band, consisting of frontman Jared Corder and vocalist/keys player Kristyn Corder, pull inspiration from sixties pop with garage rock and create tracks that are relatable, fun, and dance-worthy. Today we're sharing the exclusive audio commentary on Floral Canyon, as told by the band!
Before we jump into the audio, Jared Corder gives us a little back story as to how the album's sound came to be, what fans can expect to hear from the commentary, and the band's podcast, "The *repeat repeat Podcast Podcast." Read what he had to say here:
"We have always been inspired by 60's pop culture, and so much of it came out of Laurel Canyon in the mid-60's. Artists from The Beach Boys, The Hollies, Neil Young, Frank Zappa, Alice Cooper, The Mamas & The Papas and more were all hanging out in that area at the time. Toward the end of the decade, this area was also the location of the Manson murders, helter skelter. Floral Canyon's meaning relates to a juxtaposition with what went on in California's Laurel Canyon (with so many creative collaborations and talents in one area, at one time, the beachy, hippie, surf cultures), with the spookier, dark undertones (Manson, Doors drama, drug craziness).
It has that reverby, roll the windows down feel of the 60s California but mixed with some darker themes and a little Warholian mod. We sense a similarity between the Laurel Canyon & East Nashville communities, at different places in time. What we have experienced coming up as a band in the very musician-concentrated East Nashville has been similarly flowery, collaborative, and full of peace-love-and-good-vibes, but the music we make is not without the undertone of what sometimes feels like the crazy world outside.
A mix between sunny, beach hangs (like in the opening track "Everybody's Falling in Love") the frustration of an tumultuous relationship ("Mostly") political defiance ("Plugged In") and an element of spooky surf-pop ("Hooks" and "Polina Beefman") all dance around throughout the record like chapters of a bigger story. We connected the whole record throughout with bits of a 60's organ called an Optigan and wanted each song to express a specific story in our lives that we've experienced either personally or by proxy. On this commentary version of our record we sit down and talk about the record process and what inspired each track. If you like the sound of us talking as much as singing, we have a podcast where we do just that, called "The *repeat repeat Podcast Podcast" which you can find on iTunes and Stitcher and you can get to know us, and our supremely talented friends, a little bit better."
Stream the album and listen to the full audio commentary of Floral Canyon by *repeat repeat in the player below!
Fans can catch the band live at select shows, listed here:
October 7 – Shreveport, LA – Prize Fest
October 28 – Nashville, TN – The Crying Wolf (4th Annual HOWL-O-WEEN Show)
December 16 – St. Louis, MO – Delmar Hall
This post was published on the now-closed HuffPost Contributor platform. Contributors control their own work and posted freely to our site. If you need to flag this entry as abusive,
send us an email
.