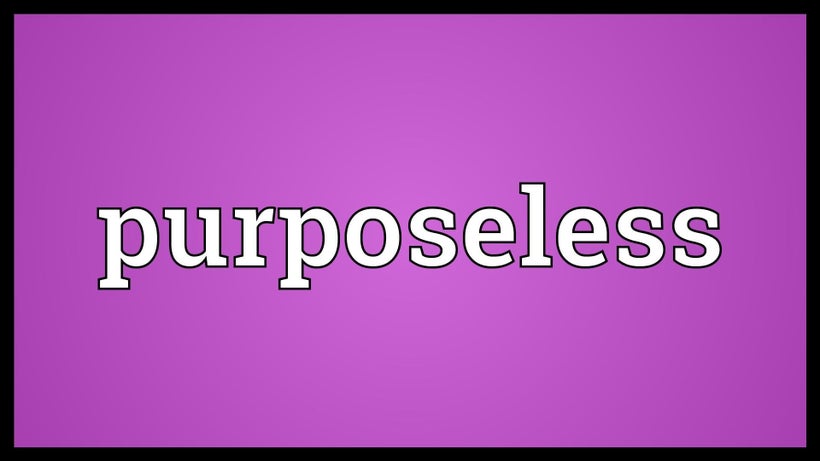 It is a commonplace observation that contemporary consumption has globalised to an unprecedented scale, and, along with it, the rampant desire to participate in global indulgence labelled consumerism or consumer culture.
Such theories have spread shockingly, morphing through a number of phases that have included concepts like cultural imperialism, globalisation, global inequality nationalism and 'hybridity'. But we rarely consider the consequences of such global consumption, especially for rapidly expanding consumer cultures in many emerging markets. What would happen if things suddenly became purposeless?
Have we ever asked ourselves what makes us itch? What keeps us going? What keeps a global corporate entity going? What keeps a nation going? What keeps the 1% of the world going? What sort of a situation do we like to be entirely fulfilled? Do money, profit, and growth of market share increase a value proposition? What if money was not a valuable object at all? How would we interact with each other? How would we spend our time to enjoy our lives? How would we cultivate our working environments?
That is why it is essential to understand the importance of artistic abilities and embed them again in our cohabitation in such forms as dramatics, philosophy, sociology, literature, dance and movement, and theology, to re-ground ourselves, as these give us the tools of logic and reasoning to explore and discover the ways we experience life and how we work and cooperate together.
The arts teach critical thinking and nourish our clarity and consciousness so that we know how to describe the world, and our place within it. In other words, do our senses accurately describe reality? What makes wrong actions wrong? How should we live? It is not surprising that artistic abilities allow us to better comprehend these things. That is why we should promote these artistic subjects along with other rational disciplines, to balance our understanding of what really matters.
But because we are a purpose-oriented culture, we have accepted 'busyness', getting faster and faster, until we demolish the journey – the journey between places, people and cultures. In other words, we eliminate the distance and in doing so, we eliminate the journey.
But the insight of any journey is the discovery and the exploration of travel, whether physically, culturally, socially, mentally, intellectually or spiritually. In artistic abilities, one does not foresee the end; if so, the best philosophers, sociologists, writers, dancers and topologists would be the ones who accomplish their piece fastest. Artists enjoy the journey.
We fail to realise that a decrease of the arts and increase in the 'rational' is a shift brought by our educational system into our everyday business lives. We have a system of schooling that gives a completely different impression of what is. For example, to start with, it is 'all graded', which means we condition students to competition and comparison, taming the ones who should explore and discover, and whom we should prepare for life and enjoyment and meaning in the journey. Instead we box budding students in for an economical purpose – what we call success – and set them up to feel overwhelmed. But intuitively, these students feel let down, sensing the hoax that this restriction is.
As a result of our global educational system, while many would do so many other things, for a variety of conditioned reasons – such as image, reputation, earnings, status quo and recognition – a grand majority choose something which often leads only to partial survival, never actually feeling fulfilled. Because most of us are driven by fear, anxiety and disappointment most choose dutiful tasks that payoff only in the cultivation of a tangible and supposedly secure life, believing this is socially accepted and that they are culturally included.
But the truth of the matter it that this education and this life goal is a dreadful hoax; it's shameful how most of us have missed out on so much life, a life of exploring and discovering, a life of a journey. In fact, more and more people in industrialised countries are recognising that we have been cheated; we think of life by analogy and by a narrow journey that is supposed to turn into a pilgrimage with a serious purpose at the end. But to get to that end – what we call success, accomplishment, fame, happiness, prosperity or realisation – we realise only much, much later that we missed the point the whole way along the journey.
In our western belief system, we think we must drive our life purposely to belong and to survive, and in order to keep on like that, it is expected to excel; otherwise we are excluded from bonding. But striving for profits and earnings means living out a wasteful life, because so many are doing things they barely enjoy, not realising that this journey is the purpose of life. If we keep doing things without enjoyment, what can be the result of that? If people get paid for not liking what they do, what sort of performance and value proposition does any company create to stakeholders and shareholders, and eventually society as well? If such an understanding is the purpose – cultivating tangible and monetary values such as bonuses, shares, stock options, service charges and other financial add-ons – what sort of unreal and superficial working environment are we propagating?
Such a system is weak and unbalanced, sooner or later destined to collapse. That is why it is fiercely protected by an elite few who continue cultivating and promoting the wrong, believing it to be good, mentoring young people as potential leaders, convincing them that they ought to follow the same route, forming them to the same characters and personalities to protect the same leadership values that in fact separate systems and increase global duality. A wicked system.
For change to occur, it is fundamentally important to know what we desire.
Wouldn't be grand idea if we learn what the Chinese call purposeless. They see nature as purposeless. But in industrialised societies, we assign purposeless a lower value, believing that it is not contributing to the overall status quo of any society, as society is so grounded on attaining – with purpose – the 'goals' of success. We have not delved into the matter of whether purposeless could be relevant at times when everything is overwhelming and totally exaggerated.
Ironically, looking at a much deeper level, purposeless could be a grand new competitive advantage to any society as we lead and manage our businesses. Purposeless could be the new way to regard the value of life, of business, of ourselves and our neighbours and competitors, without expectations, without any particular purpose in mind.
In many industrialised countries we have accepted that non-rational subjects like music, the arts, history, literature, philosophy and other non-rational sciences are no longer necessary as part of the educational curriculum, not realising that without the arts, we are promoting the programming of an entire global society in terms of how to think, to act, and to decide. We are allowing artificial intelligence to lead our day-to-day routines and avert challenges, believing we can then solve the problems of tomorrow.
When life and our business ought to have a 'purpose', it is almost like controlling and predicting what needs to happen. The consequence? We avoid spontaneity. We are limiting social freedom and nourishing 'forceful' creativity. With that, our attitude and aptitude change and we no longer want to be accountable. We welcome the delegation of difficult tasks to those who exploit authority and we commandeer a spontaneous process that is making everyone dependent rather than free and independent.
This post was published on the now-closed HuffPost Contributor platform. Contributors control their own work and posted freely to our site. If you need to flag this entry as abusive,
send us an email
.