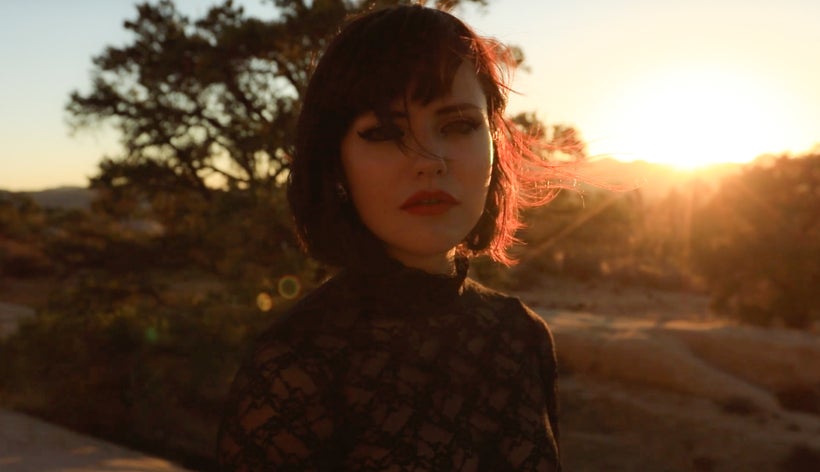 When I had the chance to sit down with Fiona Silver earlier this summer, I was blown away. From the passion in her voice to the delicacy in her strut, she is a dark sparkle with a dominant presence. Needless to say, Silver is a force to be reckoned with. The powerhouse encompasses strains of vintage soul, classic rock, and modern indie rock to create her signature sound, reminiscent of Amy Winehouse as she tells a story through her music. Earlier this year released her debut album, Little Thunder, and today we are thrilled to premiere the brand new music video for her track, "Smoking Gun."
Accompanied by a video that brings fans through an empty, eerie desert, "Smoking Gun" showcases Silver's sexy and raspy vocals. When discussing the track with us, Silver shares, "Smoking Gun is the closing track on my debut album Little Thunder. Unlike any other song I've written, I imagined it like a movie when I wrote it." She adds, "I envisioned the desert, the vast space both beautiful and haunting, and it was a dream come true when we got to drive out to Joshua Tree to shoot the video with Cortney Armitage. It was over 100 degrees in the day, and the place we stayed felt spooky as well... art imitating life or life imitating art I'm not quite sure... but I can say that I'm thrilled to share this song and video with the world and show a slightly tougher side of my music and vision."
Fans can check out the stunning music video for "Smoking Gun" in the player below!
New York fans can catch Fiona Silver tonight at the Knitting Factory in Brooklyn with Kolars! Stay in the know with all things Fiona Silver by heading over to http://www.fionasilver.com.
This post was published on the now-closed HuffPost Contributor platform. Contributors control their own work and posted freely to our site. If you need to flag this entry as abusive,
send us an email
.